University campuses are having to reimagine course offerings and campus life for Fall 2020. At Wake Forest University, this has also meant rethinking how the library makes its resources available to students. Partnering with Patterson Pope to install smart lockers supports the university's mission to reopen "with appropriate distancing measures and increased infection control measures."
The COVID-19 pandemic requires university communities to make some changes. "The fall semester will be different than anything we have experienced," WFU's back to campus in COVID site states. "Ultimately, our plans seek to sustain the essence of Wake Forest — a place that takes each person seriously, respects their intellect and identity, and invests in the quality of our shared life together."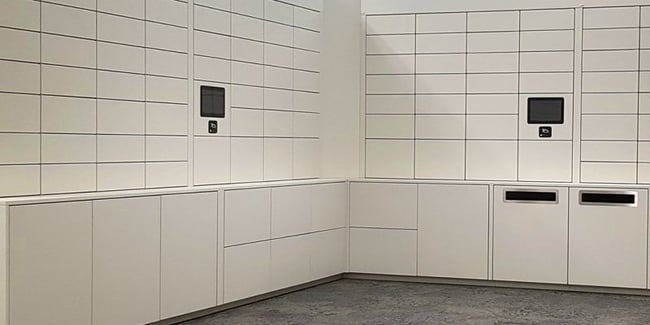 As part of those plans, Wake Forest invested some of its budget in a solution to help reopen its Z. Smith Reynolds Library (ZSR). The library supports the research and instruction needs of over 4,800 undergraduates and nearly 3,000 graduate and professional students in the School of Business, the Graduate School of Arts and Sciences and the School of Divinity. After soliciting input from the wider community of campus librarians, WFU's Dean of Library decided on a smart locker solution.
Adapting to Accomplish Mission
When COVID-19 started to close things down at Wake Forest in the spring semester, the library was one of the essential services kept open while students were still on campus. As the pandemic spread, the library was closed at the end of March. Yet, the librarians continued to work to meet the needs of students and faculty who continued to need access to books, documents and services.
The question was how to support student needs without allowing access to the library building? ZSR has a 24/7 reading room in the front of the library that is accessible even when the library is closed. Anytime, students, faculty and staff can make requests, and library workers pull those materials from the stacks and place them in a labeled paper bag for collection in the reading room.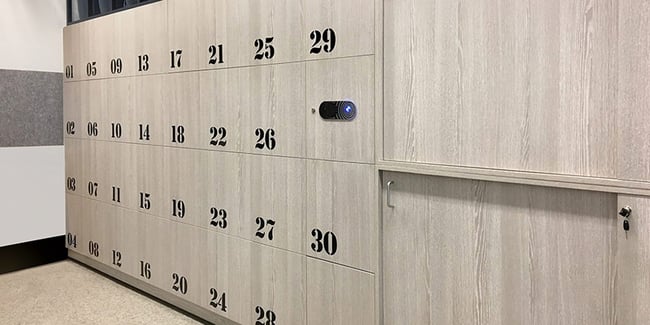 Since WFU is a gated campus, and access to the library was only an option for students who were resident on campus, and faculty who requested it, there was some security in placing bags out on open tables for pickup. However the library realized, once the campus and library opened fully, this delivery method would not be sustainable.
With classes set to begin again August 26, the university decided to install 58 smart lockers in the reading room space. Patterson Pope was secured to install the lockers after a competitive bid process, building on its already existing relationship with the university (having supported Wake for years with on-campus and off-site storage solutions.
With the ZSR library open for modified hours in the Fall (until 10 pm instead of 24 hours throughout the week), the goal was to establish a system that would give students and faculty access to the collection even when the library is closed overnight or on weekends.
Smart Locker Solution
A bank of smart lockers installed in the 24/7 reading room will let students unlock a "touch-less" locker using their campus IDs. The keycard system uses RFID technology to let librarians leave the requested materials for patron collection. Once the request is filled, the patron is notified to retrieve their materials.
WFU plans to keep lockers in the reading room. Students, faculty, and staff always appreciate more places to store and secure their stuff while on campus. In fact, the university will monitor the success of the smart lockers initiative and may expand to more lockers in other areas.
We've seen smart lockers in use on campus in:
Mail centers, dorms and student unions for package delivery
Facility services to keep cleaning chemicals and other equipment out of reach
Laboratories to protect scientific materials
Art galleries and museums to provide convenience for guests
Day use lockers in various areas across campuses
The Smart Locker Advantage
Smart lockers use minimal touch or "touch-less" technology to let users open doors without having to turn a lock, enter a pin or touch a screen. Networked smart locking systems can be configured to pop open with a phone, RFID card, fob or a watch. These lockers can easily then be closed with an elbow, knee or foot (depending on the location of the locker), keeping the transaction with the locker hands-free – or touch-less.
This helps with social distancing as well. Administrators can easily control and restrict the use of lockers by setting up locker banks for mixed-use with some lockers pre-assigned and others available for guest or visitor access. Right now, to create space, one might prohibit access to side-by-side lockers in favor of only making every fourth or fifth locker available for use. The configuration can be easily changed whenever needed.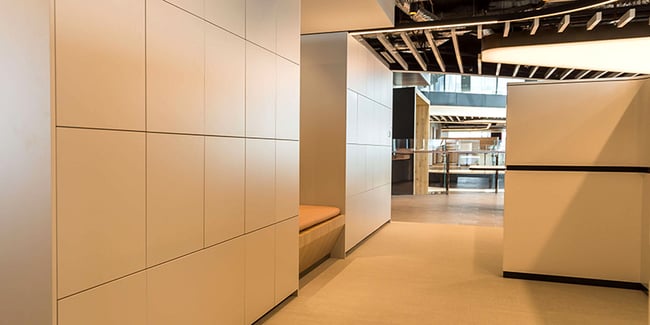 Touch-less lockers are also well suited to the current need for higher levels of disinfecting. These smart lockers are available in materials that reduce the spread of bacteria. Smart materials include antimicrobial laminates and copper-infused solid surfaces.
Additionally, administrators can track when lockers have been used and cleaned. If a COVID case is discovered, they can determine where to deep clean via smart locker usage reports. And any time they want to clean a complete bank, it's easier for crews to do so when the lockers can all be opened at once. This saves cleaning crews the time wasted locking and unlocking each individual locker unit.
Wake Forest was looking for a way to support social distancing with a safer campus library and community and decided smart lockers were the right choice. You too can facilitate a safer environment for your users and make more informed decisions about locker allocation and cleaning practices with smart locker technology.
Embrace the digital advantage of touch-less lockers in your location today. We're here to help. Contact your sales rep today!