Many university campuses have a new look now. And we're not talking about a fresh coat of paint. As the COVID-19 pandemic stretched into 2021, higher education institutions had to find new ways to offer their services but maintain safety protocols. In the library of Wake Forest University (WFU), library smart lockers were one welcome solution.
The ultimate goal, according to the North Carolina-based university's back to campus in COVID site, is to "sustain the essence of Wake Forest — a place that takes each person seriously, respects their intellect and identity, and invests in the quality of our shared life together."
As part of the effort, Wake Forest invested in locker technology to help give students, faculty and staff greater access to the collections of its Z. Smith Reynolds Library (ZSR).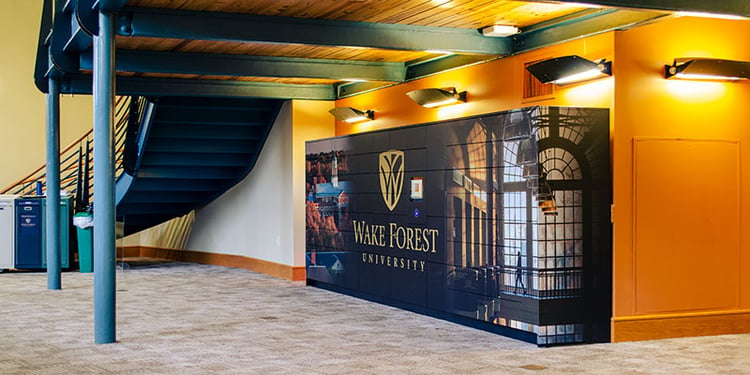 The library supports the research and instruction needs of over 4,800 undergraduates and nearly 3,000 graduate and professional students in the School of Business, the Graduate School of Arts and Sciences and the School of Divinity.
Before COVID, campus community members would come to the library to check out items from the collection as well as audio-visual equipment. Or, faculty could have their checked-out items hand-delivered to their campus offices. This couldn't continue when the library reduced its student staff. Plus, there was the need to protect library personnel and patrons from the spread of the virus.
The library smart lockers that once had been a wish list item for the campus librarians became a must-have.
Adapting to Accomplish Mission
When COVID-19 started to close things down at Wake Forest in the spring semester of 2020, the library was an essential service kept open while students were still on campus. As the pandemic spread, library access to students, faculty and staff ended at the end of March. Yet, the librarians continued to work to meet the needs of students and faculty who continued to need access to books, documents and services.
The question was how to support student needs without allowing access to the library building? Fortunately, ZSR has a 24/7 reading room that could be made accessible – even when the library was closed. Students, faculty and staff could make requests, and library workers would pull those materials from the stacks, check them out and place them in a labeled paper bag for retrieval.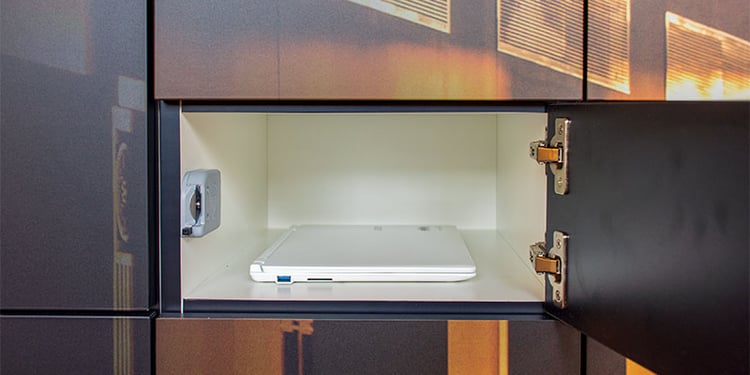 Since WFU is a gated campus, and access to the library reading room was only an option for those with campus ID cards, there was some security in placing bags out on open tables for pickup. However, this delivery method was not sustainable.
"It met the need to be able to continue to make the collection available, but it was very inelegant and not very secure," said library associate dean Mary Beth Lock. "We were relying on people to only take the bag that was checked out to them. But we didn't have any certainty that those that requested items, received them."
When classes began again in the Fall of 2020, the university had installed new smart lockers in the reading room space. Building on an existing relationship with the university (having supported Wake for years with on-campus and off-site storage solutions), Patterson Pope was contracted to install the lockers and establish a system to improve collection access.
Library Smart Locker Solution
The changes required of the library during COVID diminished services to students and faculty, said James Harper, Interim Director of Access Services at WFU. But, "the lockers went a long way to help alleviate that."
The bank of smart lockers installed in the 24/7 reading room lets campus members unlock a "touch-less" locker using their Deacon One IDs.
The process has been streamlined as the lockers were put to the test by faculty and students. Harper worked with Patterson Pope to customize the user interface to make it more visual and simple to understand. Early on, Harper had signs around the lockers to explain the process. Today, those are all gone as changes have been made to make the lockers more user friendly.
"We have certainly had a lot of feedback that the lockers are a lifesaver," said Lock. "They fit so effortlessly, it feels like they were always there."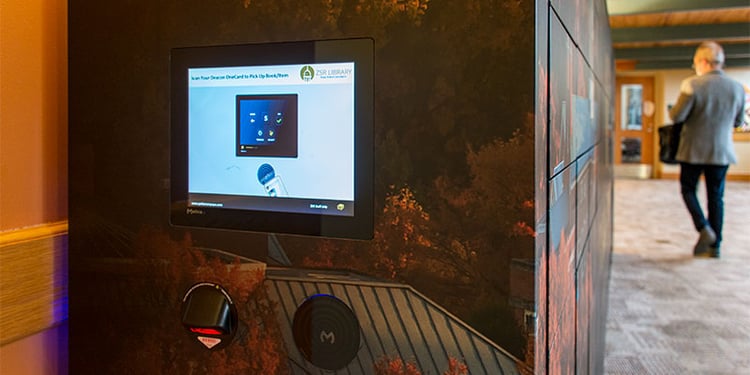 In fact, WFU added a second bank of smart lockers soon after the first. Plus, they reconfigured the lockers assigned for day use to instead be used as delivery lockers – as those lockers are typically at 90 - 95% capacity at any time. Five of the lockers are also regularly used by the campus IT team to collect and return computer equipment that needs repair in a contactless manner.
Harper also enjoys access to analytics on usage in the smart locker software. He can determine who is using the lockers, when, and see what reconfigurations could help with efficiency. He said, the lockers "give us some flexibility about how we provide services and how the building is utilized and when."
The Smart Locker Advantage
Smart lockers use minimal touch or "touch-less" technology to let users open doors without having to turn a lock, enter a pin or touch a screen. WFU's networked smart locks are configured to pop open the correct locker when the RFID card is presented at the reader. The lockers can then easily be closed with an elbow, knee or foot (depending on the location of the locker), keeping the transaction with the locker hands-free – or touch-less.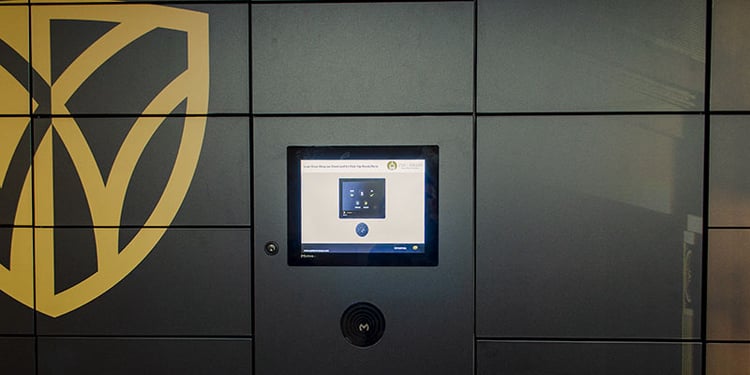 It helps also that touch-less lockers are well suited to high levels of disinfecting. Smart lockers are available in materials that reduce the spread of bacteria including antimicrobial laminates and copper-infused solid surfaces. Additionally, any time the lockers need cleaning, it's easier for crews to do so as the lockers can all be opened at once from a digital dashboard. This saves cleaning crews the time wasted locking and unlocking each individual locker unit.
We've seen smart lockers in use on campus in:
Mail centers, dorms and student unions for package delivery

Facility services to keep cleaning chemicals and other equipment out of reach

Laboratories to protect scientific materials

Art galleries and museums to provide convenience for guests

Day use lockers in various areas across campuses
For WFU's library, this combination of technology and storage supports a safer campus library and community. "We desire contact-less as much as possible," said Lock. "The lockers still give faculty and students the access they need, but without them or us having to take on additional risks."
You too can facilitate a safer environment for your users and make more informed decisions about locker allocation and cleaning practices with smart locker technology.
Embrace the digital advantage of library touchless lockers in your location today. We're here to help. Contact your sales rep today.