"What's the ROI?" Sit in on a business meeting and you're likely to hear that question. Measuring the return on investment (ROI) in comparison to the cost of that investment is par for the course across any industry. You can unlock ROI when it comes to storage solutions. Smart lockers are a great example.
From offices to residential buildings to university campuses, smart storage helps the physical environment adapt to the needs of its users, and not the other way around.
What's the ROI?
That's what you really want to know, right? Well, the ROI from smart lockers comes from improved overall efficiency and enhanced workflow. You can also save by eliminating employee time dedicated to certain tasks.
Download Smart Storage Webinar Here
Take smart lockers in an office environment. They offer more efficient storage securing personal belongings. Especially in the wake of COVID-19, many businesses are implementing clean desk policies. Employees also want to keep their stuff safely stowed throughout the day.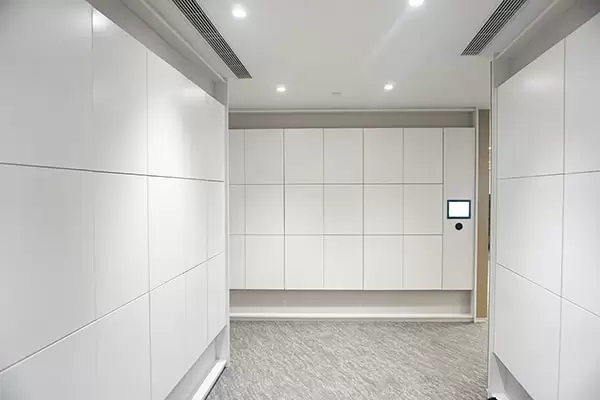 Smart lockers can also reduce the time your people spend going out to get food for lunch, collect groceries or dry cleaning. An office offering centralized parcel lockers can give employees an added convenience of onsite, secure delivery.
The larger the corporate office, residential building or university, the greater the potential ROI. After all, the bigger you are, the more work you're likely doing now to ensure package and mail delivery is accurate and efficient.
Employees, staff, students and guests can also benefit from smart lockers at convenient locations throughout the large business or institution campus:
A student-athlete can store their equipment in the business school during a long day of classes rather than having to get back to a dorm before practice.
Faculty members save time collecting books from the library if they're left in a locker for pick-up, which frees up the librarian's time too.
Employees can secure personal belongings when they visit marketing for a meeting, then collect them and move on to the warehouse, where they can again stow what they don't need.
Staff don't have to disrupt their day to go and sign for packages and are saved from having to open their boxes under colleagues' watchful eyes
With smart lockers you provide a more positive overall experience. Your users are saved from worry about leaving their belongings unprotected as they go about their day.
The Comparison to "Dumb Lockers"
For mail staff, smart lockers can save time and energy. Let's consider the traditional locker in a higher education setting. The average university student averages two packages a month. If you use an enrollment of 10,000 students, that's roughly 950 packages per day to handle.
In the typical process, the campus mailroom has to receive packages from carriers, count and sign-off for those packages, enter them into the university system (Manual Log, SC Logic, SqBx, Bear Tracks, SmartSend, StarRez, etc…), and sort them for distribution. Then distribute or store the packages and notify the students. Throughout the coming days, they can expect the non-stop traffic of all those students coming to collect their packages.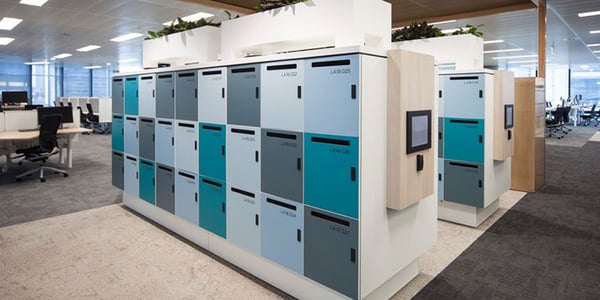 A smart locker mailroom solution automates package receipt and sorting. A mailroom phone app scans incoming packages, identifies the recipient and provides auto-lookup for a distribution point. Then, the package is delivered to smart lockers at strategic points on campus (dorms & other central locations) which eliminates many steps of the process including desk staff management of packages.
Take the University of Nevada Las Vegas (UNLV). With 1,800 of its roughly 25,000 students living on campus approximately 80,000 packages are delivered to its residence halls each year. From delivery to pick-up, each package took about 3.2 minutes of the staff's time. In terms of dollars, that amounts to over $200,000 in operating costs on package management alone.
Installing 341 smart lockers at the nine residence halls, and automating student notification of package delivery, reduced time spent to 13 seconds per package. The 24/7 package delivery desk was closed, and mail desks no longer needed double staffing during peak delivery and retrieval times. It's estimated the change will save UNLV $73,140 each year over the next five years.
Take Advantage of Smart Lockers
Any workflow that currently relies on manpower and physical interaction can see improved efficiency with a smart locker. Traditional lockers lack the added advantages of a smart locker:
Smart technology such as RFID scanning or mobile apps to open lockers limit hands-on user contact with the locker, which promotes cleanliness and employee health and safety.
Reduction in administrative burden and expense of key management
Ability to set up lockers to be inclusive and ADA compliant as the technology allows for 'smarts' to be factored into locker assignment
Intelligent dashboard control of all lockers allows transparency into usage rates supporting data analytics to determine the most efficient placement of lockers throughout a building.
Regained square footage taken up by individually assigned lockers employees may not use or post boxes for students who rarely, if ever, check their boxes
Complete point and click control:
Facilitates emergency response with the ability to press one button and open all lockers
Streamlines cleaning processes as crews can come in at a set time to a bank of opened lockers rather than having to key open each one
Supports peace of mind with weighted lockers able to send alerts to the user informing them that they have left something behind
Investing in smart lockers unlocks a big return on investment. Making everyday tasks — things as simple as retrieving packages — efficient and effortless improves productivity and minimizes disruptions. Enhancing the user experience also helps recruitment and retention, and keeps employees engaged or students happy.
Streamline with smart lockers. Patterson Pope's experts offer knowledge of evolving storage trends and understanding of the purpose of your space and the needs of your people to create the best smart storage solution. Contact us today!