Many people wish for a return to "normal." Businesses want to bring people back onsite. Museums and libraries are looking to reopen to patrons. Educational campuses are looking to offer in-person instruction again. Yet there are many challenges involved in providing a safe environment. Touch-less lockers can help.
With technology linked to the lockers to detect the user's credentials and automatically open a door, touch-less lockers can reduce the spread of germs. Users easily stow their stuff securely and nudge a door closed with an elbow for a simple and more hygienic experience.
Touch-less lockers can also help corral costs of cleaning and sanitizing the space. Reliable smart lockers come in materials that are easier to disinfect and maintain. Plus, the smart lockers portal provides the data organizations need to cut down on cleaning time and cost.
What is a Touch-less Locker?
A touch-less locker uses touch-less or contact-less technology to open locker doors.
With Smiota's locker app, package recipients can open their lockers without having to enter a pin or touch a screen. Smiota cloud-based software automates package and delivery receipt with chain of custody and security features.
Similarly, Metra's networked smart locking systems can be configured to be self- or pre-assigned by an administrator or the system for opening with a phone, RFID card, fob or a watch.
With touch-less locker technology, you gain the ability to control and restrict the use of lockers. Administrators can set up locker banks for mixed-use with some of the lockers pre-assigned and others available for guest or visitor access. Plus, that configuration can be easily changed whenever needed.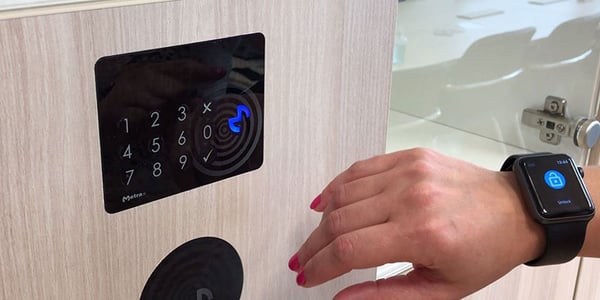 Benefits of Touch-less Lockers
Let's consider the main advantages of touch-less lockers in more detail.
Convenience
Who needs one more PIN or password to remember? Another key to keep track of? With touch-less technology, your user can simply swipe a HID access card (such as an ID badge) or smartphone or wearable device to pop open the locker they want to use. That saves them also from having to risk touching a locker lock or keypad that another individual has recently used.
Touch-less lockers interact with 99.9% of RFID systems on the market and come with a WiFi and Bluetooth app.
Ease of cleaning
First off, the touch-less locker has fewer nooks and crannies to keep clean as there are no longer keypads or lock pockets. Additionally, touch-less lockers are available in materials that reduce the spread of bacteria. Smart materials include antimicrobial laminates and copper-infused solid surfaces.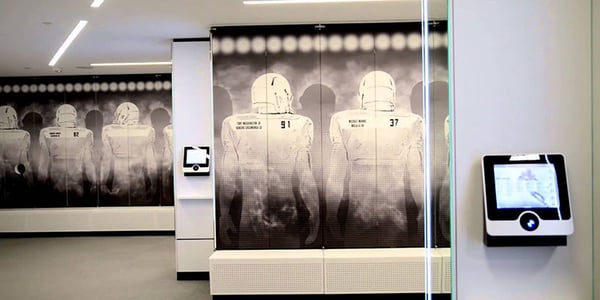 Then, there's the advantage of knowing which lockers were used since the last cleaning so that teams can focus more efficiently on usage-based cleaning. When a deep clean is needed, a complete bank of lockers can be unlocked at once for attention. This saves cleaning crews the time wasted locking and unlocking each individual locker unit.
Enable social distancing
To support social distancing practices, you might prohibit access to side-by-side lockers in favor of only making every fourth or fifth locker available for use.
Or, say in a museum setting, administrators could protect guests better by knowing when a locker has been used. The software could be configured to restrict another guest from accessing that locker until it has been cleaned.
Even if a user ends up working remotely unexpectedly, the app can be programmed to give someone else access to that individual's locker to retrieve what's inside.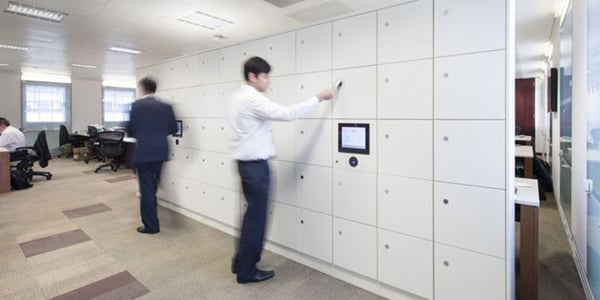 Touch-less lockers also enable contactless exchange in residential, office or university settings. Students can retrieve packages without having to wait in long lines to interact with mail center personnel. Or employees or building residents can have groceries, dry cleaning or take out meals delivered onsite to a touch-less locker. The delivery is made without face-to-face interaction. The user is alerted to the arrival of their delivery. In the office, this helps employee productivity and keeps your people safer as they aren't taking the time to venture offsite to get what they need.
Libraries could use this technology for library book return and to allow patrons to pick up requested materials. IT teams could use a bank of lockers to collect and return technology that needs repair.
Locker transparency
No, we're not talking about being able to see inside the locker itself. But with the software associated with touch-less lockers, building owners and administrators gain valuable data insights.
From the lockers administrative portal, you can see what lockers are being used where and when. This can help identify where more lockers should be installed or if you could move a locker panel to a different area on site, which can improve workflow and effective use of your floor plan.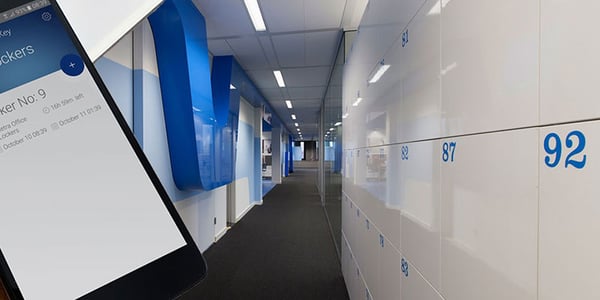 If you do end up needing to contact trace an employee who contracts an illness, you might also use the data to determine where that worker was stowing his or her stuff. This could help with a more targeted disinfection campaign and knowing which other staff should be notified of possible exposure.
Lockers offer employees, students or visitors peace of mind that their belongings are stowed securely. Touch-less lockers provide another level of confidence. You can facilitate a safe environment for your users and make more informed decisions about locker allocation and cleaning practices. Embrace the digital advantage of touch-less lockers in your location today.
Patterson Pope offers locker solutions for office, gym, education, healthcare, local government and public service settings. We make storing your stuff simple. Learn about going touch-less today!