Employee health and safety has always been a priority at work. Yet with the current COVID-19 pandemic, there's increased urgency to keep your workplace safe with social distancing, stringent cleaning, and more. That more can also include technology innovations to support physical distancing and touch-less solutions.
Designers and architects today are focused on trends in building construction and interior design that keep people safe. The pandemic is supporting what some call the "PropTech Revolution." Referring to the proliferation of IoT property technology devices and new smartphone capabilities paired with the ubiquity of high-bandwidth connectivity, PropTech integrates the technology found throughout the building in a new way.
In the PropTech environment, digital storage is part of the broader ecosystem of devices. Picture the smart building of the future:
automated entry doors are connected to security systems
touch-less lockers are integrated with the digital signage system
guests are welcomed to an office building via a virtual concierge kiosk
touch-less elevator doors only open on certain floors based on RFID scans of company badges
It may sound far-fetched, but we are undoubtedly moving towards this seamless physical-digital world.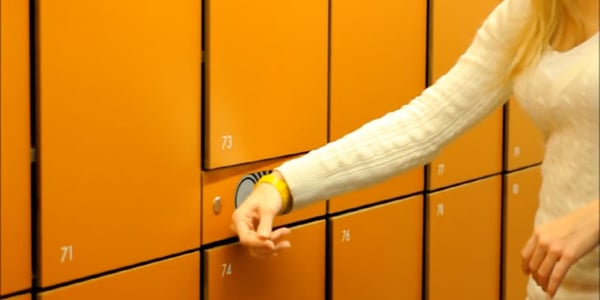 Advantages of PropTech Integration
Touch-less technology minimizes user exposure to surfaces that could expose them to health risks. Additionally, with digital technology, building administrators can better control how space is allocated and used.
After a conference room is unlocked and used in a law office, the door could be secured to prevent further use until a cleaning crew is dispatched. Or building administrators can even prohibit booking of certain rooms if the data indicates one area or floor of the building has too many users at that time. These obviously appeal in the COVID-19 environment as we return to work.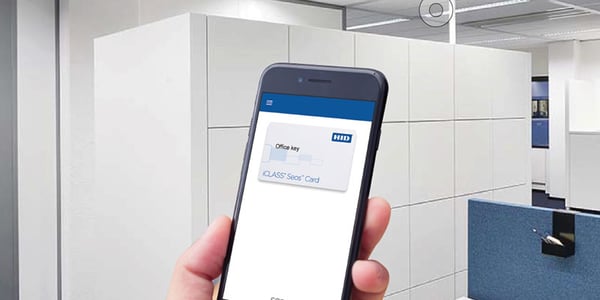 Yet the advantages of smart tech design go beyond health benefits. PropTech innovations offer improved user experience.
In a touch-less office setting, a remote worker might book and pay for a parking spot, schedule a desk assignment or a meeting room and indicate the times he or she will be onsite through a single app. The app could then use a smart phone's Bluetooth reader to open parking gates, allow access through security turnstiles or doors, turn on lights and adjust room temperature. The employee could also use the app to send items to the printer or pre-pay for a snack from the office vending machine.
With a foundational technology platform that centralizes the integrated building software, smart building owners and operators gain enhanced control. The smart building administrator can view inputs from several different property technologies in a single dashboard to identify trends and streamline processes.
Along with the ability to pick and choose functionality for the integrated property technology, building owners and operators can use real-time digital displays to make other decisions. Based on the number of people in a college auditorium, for example, the autonomous HVAC system could be optimized to run cost-effectively.
Advanced digital property technologies can also be programmed with historical data to better anticipate energy costs, usage trends and maintenance needs. With artificial intelligence-powered analytics, ways to improve operations and reduce costs may also be identified.
Digital Storage Is Part of the Bigger Picture
Fortunately, storage manufacturers have already been innovating in the area of touch-less and friction-less offerings. These new product lines, like touch-less lockers, are being developed to offer flexibility and security as well as to integrate easily into the smart buildings on the horizon.
There are obvious advantages of touch-less lockers in our current times:
Users don't need to physically touch a lock, key or touchpad to open their locker, instead these lockers are unlocked using scanning or mobile app technologies.
Doors can be locked after individual use until the locker is thoroughly disinfected.
If a health risk is identified, the lockers that have been used by infected individuals can be isolated.
In a bank of networked lockers, social distancing can be encouraged by only making every fifth locker accessible.
Cleaning of lockers is streamlined, as an administrator can unlock the entire networked section of lockers due for attention– saving the cleaning crew from the time spent locking and unlocking each individual locker
In the past, a bank of keyed-entry lockers could have great value for storing and securing stuff but didn't contribute much usable information about how people were using the building. That's changed.
The networked locker provides valuable insights into building use and employee, patron, guest, staff or student activities. An administrator might use building scheduling and occupancy data to identify hot spots. Then, signage could direct people to use locker bank A instead of B to help people spread out more.
Integrating Technology Together
With a Smart Building users are looking for 1 app on their phone to control multiple functions in a building. This could be finding a parking spot, opening the door, reserving a desk or conference room, and requesting a secure locker for the day. The user does not want to have multiple applications for different functions. A smart building application should integrate all the "Smart" functions into one app.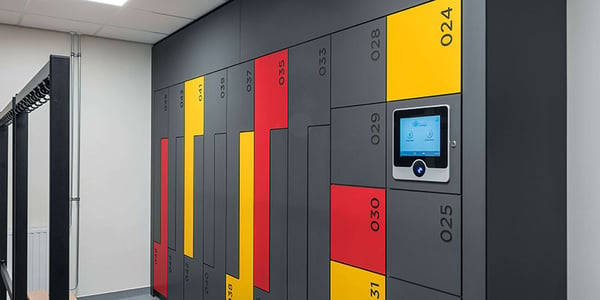 Our Smart Lockers use HID Technology and we are a HID Technology Advantage Partner. This allows us to seamlessly integrate with any system that uses mobile or virtual credentials for access control, many times with no additional programming or configuration. Our Smart Lockers do have an API that allows us to quickly integrate with any existing applications, or, if not current smart app exists, our Smart Locker mobile app can be used for functions such as requesting a locker for the day.
The Smart Locker API can also be used for Work Order systems such as Onboarding a new employee and automatically assigning them a locker as part of their on-boarding process.
Conclusion
PropTech systems are changing the way buildings are designed. Networked software using IP communication is centralizing the many, previously siloed, business systems. Easily integrated, these technological solutions promote improved user experience, optimize building operation and support keeping the workplace safe in 2020 and beyond.