There are many ways to denote "a job well done" and myriad ways to measure "performance." In our business – like any other – the best measurement is client satisfaction. Clients are, after all, our reason for being. Having the ability to deliver a quality high-density shelving solution or other storage option that exceeds expectations is wonderful motivation for us to do what we do.
Roxann Moody is one of those happy clients. A 1982 Wake Forest University (WFU) graduate, she has been head equipment manager at the school since 2001 and a member of the WFU Athletic Department for 35 years. For all of those years – and then some – Reynolds Gymnasium played host to the school's equipment room. Named after the longtime equipment manager, David "Sarge" Tinga, the school's equipment room had long ago outgrown its space. As equipment manager, Moody had always harbored creative plans for renovating a new space to accommodate the needs of the student-athletes.
"The old space in Reynolds included the laundry room. We had a little over 4,000 square feet of space, 3,500 of which was used for team storage," said Moody. "There was a ton of shelving, but little if any floor space."
When WFU decided to renovate a number of buildings on campus, Moody's vision finally came into focus. She contacted Patterson Pope Sales Representative Bobby Davis, who was familiar to Moody from his other work at the university.
"I've known Roxann for years," said Davis. "She's been determined and extremely patient. Over the years, she's visited a lot of different schools and seen a lot of the work we've done for other institutions. She's even been inspired by similar systems done by other companies. We've done high-density mobile storage systems for Notre Dame, Kentucky, Florida, North Carolina and more."
Moody said it was the University of Louisville's football equipment room that really got her excited about the possibilities. "I knew that Patterson Pope was the best, most efficient option."
As part of the school's building renovations, the equipment room was moved to the old weight room inside Manchester Athletic Center. A much larger space than the old equipment room, the additional room – and a newly approved budget – meant Moody's plan for an improved athletic equipment storage solution could take shape.
"She had been planning this for a while. She knew what she wanted," said Davis. "What's interesting is that over all that time she had to plan, new products were introduced. So when it came time to actually plan it and build it, there were new options available. We probably went through eight or 10 revisions and in the end, the solution was a winner."
The new equipment room now boasts an attractive Spacesaver High-Density Mobile System with 4-post shelving. There are six movable aisles – each one designated for a particular sport, and each one with a locking mechanism on the end for added security.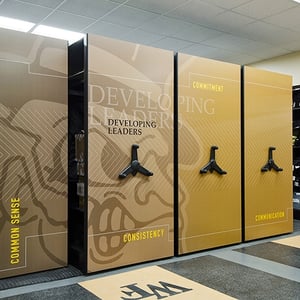 "I now have a ton of open floor space, I have room for shipping and receiving, we have office space, we have a large laundry room with a Spacesaver unit in it with drawers and a laminate top for folding items," said Moody. "It's allowed us to have a space that feels very, very open and not claustrophobic. High ceilings, good lighting, everything it could be."
The equipment room in the Manchester Athletic Center serves all 16 university sports in some capacity. "So when we built this unit, we added space to be able to put deliveries from men's and women's basketball, to accept deliveries from golf and tennis and baseball, which are off-campus," added Moody. "Each team that has a unit here has one bay. Basically, they have two sides. One side has 18" shelving, and the other side has 24" shelving, with hanging space. We knew from the get-go that we wanted to have a space where every student-athlete had their own little cubby. I have the same concept with every sport – just a little different in terms of how packed it is. Everything that you want to access quickly is in the front of the unit. Easy to open and close when you go from one sport to another with no inconvenience at all."
Because the new equipment room is located on the first floor, there are four columns that serve as supports. Their placement prevented Moody and the P2 planners from putting in a high-density mobile system that would stretch across the entire area. It was instead broken up into two separate systems on a single pair of rails built on top of the existing floor.
"It was a good application for our Diamond Non-Slip Rubber Mat," added Davis. "Because the space was an old weight room that had had these heavy weights dropped on it, they had a very high, very nice floor covering with Demon Deacon logos on it. What we did fit in nicely with that."
Colorful Graphics Package Scores Points for Recruiting
To finish off the project, attractive university graphics and inspirational words were added to the outside of the mobile system. In addition to some miniature Demon Deacon heads, athletics department "buzzwords" in keeping with their mission of "developing champions" were added, celebrating the role of student athletes and student equipment managers, as well.
"It looks terrific, and we'll definitely use this area as a recruiting tool," said Moody. "This is a system that people are going to see quite a bit, and I'm really happy with the way it turned out. Choosing Patterson Pope was a no-brainer. I knew it was going to be quality work."
For Bobby Davis, seeing the smile on his old friend Roxann's face was part of the "success" of this particular installation.
"She's waited a long time for this," said Davis. "I have emails from her dating back to 2012, maybe even before that. To be able to help her realize her vision for this space is really rewarding."
To be sure, collegiate athletics is a competitive business. These days especially, it's not just about winning and losing on the fields and courts, but about being able to do the little things to attract the best athletes in the first place. In this one instance, Roxann Moody's win was very much like that of a successful athlete. Years of behind-the-scenes dreaming and planning were finally rewarded by success. The realization of her creative aspirations might very well have ripple effects for the future success of the Wake Forest University Athletic Department, as well. That, in turn, might very well boost the profile of the entire university.
All of that from high-density mobile shelving? As any athlete will tell you, sometimes it's the littlest things that make the biggest differences.
For more details on this project, check out the Success Story
---