For last year's words belong to last year's language
And next year's words await another voice.
~T.S. Eliot, "Four Quartets"
The holidays are upon us, which means that there are sure to be a multitude of parties and gatherings at the homes of family and friends. As you embark on these social adventures, it's important to bear a few do's and don'ts in mind so that you can a) get maximum enjoyment from them, and b) not make a fool of yourself.
This time of year also heralds a bunch of "Happy New Year" festivities and traditions, including the obligatory crafting of resolutions. With that in mind, the other part of this entry is to remind you of the importance of making the right decisions for 2016 – specifically as they apply to the whole millwork vs. casework debate… which isn't really a debate at all.
So, without further ado…
DON'T…
Be a wallflower
The fun part of any holiday party lies in getting to talk with folks you don't normally see. Expand your horizons!
or…
Specify Millwork
In 99% of cases, millwork is not an option to be considered. It's not configurable – cabinets are ganged together and blocking is necessary. What's more, millwork cabinets need to be built on-site and are permanently anchored in a space. This means it takes more time and precludes reconfiguration.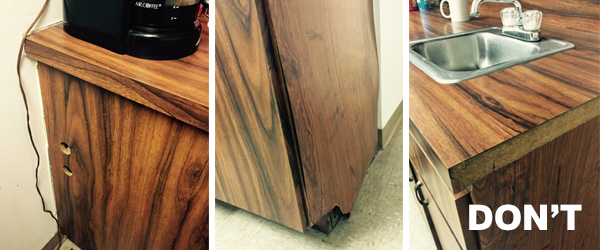 DO…
Sample the fare
You'll have plenty of time to work on your "healthy diet" and budding career as a weightlifter come January. Cakes? Pies? Cinnamon bread? Lollipops and gumdrops? Indulge in a little bit of this and bunch of that. You deserve it!
and…
Specify Casework
Go for modularity. Choose Hamilton Sorter Modular Casework for floor cabinets that are set in place and wall cabinets that are hung on wall with rail mounting system. They're pre-built, last longer, and the cam-and-pin assembly allows for easier repairs and change-outs.
DON'T…
Abuse the mistletoe
There's nothing wrong with being friendly, but you don't want to be too friendly. Usually, what happens at a holiday party doesn't stay at the holiday party.
or…
Get stuck with an inadequate warranty
On average, warranties on millwork range from just 90 days to only one year. We're guessing you plan on being in your space a lot longer than that, right? Millwork quality varies from millworker to millworker, which translates into more uncertainty than you should entertain. Hamilton Sorter casework, on the other hand, offers limited lifetime warranties.
DO…
Dress your best!
It's always fun to make an amazing impression – and we're not talking about your "best Jimmy Stewart!" Forego the silly sweater and dress up for your next shindig. You'll attract the right kind of attention and maybe even cause another quest or two to give you a second look.
and…
Have Consistent Quality
The casework we use is manufactured on Computer Numeric Control (CNC) machines, which means the end-user is assured of precision and quality in every piece. Additionally, edges are welded with PVC or are rubber-heated, leading to a finer fit.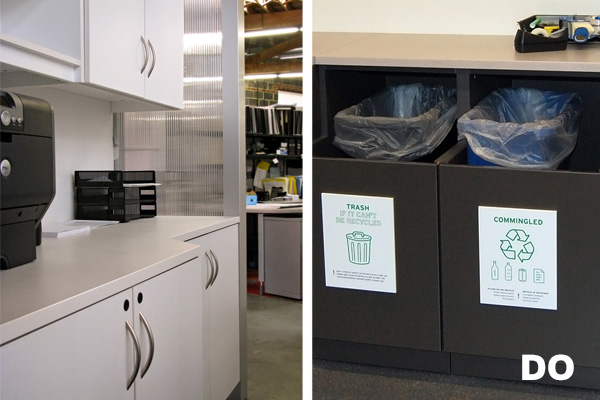 DON'T…
Get on a Soapbox
While it's all right to indulge in some wine or an egg nog to help share the spirit, over-doing it can lead to some unfortunate missteps. Over-sharing, venting, and dancing on tabletops may ensue, which usually doesn't end well.
or…
Rely on Contractors to Find a Good Millworker
Variety may be the spice of life when it comes to holiday sweets, but not when it comes to the quality of millwork. Every millworker is different, and that means every item they build is subject to… mmm… unique individual qualities. On top of that, the subcontractor you used to find that millworker might, one year hence, be long gone.
DO…
Rejoice and Renew
There's something about the holidays that invites introspection. It also yields inspiration and a sense of renewal. Be it in your relationships or in your plans for 2016, a little extra dash of excitement and anticipation can be incredibly invigorating!
and…
Be Selective In Your Silliness
If you should find yourself with a lampshade – or some other unusual item – on your head as you're dancing around really getting into some bad Bing Crosby karaoke, you'll be better off if that ridiculous dancing is done on a counter made of Hamilton Sorter casework. That way at least, should you fall flat, the counter won't come with you.
Patterson Pope wishes you a terrific holiday season! Have fun, be smart, and most of all… be merry!