There are a few things everyone can typically agree upon when considering new storage. They want practical, reliable solutions that support the business needs while still fitting in with the overall design aesthetic. That's the easy stuff. But there are also more complicated decisions - like choosing between millwork and modular casework when planning new "built-in" shelving, cabinetry and furniture.. That's when things get more difficult. Here's help.
Millwork
Millwork is custom-made and assembled onsite by a carpenter. This built-in furniture is commissioned for a specific project to suit the design concept and provide a long-term storage solution. There are times when it is the right solution for the situation.
If the project is relatively small and doesn't have many special requirements, millwork is typically going to be cheaper. Or, when you know that the way you use the space isn't going to change, permanent millwork can be the more economical choice.
Since the architect can draw millwork into the original plan, and no specs are needed, millwork is easily incorporated into existing plans too. General contractors sometimes prefer millwork, as they are more in control of the build that way.
Yet, millwork has drawbacks. There is no leeway to reconfigure millwork. Cabinets, for instance, are ganged and must be installed as a big, chunky block. Worse, millwork cabinets are built on-site and permanently anchored. So, it takes more time to install millwork that you are going to be stuck with, as is.
Reasons Modular Casework May Appeal
Modular casework, on the other hand, is just as functional but more flexible. Modular, manufactured furniture is delivered for site installation. The designers first choose from various styles to get the look they want from a solution that streamlines work processes.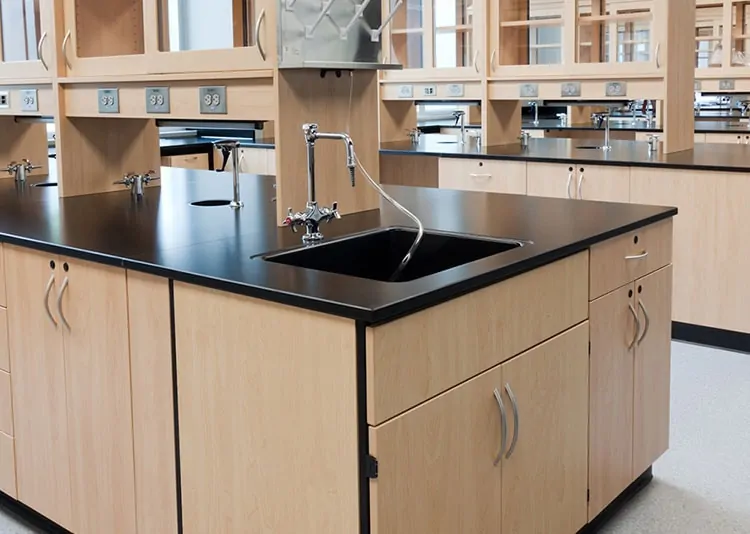 Unlike millwork, modular casework includes cabinets, shelving and other functional systems that can be hung or mounted but also moved for reconfiguration as the business needs change. They are pre-built, which saves installation time, and just as sturdy and long-lasting as millwork. Yet modular casework is made to be moved, re-assembled or taken apart for repair when needed. You're not stuck with what seemed like a good idea a decade ago when the building was first designed.
You can find modular casework in all kinds of settings and with various materials and finishes. We've installed adjustable shelves and organizers, laminate cabinetry, powder-coated steel cabinets and stainless steel cabinets in offices and evidence labs or at universities and hospitals.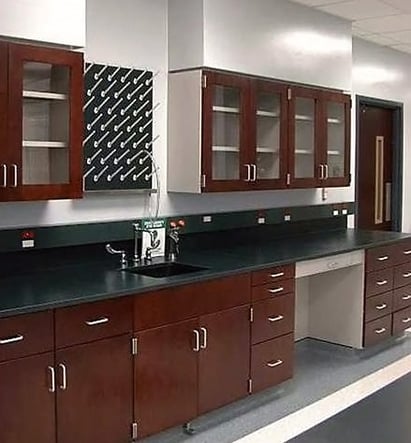 It helps that Modular Casework is specifiable. Drawing millwork is time-consuming. With modular casework, it's a simple matter of dragging and dropping the various options into a simulation of the space using design software.
Plus, if you decide to update the look in your environment, you could do so without having to start over at square one again. Doors, drawers, hinges and end panels are much easier to change out than traditional millwork as Modular Casework components are engineered to disassemble and reattach.
If you want to add to or adapt millwork, you'll need a millworker to come in and try to match the original design, materials and colors of the built-ins.
Budgeting Modular Casework vs. Millwork
Cost
Then we come to the cost factor. Yes, millwork is typically going to be cheaper. But we're often asked, "how much more expensive is modular casework than millwork." That's going to vary.
The cost depends on project customization. For example, if we have a national franchise project where the casework will be the same at every customer's site, the cost could be lower as the casework can be mass-produced.
On the other hand, a complex, custom application project could be less expensive with millworkers as there are many more local millwork shops to choose from. Still, the advantage of casework is the customer can move or reconfigure the storage investment, whereas with a millwork renovation you'll be looking at removing and throwing away your built-ins.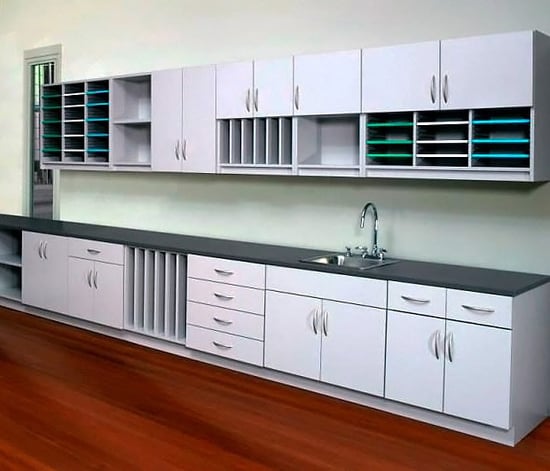 Depreciation
You also need to figure out some other financial factors. For instance, modular casework is treated like furniture and depreciates on a seven-year schedule. Millwork, meanwhile, is classified as permanent construction and requires 39 years to depreciate.
There is also a potential for offset savings as well on labor costs. Modular casework is much easier to install, while millwork is essentially constructed onsite. If the site requires union labor, that can impact cost savings as well.
Warranty & LEED Qualifications
Additionally, the typical millwork warranty is 90 days to one year. Modular casework usually comes with a limited lifetime warranty from the manufacturer.
Plus, you may be able to earn various LEED credits for Interior Design and Construction division with modular casework. You can meet sustainability goals too with many modular casework manufacturers showing leadership in responsible forest management and reducing carbon impact. For example, Hamilton Sorter is Greenguard Children and Schools certified and LEED qualifying.
Making the Case for Modular Casework
Modular casework is durable, precisely built and meant to be reconfigured and reused. Offering a range of finishes and hardware in stock, these high-quality products can be easily replicated and reproduced on a compressed project timeline.
Patterson Pope partners with Hamilton Casework Solutions for casework. That means you're getting precise, quality casework with a lifetime warranty that has been manufactured on Computer Numeric Control (CNC) machines. Additionally, edges are welded with PVC or are rubber-heated for a finer fit. Find out about the task-specific storage, sorting and organization solutions available in modular casework today!