Comparing powered mobile shelving to mechanical assist shelving isn't quite the same as apples to oranges. They both are, after all, shelving that can effectively serve your business needs. Still, there are reasons to consider one over the other when selecting the most space-efficient and cost-effective option for your organization.
What do we mean by powered mobile shelving? "It's electric" just as they sing in the Electric Slide. It may even have your employees up and dancing. Or at the least, they'd have more room to do so. Because powered mobile shelving is safe and easy to use with click-and-go technology.
Powered Mobile Shelving
Electrical-powered mobile shelving creates movable aisles to compact the shelving. This gives your staff extra space to move around. Plus, your business can reassign that reclaimed space for other uses that directly impact your business. With high-density mobile shelving, we see typically see clients double the amount of available shelving space — in the same footprint.
Powered high-density mobile shelving is currently boosting efficiency, improving workflow, and increasing success in libraries, hospitals, athletic equipment rooms, museums, police departments and other environments.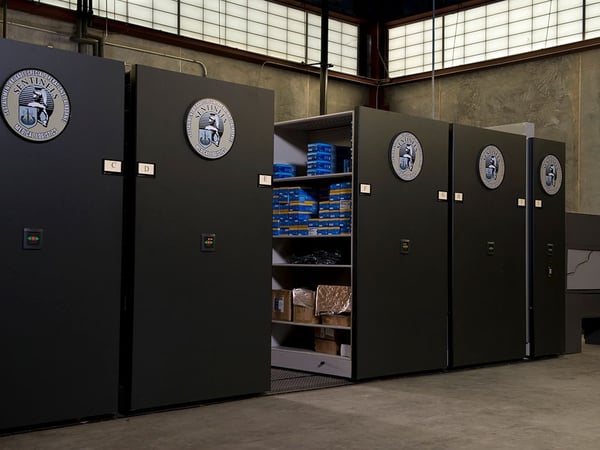 Mechanical Assist Mobile Shelving
Mechanical assist mobile shelving, on the other hand, doesn't get its own theme song. Still, it also significantly reduces the storage footprint. When you need to access an aisle, you simply turn a mechanical handle to move the shelving mounted on mobile carriages. With the mechanical assist, you can move 4,000 to 10,000 pounds of weight with very little effort. OK, maybe mechanical-assist does deserve a theme song. How about The Beatles' "I Get By With a Little Help from My Friends."
The mechanical-assist high-density storage solution lets you solve tough storage challenges and open the shelving aisles by pulling a soft-touch, ergonomic, 3-spoke handle. These ADA-compliant shelves, which can be easily reconfigured or upgraded to powered shelving, come in a wide range of colors, finishes and end-panel materials. A variety of optional handle colors are also available to match any decor.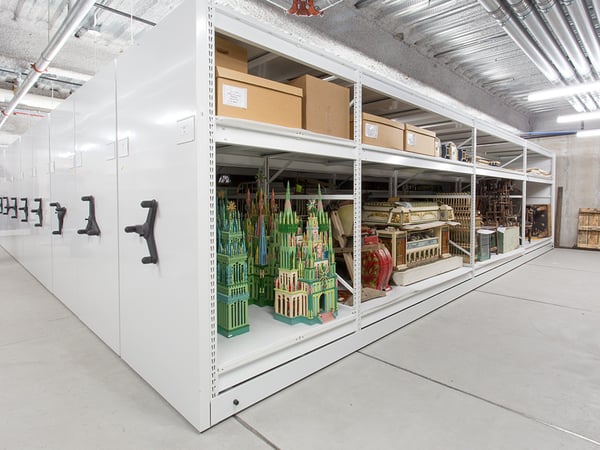 There are organizations in every industry turning these 3-spoke handles to access their stuff. We've installed mechanical assist systems in police stations, libraries, manufacturing warehouses, art galleries, law offices and more. Even cannabis farms!
Why Go Powered?
Now it comes down to the decision. Which type of shelving best suits your needs? Let's go over the benefits of powered mobile shelving:
Saving space compared to stationary shelving
Almost any type of shelving can be mounted on the mobile carriages — including your existing shelving or cabinets
Quick and easy reconfiguration as your needs change
Optional overhead lighting can add safety and convenience
Aisles open with the press of a button or touch of an LCD screen
Standard and optional automatic safety features including safety sweeps, brakes and anti-tip rails
Customizable shelving colors, materials and technology
Controls to regulate access to restricted aisles
Clients that often have their hands full when storing their stuff, can also install kick plates with powered mobile shelving. So, they don't have to waste time and physical effort putting things down to turn the handle.
Durability is often questioned when it comes to powered, but you might be surprised with the track record of powered. The Eclipse Mobile System from Spacesaver is a reliable option that takes away the fear of downtime. The drives, motors, guides, power and wiring are designed to handle continuous, heavy use. We've never seen a motor fail. Still, you can get a 10-year warranty on the motors. Spacesaver's optional PowerLink 24/7 system monitoring app can also help you proactively care for your system. Finally, if the powered system loses A/C power there are battery override options to ensure continued access.
Why mechanical?
What are the advantages of mechanical assist mobile shelving? Many of the same things we just listed for powered shelving. Except instead of having the shelving equivalent of power windows, you have to manually turn the handle to get the shelves to open. While you might not be able to find a new car with crank windows today, surprisingly, there are cases where mechanical assist shelving may be the right choice. A few reasons explain why.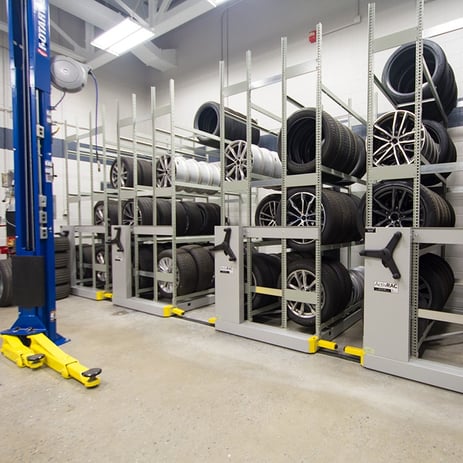 It comes down to cost, usage and cost. Budget is often a consideration, and there are times where there simply is not enough in the coffers to provide a powered system. Typically powered is 25% more, but it depends on what the client wants and who will be using the storage. For instance, a public library would choose powered shelving to add more safety precautions to the install as untrained people will be using the system.
Secondly, we see mechanical as the go-to choice for companies looking to save space in low-traffic areas with relatively infrequent access required for the system. . With low traffic requirements, the cost savings may make mechanical the better choice.
Safety is the biggest difference. If the shelving is going to be in public areas where anyone can access them or in high traffic, high access staff situations, it is better to lean towards powered to avoid any accidents. When safety features are not critical, mechanical assist systems are an excellent choice.
Preferring Powered Mobile Shelving
Ultimately, there are several reasons to prefer powered mobile shelving over the mechanical assist options.
Ease of use is an obvious one. Accessing a particular aisle, up to 30,000 pounds per carriage, is push-button simple. You can dictate exactly where you want the aisle to open to, allowing the motors to do the hard work. Additionally, users can:
Keep aisles open to the high traffic areas
Space aisles evenly for ventilation
Close all aisles in event of a fire
Speed
All of this is going to be done faster with a powered system. The mechanical assist system can only move a few carriages at a time. If the aisle the user desires to access is located at the end of the system, the user could have to move multiple carriages a few of them at a time, to create the needed aisle space.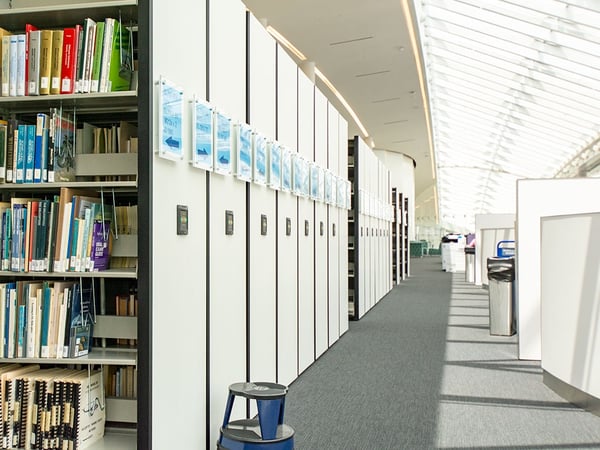 Productivity
Productivity is further improved with powered systems letting users retrieve something in an aisle as soon as it begins moving. The aisle will continue to open, but the user doesn't have to wait.
Safety
Now, that brings us to the safety issue. Users may be worried about getting stuck in an aisle when someone else starts to move the system. With Eclipse, that can't happen. The system's passive safety protections are set up to sweep at floor level, detect when someone enters an aisle, and sense any waist height obstacles. When someone — or that valuable artifact — is in the way, the system will not close the aisle. Ever.
Tracking
The electric-powered system brings one more advantage that trumps the mechanical option. The electronic system can provide tracking data. Businesses can monitor and manage who opened what aisle, when they did so, and how long the aisle was kept open.
Both types of shelving offer the benefits of high density mobile storage to organizations of any size or industry. Yet, unless there are budget restraints or the only goal is to save space, the powered solution will more effectively electrify how things are done with storage. Contact Patterson Pope today!