Being a small business doesn't stop you from having a large amount of stuff. Searching storage solutions for small business on the Internet brings up lots of information about data storage and backup. But what do you do with the stuff that isn't digital? That's where these small business storage solutions come in handy.
As your business changes, grows and evolves you may have accumulated files and records, computer hardware, office supplies and furniture, overstock of product and more. You're getting the feeling you need Marie Kondo to come in and help you decide what brings you joy in your work environment.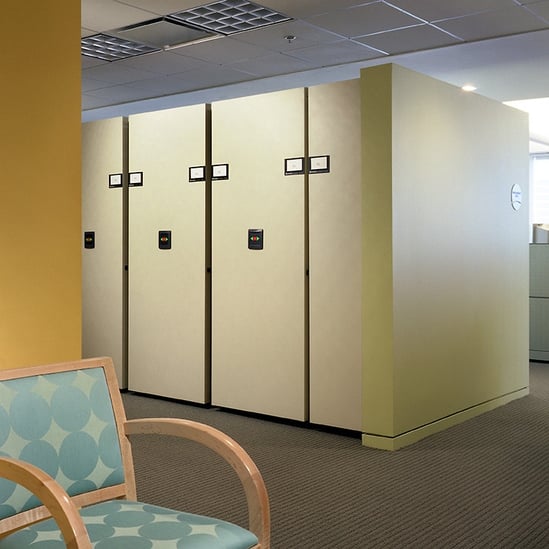 Only it's not that simple. You can't simply jettison all your personnel files or legal records. You may need those spare desks and office chairs for new hires when you expand again. You could have money sunk into that overstock or seasonal product that you know you can sell in six months. So, in the meantime, you have to find a home for all your things.
It doesn't help that space is money. National asking rates for commercial real estate have been consistently rising. In second quarter 2018, Minneapolis; Charlotte, North Carolina; Columbus, Ohio; San Antonio and Austin, Texas led the nation in year-over-year rent growth. San Francisco edged out New York for the highest asking rates in the country at $74.40 per square foot.
And that's not considering the hidden costs of having a cluttered work space. With too much stuff hanging around, your people can have difficulty accessing what they need. This not only lowers productivity but also can sap employee motivation.
Big Ideas in Storage Solutions for Small Business
Storage solutions for small business covers the full range of your business needs. Let's start with how you might better organize product and supplies.
A familiar choice is static shelving or cabinets. Heavy-duty steel shelving finished with durable powder-coat paint can be custom built to coordinate with your building's interior design. Lateral or rotary file cabinets are useful solutions, but you might also consider the hybrid — shelving with drawers.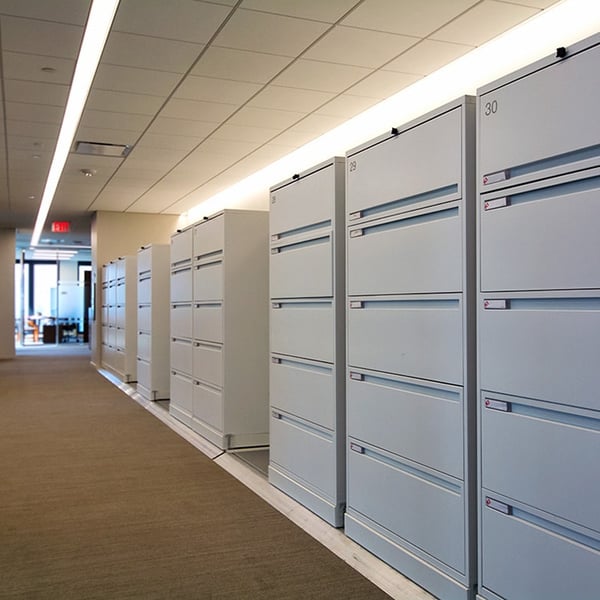 The best thing is that all of three small business storage options can be incorporated in mobile storage. With high-density mobile storage units, you do away with stationary storage taking up your floor space and requiring fixed aisles. Installing carriages to compact the footprint of that storage can save you space and help you avoid the hassle of having to renovate or move when your business is growing.
Modular casework including wall, base and storage cabinets are an easily configured (and reconfigured) solution for the small business space. These laminate cabinets are perfect for community workspaces, copy/fax/print areas, mail rooms, break rooms, kitchens and more.
If your business needs to organize lots of hard copy documents or has a bustling mail center, the right free standing furniture could help. This flexible solution lets you adapt easily as your business designates different spaces in its offices for varied uses.
---
Prioritizing People with Small Business Storage
Maybe your business has people with different skills rotating through on a part-time basis. So, they're sharing workspaces when they're onsite. Still, these employees want to be able to safely secure and stow their stuff. Laminate lockers may make be the perfect fit. Available in a wide range of styles of finish and color, these business lockers can add a design element to your space. Pairing form and function, these lockers can be installed along a hallway wall or even embedded into a table where people can work collaboratively or hold a standing meeting.
While we're talking about ways to improve the work environment in small businesses, we're also going to mention movable walls. These mobile office dividers and glass walls can help you create streamlined workstations, training rooms, conference rooms, and more. The glass walls, in particular, can help let light into your workspace while providing a sleek separation of spaces that you can customize to your needs.
One more way to encourage a healthy workspace is by devoting some part of the business environment to a break room or exercise space. These spaces don't have to look like you've just pulled together a hodgepodge of donations from employees' garages and basements. With flexible, adaptable shelving and cabinets you can easily keep the coffee filters tidy or give workers access to some free weights and resistance bands.
As a small business owner, you don't want to spend too much time thinking about storage space. But taking advantage of storage solutions for small business can support your success.
Patterson Pope can help design your project to ensure the most efficient use of space. We also provide installation services, staff training, and ongoing maintenance. Get the advantages of smart storage solutions for your small business with the help of our experts.