What do farmers care about most? Crop yields. Their profits depend on growing as much of their product as they can, affordably and efficiently. In the competitive cannabis and hemp markets, increasing grow space helps drive revenues. Consider the difference vertical grow solutions can make.
Canada lifted its prohibition on recreational adult-use cannabis in October 2018. The legal cannabis industry in the U.S. is expanding and expected to grow rapidly as more states make recreational use legal for adults here too. In 2016, the number of cannabis businesses in the US was estimated at 21,000–33,000, according to Marijuana Business Daily.
Additionally, as of January 1, commercial hemp production is legal in the United States. Hemp, its seeds, and extracts (all with less than 0.3% of the psychoactive THC) crops are off the controlled substance list and used in food and fiber. Now, they can be grown legitimately, thanks to the 2018 Farm Bill allowing licensed growing across the 50 states.
Yet legalization leading to rapid expansion has some drawbacks for those running cannabis or hemp operations. Oversupply is an issue, which has resulted in substantial price drops. The competition is leading growers to search for new efficiencies that increase growing space and improve profit margins.
Considering the average cost of new growing space is estimated at around $345/sq. ft. (based on high dollar real estate locations on both coasts), it is not difficult to see why vertical grow solutions make sense for cannabis producers and those in the fledgling hemp market.
---
---
Vertical Grow Opportunities
Farming success depends on carefully managing every square foot of growing space. Increasing crop volume is one easy way to decrease the cost of production. Vertical farms are providing the answer with several advantages:
New efficiencies in lighting, heating and ventilation offer the ability to consistently control the growing environment.
Consolidating the grow area can reduce energy and other operational costs.
Crops can be secured with thick walls, solid ceilings and cameras.
Air handlers and dehumidifiers can collect and reuse water for cost savings and lowered environmental impact.
ActivRAC high-density mobile shelving systems are a great fit for these vertical grow operations. These heavy-duty stationary rows of shelving are mounted on carriages that move side-to-side on wheels and a rail system. This mobility ensures easy crop cultivation and, later, efficient inventory access.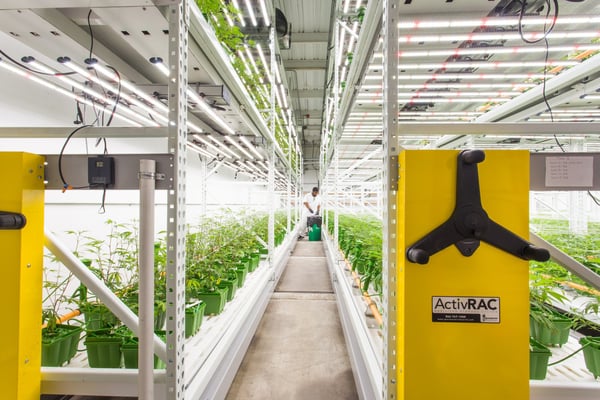 Why Cultivators Choose ActivRAC
Increasing cultivation space increases revenue, and this mobile storage solution maximizes yields. Going vertical with mobile multi-tiered shelving systems eliminates wasted aisle space, and addresses the inefficiency of standard growing tables. Growing vertical can extend crop space up to 30-feet to gain as much as 4x more clone, veg, flower, dry, cure and processing area.
With the plants strategically shelved for space optimization, the cultivators can also more easily address microclimate concerns. Added space provides the plants with the room they need to grow healthy and pest-free. After all, humidity is the enemy. When the plants are too moist, the powdery mildew and other infestations that precipitate crop failure are a much greater risk.
For those producers diversifying into other product lines (e.g. oils, edibles), freezer-ready mobile shelving can also secure raw cannabis and compounds in cold storage for further processing, ensuring the product doesn't deteriorate or become inactive.
Workers will see improvements too. An ActivRAC system allows staff to easily access every plant in the propagation and curing rooms on ergonomically friendly shelving. This can help avoid worker strain and employee injuries, which can be a hit to profitability. Reclaiming some of the physical space for employees, too, can provide common areas and meeting space to help boost morale and productivity.
---
---
Other Vertical Shelving Uses in this Vertical
The cannabis vertical has many corollaries as well, including dispensaries and testing labs.
Dispensaries need to store cannabis products in pharmacy-grade clean and secure settings to preserve quality and credibility with consumers. High-density mobile storage lets dispensary owners do the most with their footprint while providing flexibility to adapt to new products and still keep all items organized, visible, and easily accessed.
Cannabis testing labs can also see benefits from the right mobile shelving storage. High-density mobile storage can be used to secure chain of custody and provide temperature controlled stabilization while allowing flexibility for future needs. Managers can be confident their samples are organized and secured to match the requirements of validation, data integrity, and transparency of ISO 17025-accredited commercial natural products labs.
Working with the shelving solution experts at Patterson Pope, cultivators can grow their operations in phases, when convenient, with the support of professionals who can consult on space optimization, insure code compliance, and provide local maintenance service.