Students today have high expectations for campus experience. They don't want to wait in line for student services. They expect to interact with Campus Services on their own terms — immediately and from their mobile devices. As the connected campus becomes a reality, mobile credentials help provide a streamlined and frictionless experience. Especially with connected smart storage too.
Technology is not new on university and college campuses. Yet it has become more integral to campus administration, especially in wake of the COVID-19 pandemic. The clunky, cobbled-together strategy of old, with different offices taking varied approaches to technology implementation, is being replaced with a connected campus that creates an optimal experience and promotes safety and wellbeing.
The connected campus:
Meets the needs of everyone on campus

Supports student recruitment efforts

Helps retain faculty and staff

Improves focus on university mission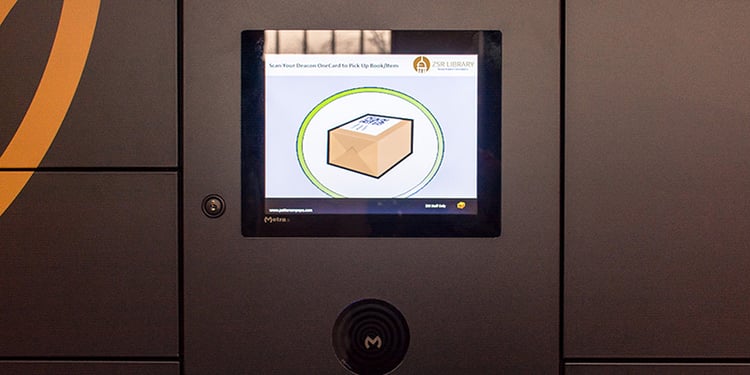 The days of long lines of students waiting to get their photo taken for a campus ID card are over. With practically everyone carrying a tiny computer in their pocket in the form of a smartphone, students, staff and faculty expect the convenience of mobile credentials. As Read Winkelman, educational sales manager of software company CBORD put it, we're heading into a period where community members have "the power of campus services right in the palm of their hands."
Mobile Credentials Make the Connected Campus
Mobile credentials provide digital access, with a campus community member using their personal device to do all manner of things including:
Gain access to campus buildings

Indicate attendance in lecture halls or at campus events

Pay for their laundry

Order food on campus

Use vending machines

Collect materials from the library

Check out technology or sports equipment

Pick up packages or mail from delivery lockers
The connected campus offers students smoother interactions and an enhanced consumer experience. Faculty and staff also enjoy working in a digital environment that lets them "focus on meaningful activities that serve a true purpose and promote the mission of the campus."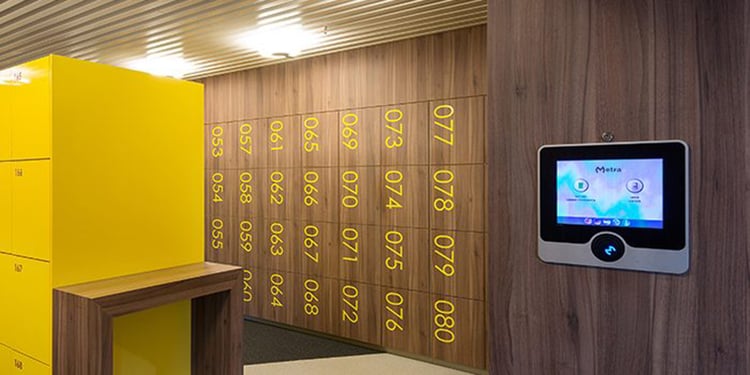 The connected campus supports social distancing, as there is no longer a need to pass a plastic card back and forth throughout the day. Plus, it can even help with contact tracing when there is an illness, as the mobile credential data can be analyzed to determine who was where and when.
Smart Storage on the Connected Campus
With smart lockers as one of the connected campus services, contactless exchange of goods, personal storage and rentals are easier too. Community members can use their mobile credentials to open a locker in a campus building, stow their gear before athletic team practice, pick up packages, collect food delivery, or check out library materials.
At Vanderbilt University, installing electronic parcel lockers cut the square footage required by mail services, increased accessibility and cut in-line wait times by two-thirds.
Further east, at Wake Forest University, mobile credentials are used to gain access to touch-less lockers where users can retrieve library materials and A/V equipment or drop off and collect computers from IT services.
Using networked touch-less lockers with Metra readers, the university or college campus adds another connected technology. With existing HID technology, the mobile campus credentials in an Apple wallet or on an Android device can be integrated right out of the box.
Whether it is in a student union, academic building, campus residence, gym, cafeteria, library or lounge, campus users can simply sign into their mobile app to claim or reserve a locker and open it without need to fiddle with a key or grimy touchpad.
Smart lockers can also be configured for temporary use or assigned short- or long-term. When the data from the lockers indicates that more day-use lockers would be useful, it is easy to reconfigure a bank to meet that need. Plus, the lockers can be set up to only open once and then stay offline until they can be cleaned for the next user.
Making the Move to a Connected Campus
Moving to mobile credentials is an expensive investment. However, it is being fast-tracked in higher education. In the long run, the connected campus creates convenience and provides an opportunity for universities to be flexible while keeping their community safe at the same time.
The connected campus is also cost-effective.
For one thing, the campus offices that once needed to be centrally located can be moved from their prime real estate. After all, students no longer need to interact face-to-face with student ID services. They can submit their photo online, and the credentials can be created without an in-person consultation.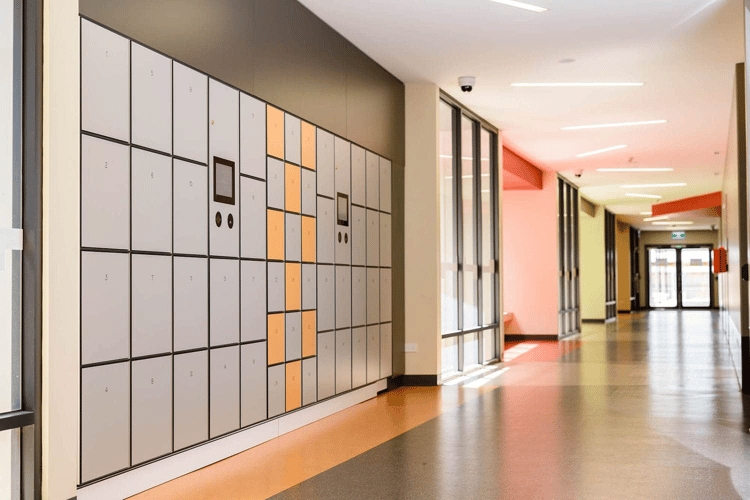 Plus, with the ability to streamline many campus services (from library circulation to mail centers), staffing needs can be optimized while still meeting the users' demand for 24/7 convenient access. Further, with software solutions working seamlessly, administrators gain valuable insights into campus traffic and trends.
Mobile credentialing is making the truly connected campus a reality. Smart storage lockers can add another element of convenience for your tech-savvy constituents. Improve campus experience by keeping up with the latest to offer in security, safety and efficiency. Patterson Pope can help.