University students may have outgrown their teen growth spurt years, but they still require sustenance to power their hungry brains. Dining together is also a big social activity. But, is it safe? Making dining safer on university campuses is easier with contactless exchange of goods.
The campus dining hall has long been a central meeting spot for college and university students. Faculty and staff also exchange ideas and gather together over meals on campus. Yet getting served a sandwich and soup or burger and fries typically requires waiting in line with a tray at busy food stations. COVID constraints has further complicated this scene.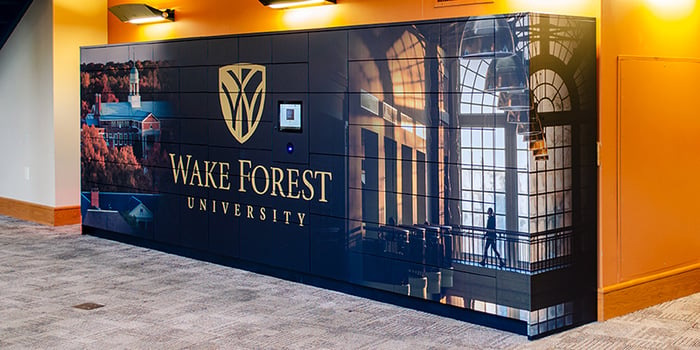 When someone wants to skip the line, they might order food to campus. That means pizza or other food deliveries by strangers coming to campus. Students with access to common rooms with kitchen areas might also need access to grocery delivery. Meanwhile, administrators are trying to limit person-to-person contact on campus.
In each of these scenarios, contactless exchange of good lockers enables a frictionless experience for students, staff or faculty members to get their food.
Contactless Exchange of Food, Groceries
COVID-19 has created contactless expectations about food ordering and pick-up – whether it's a delivery service, like Grubhub or UberEats, a food truck or the cafeteria food hall.
Contactless exchange of good lockers can be used to offer convenience to students, staff or faculty members. Staff and faculty will consider it a perk to get their online ordered groceries delivered to a campus locker. It saves them a trip to the store on the way home from work. Students also may want to stock up on their snacks, cup-a-soups and sodas to get through the week.
As far as campus dining services, the integration of student IDs or even mobile credentials makes it easy to capture all transactions in the touch-less locker software. This makes it simple to track student spending against their meal plans, whether they are eating in the main dining hall or picking up a sub sandwich from a locker in the student center.
Campuses that have foregone traditional campus cafeteria offerings, or augmented them, with food trucks to spread out students gathering for meals are also often using digital student accounts. The contactless exchange of goods locker takes all this a step further by having a delivery driver drop off the food without having to interact with either students waiting around in a common area or a worker at the entrance desk. The food can instead be delivered directly to a locker accessible in a common area.
How Does Contactless Exchange of Goods Work?
Whether it is a meal from the university-contracted food services provider or a local restaurant with a connection to the university, the campus community member could place an order using their account for payment. They might choose delivery to a smart locker in their dorm or campus office building. The order is received, food prepared and delivery sent out.
Once the delivery is in the locker, the student is notified using an email or text message. Then, the student collects the meal from the closed locker using smartphone mobile credentials or scanning a student ID. The door pops open and can be closed again with the nudge of an elbow to cut back on the touch of shared surfaces.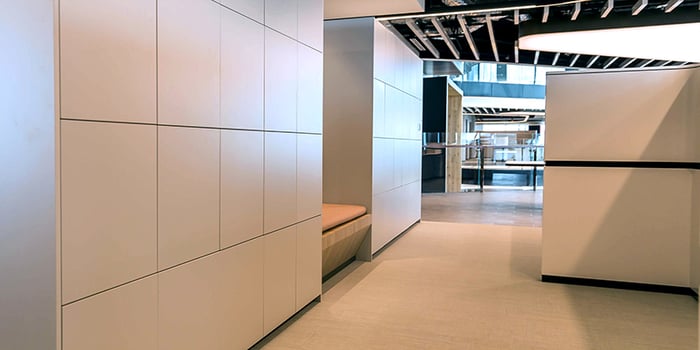 Better still, that particular contactless exchange of goods locker can be configured to remain out of commission until a cleaning crew makes its rounds. Plus, as the lockers are networked, overall cleaning is facilitated by the ability to open an entire bank at the touch of a button. Cleaners no longer have to unlock and lock each individual locker as they may have done with keyed or PIN-entry lockers.
These lockers can be placed at the entrance to the cafeteria or food hall, in the student union, at dorms or in other commons areas. The applications are many:
Athletes will see the appeal of placing a food order for post-practice that they can pick up easily at a contactless locker near the athletic fields
Students who work late in labs would see the utility of getting food dropped off in a touchless locker in the classroom building instead of having to traipse across campus for a meal
Faculty looking for a quick bite to eat on back-to-back class teaching days would enjoy the convenience of having food delivery waiting for them instead of waiting in line at the common dining hall
Contactless Exchange of Goods Offers Convenience, Safety
Ultimately, touch-less lockers on the university, college or even high school campus creates convenience and ease of access. At the same time, making food delivery possible across campus without requiring face-to-face contact can improve health and safety for the community.
Patterson Pope has passed the touch-less locker tests with flying colors for many campus applications. Find out how smart technology and high-quality design of contactless exchange of good lockers can make a difference in your campus experience and student, staff and faculty satisfaction.