Higher education institutions are first associated with the exchange of knowledge. Yet universities and colleges must also give thought to the contactless exchange of goods on campus. Especially with the new focus on reducing contact without adding friction, many institutions are looking to touch-less storage solutions to meet the growing need.
Universities hoping to bring faculty, staff and students back to campus more fully in the coming year will do so by continuing to prioritize safety and wellbeing. This will require campus planners and building administrators to create frictionless experiences that cut down on physical contact.
College students regularly receive care packages from home, books they've ordered or the results of an online retail therapy session. But, the contactless exchange of goods on campus goes beyond parcels in the mail center. On any given day, people are picking up and dropping things off. Picture it:
An English Lit professor picks up a copy of the BBC's Pride and Prejudice to show in class

The treasurer of the Phi Mu sorority drops off a cash box with raffle funds to the Student Affairs office

A psychology professor collects a projector for a visiting social worker to use during their guest lecture

A panicked student leaves their laptop with IT hoping the tech gurus can recover that nearly-done thesis paper

The president of the campus Quidditch club goes to campus services to get brooms for their games

An aspiring filmmaker reserves a camera and audio equipment to record their senior project

A brokenhearted student orders Ben & Jerry's delivered to campus to eat their feelings while binge-watching This is Us


Beyond the Mailroom for Campus Exchange
What can make all of these different hypotheticals run more smoothly, with the items or materials needed to be exchanged securely and safely? Touch-less lockers provide streamlined convenience and reduce the need for direct contact.
On campuses, the touch-less experience is facilitated by the ID cards every member of the community carries. Using a student or staff ID card or a mobile credential, individuals only require their smartphone to swipe and access the locker they need.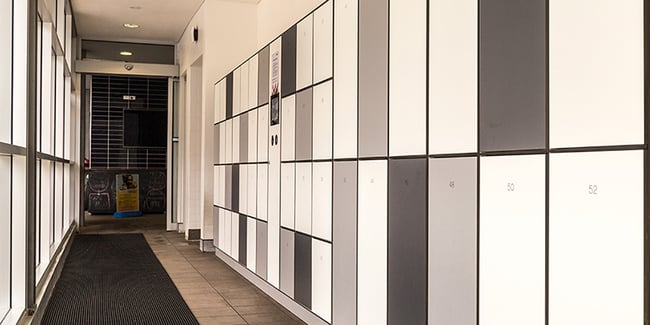 Touch-less smart lockers improve the overall quality of experience. That busy professor or multi-tasking student no longer has to wait in line to pick something up or drop it off. Also, since the items are left and locked in secure storage, the exchange of goods can take place whenever it is convenient.
Students are up and about at all hours, but that doesn't mean librarians and IT offices need to be too. A bank of smart lockers installed in a safe, well-lit area open to those with proper ID 24/7 can make things easier.
Beyond the happier campus community members, the university benefits in other ways too. Using touch-less parcel and delivery lockers for different departments, the institution can streamline business in a way that saves time and money. Plus, the helicopter parents at Family Weekend will be happy to hear their beloved offspring can get grocery or food delivery on campus safely. All this while minimizing contact and prioritizing well-being.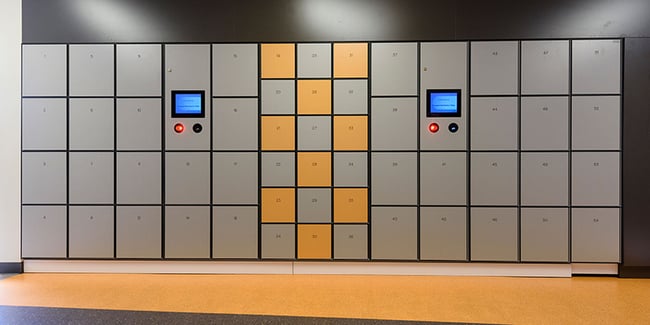 Features of Contactless Exchange of Goods Lockers
Touch-less
Students or faculty can use the mobile credentials in their phone or their campus ID to open the lockers. They can conveniently drop off or retrieve materials without turning a key or lock, touching a screen or entering in a 4-digit PIN code. Closing the locker door again with an elbow nudge, the user can enjoy a practically touch-less experience.
Easy to clean
Smart lockers can be set up to become disabled after use. This makes it easy for cleaning crews to know which lockers need attention. The system can be configured to only pop open the doors of lockers that need cleaning when crews present their credentials. Once cleaned, the lockers are reset to be accessible for use once again. Additionally, a whole bank of lockers can be opened at the push of a button for deep cleaning over Spring Break or in an emergency situation.
Data insights
Since these are networked lockers, all transactions are recorded in the software. You can analyze who is accessing what lockers and where to make better decisions about their configurations.
At Wake Forest, librarians realized they needed more lockers dedicated to book collection and were able to quickly reconfigure lockers to serve the community's needs. It helps that the locker banks can be multi-purpose. Wake Forest has some of the library's lockers assigned for materials circulation, but IT also uses some for technology repairs.
Bold statement
You might be thinking of the boring, utilitarian steel lockers that lined your high school hallways. These smart lockers can be so much more. Design a locker bank to blend into the environment with a natural finish. Or make them an accent piece by wrapping them in a customized school color, logo or brand image.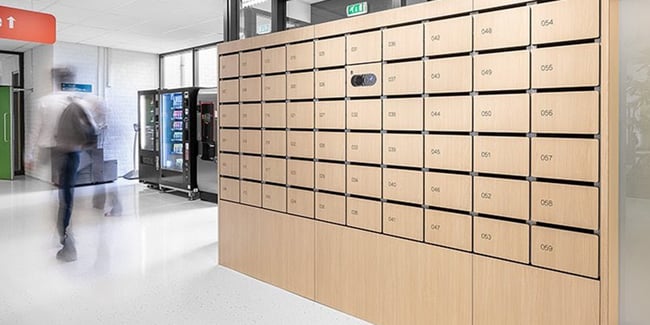 Touch-less Lockers Take Top Marks
Yes, students go on campus to learn critical thinking, discuss new ideas and explore fresh perspectives. But this article has highlighted how the exchange of knowledge isn't all that is happening. Contactless exchange of goods lockers can offer advantages all around campus. Libraries, book stores, athletic and IT departments, administrative offices, residence halls and the mail center can all find uses for touch-less lockers.
Smart lockers for contactless exchange of goods can streamline processes and keep people safe on campus. Learn more about the specific applications of these high-tech storage solutions in upcoming blogs in this series focused on higher ed.