University Benefits From "Smart" Electronic Parcel Lockers
Nashville's storied Vanderbilt University houses about 6,600 students on campus every year. As has been true for decades, those students regularly receive packages in the mail. Whereas in years past, however, those packages might have included cookie tins from home or maybe a parcel of books or a sweater from Grandma, today's millennials – ardent online shoppers – are receiving everything from small refrigerators to larger-scale electronics, too.
People like Mickey Anglea noticed. Anglea is the associate director for business services at Vanderbilt. He's also the postmaster. Several polls conducted on campus to ascertain students' satisfaction with the post office's services revealed that the average in-line wait times (about 30 minutes) were not exactly appealing. Couple that with the fact that some students had to share mailboxes, and Anglea started thinking about ways to better deliver for the population.
"We needed more space," he said. "Our post office looked old, outdated and tired. It certainly didn't look like something you'd expect to see at a major university. We had 7,000 4" x 5" physical mailboxes that took up about 2500 square feet. We also offered only three package pick-up windows, hence the longer wait times."
Challenges? Yes. Insurmountable? Hardly. Learn how Vanderbilt did it.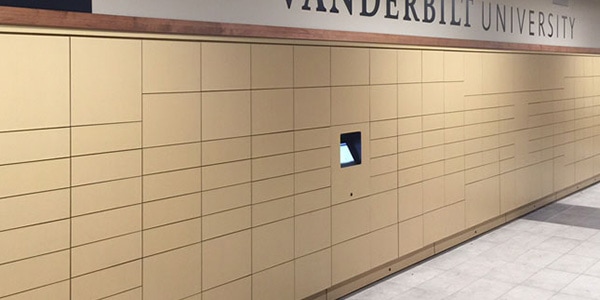 Thinking Outside the Mailbox with Smart Lockers
Knowing what you want to achieve is one thing. Knowing how to make it happen is the key. For Anglea, knowledge of what was available in the marketplace dovetailed perfectly with his vision for a renovated space. Anglea said he knew that if he "took" the traditional mailboxes, he'd have to "give" something in return.
"I knew that I could utilize our available square footage better," he said. "I knew virtual mailboxes existed; we've used them here for various departments. I just thought that we could use them in a different way for students. And I knew there was an option out there for electronic parcel lockers. I needed to do them together, and that's how I found TZ's intelligent lockers."
The original mailboxes were removed. In their place were installed a 100 square foot space containing a mixture of three different sizes of parcel lockers — 5½" x 17", 10½" x 17", and 17" x 17".
"We also came up with a way to give out their mail with their packages. It allowed us to make our lobby bigger and add parcel lockers to the lobby," added Anglea. "We also gained square footage in the work area, so it gave us more storage space for packages. It allowed us to make our CPU – our work area – bigger than it was previously. It allowed us to work smarter, not harder. We also went from three package windows to seven in the same amount of space. Through all of this, we made the service to the student better, and that's really the bottom line goal."
As for those in-line wait times? The average now is 10 to 12 minutes.
---
"It's very busy. Lines get very long. But if students have a package in the parcel locker, then they don't have to wait at all… they just go up to the smart locker, pick up their mail and/or parcel, and off they go. It's a huge difference now."
Mickey Angela
Post Master, Vanderbilt University Mail Services
---
What is a Digital Mailbox?
It's valuable here to take a moment and clarify what, exactly, a digital mailbox is and how it works. At Vanderbilt University, every incoming freshman receives a distinctive four-digit code; they will keep that code for their entire college career. When any of these students receives mail at the centrally located post office, he or she is notified via email. When the students open their email, they see a scanned image of the front of each piece of mail. They then have the ability to tell the post office what to do with each of those pieces: they can request that certain items be shredded, others be simply discarded, and others saved for pick-up. Then, when they come to the post office to pick up their mail, they simply walk up to an information kiosk and enter their name to find out which numbered mailbox holds their mail that day. Students have 24 hours to pick up their mail from the time they are notified before the mailboxes are reassigned to hold another student's mail. If students wait longer than 24 hours, they must wait in line for an available pick-up window to open to collect their mail and/or package.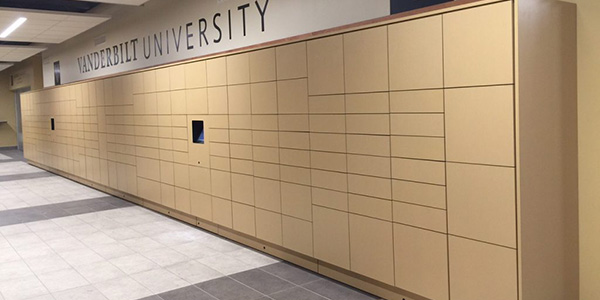 An Investment in Improvement
The post office stays busy. That never changes.
"It's very busy. Lines get very long," said Anglea. "But if students have a package in the parcel locker, then they don't have to wait at all… they just go up to the smart locker, pick up their mail and/or parcel, and off they go. It's a huge difference now."
Investing the time to determine what changes need to be made and the money required to make those positive alterations are well worth it. For Anglea, seeing the satisfaction of students who visit the post office is tangible evidence.
"What's funny is that we've had this in place now since 2014," said Anglea. "The students that are here for their first year, well, they don't know any different, right? But the students who are here that did see the transition from physical mailboxes and no parcel lockers to what we have now have been ecstatic. Of course, those new students would probably tell you that they'd like to see improvements, because they don't know any different from what they know today."
Change happens. Constantly. Delivering the best experience is often a matter of finding what works, devising a plan, and finding the right partners to make it happen – and products like smart lockers from TZ. It can be done. It should be done. Hey… no one said keeping up with the pace of millennials was easy.
But it's always fun.
Contact us if you'd like more information on smart lockers.