Archives are proud repositories of historic documents. Yet they can be saddled with storage solutions that are old too. Moving to mobile storage helped a large history center in the Midwest gain space and upgrade its cataloging system.
Patterson Pope partnered with the history center that since 1927 has collected and made available nearly 2 million artifacts and over 700,000 archival materials from 88 counties. Collecting and preserving local government and business records documenting the history of the region and its citizens is at the heart of democracy. Providing access to the public, academics, and researchers is critical to preserving the stories of the people..
Yet the collection of government records, newspapers, and citizen, business and organization documentation was growing too fast. Over the last ten years, space constrictions had become a real concern. "We are supposed to be the place for storage for all state records and government statistics," said the Stacks Coordinator. "We had to put a stop to that because we had no space."
At the same time, the existing inventory was getting more difficult to access:
Thousands of boxes and oversized books were stored floor to ceiling. Estimated more than 4,000 boxes were just on the floor because they had no other place to go.
Museum objects not being shown are kept off-site in warehouse storage.
Books were getting lost on deep static shelves.
One floor filled with heavy leather-bound books was a health hazard as the binding was degrading into a dust employees were inhaling.
The center asked the state to expand the archives, but the short-term solution was funding for a storage upgrade. Patterson Pope surveyed the existing space and proposed high density mobile shelving to increase available storage by 160,000 cubic feet.
Updating History Center Archival Records Storage
The archives had last put in new shelving about 30 years ago. At that time, the budget was tight. So, the history center could only buy half as many stationary shelving units as it actually needed. That wasn't going to happen this time. The new mobile shelving system installed on the fifth floor provides room to grow for another four or five years.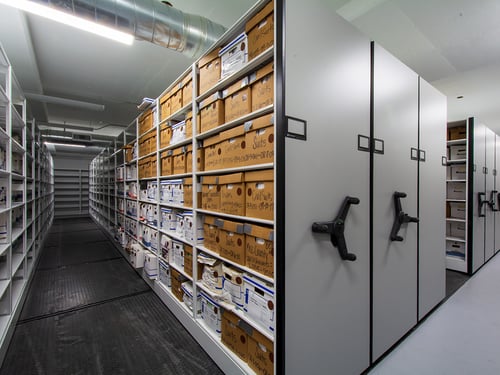 Additionally, the new shelving isn't as deep, which avoids a previous issue of books or boxes getting lost behind other records. Also as part of the move to mobile shelving, the staff shrink-wrapped those leather books to help better preserve them (and staff health).
To make room for the new high density shelving system, the center had to clear 52,000 cubic feet of space. The old shelving was moved to empty floors. Some 20,000 boxes and 23,000 oversized books needed to be transferred. It was a project requiring a lot of time and organization.
The history center used it as an opportunity to add electronic tracking capabilities. They needed to know exactly how many items were moved and where they were moved. In the past this would have been done by hand, but adding a barcode system overhauled the entire collection's organization.
As things were put into a new spot they were scanned in and this created a new catalog. Now staff can easily see if something doesn't belong somewhere. This modern tracking method was a "a monumental step forward."
Formerly, when they received a box, staff would have to manually type in a location. That opened up the possibility of a misplaced slash or dash or misspelling leading to shelving confusion. With the new system, a new box gets a barcode, the box is scanned, the new location is scanned, and it's all handled efficiently.
Growing the Collection for History Centers
Thanks to the new storage capabilities and improved organization the history center has been able to resume collecting and storing state documentation. As the state was having to pay for offsite storage in the interim, there's money saved from the move to mobile shelving.
Embracing e-tracking also gives a much greater visibility into its collections, which makes it easier to create change.
Building an addition remains a long-term goal. Having a proven tracking system in place (and a track record of responsible project budget management) can help make that case too.
In the meantime, with increased space and improved efficiency from the migration to mobile shelving, the center is back to doing its best providing access to archival information about daily life, business and government in the Buckeye state.
Patterson Pope has its own long history working with archives, museums and other historical organizations to provide storage that protects collections and makes the most of available space and budget. Contact us today!