Fire damage hits hard no matter your business. Fireproofing mobile shelving is one decision that can help support fire safety in your environment. Prioritizing fire resistance where possible is an investment that pays off in protection if the worst does happen.
According to the National Fire Prevention Association (NFPA), mercantile or business fires were the next most common fire reported behind residential fires between 2014-2018. Other data shows an average warehouse fire is 15x as costly as one at a healthcare facility ($128,099 vs. $8,333) but the disruption the damage causes will feel the same to each business.
So, when you're looking for a storage solution, it's a good idea to ask also, "How does this fit in with my fire safety?"
Fireproofing Mobile Shelving
Fireproofing mobile shelving is actually tough to accomplish, according to Patterson Pope representative Ken Stone. You could put fireproof cabinets on mobile carriages. Our FireKing fireproof cabinets against fire damage (including explosions) as well as severe impact and water damage caused by overhead sprinkler systems or firehoses. Yet these durable cabinets on carriages are likely to cause floor loading issues.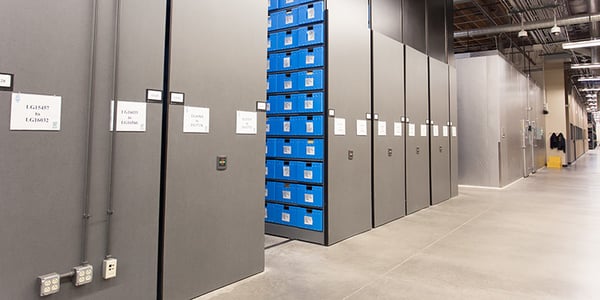 Another option is to use Spacesaver's Fire Park feature in the mobile shelving solution. Fire Park ties into, and is activated by, the building fire suppression system. What helps is that each business can make its own decisions about what to do with its aisles of mobile shelving in the event of a fire:
One user may want the aisles to close
Other users may want the carriages to open to a point where they are equally spaced in order to allow a fire suppressing gas (halon) or water (sprinkler system) to more easily penetrate the materials within the mobile system
Some customers don't want the water to get their materials wet, so they'd want to use Spacesaver's water deflection system which catches the water and re-routes it away from the stored material
Using powered tambour doors and linking them to the alarm system so that they activate and shut when the alarm goes off may also be an option
The fireproofing decisions you make will depend on many different things. Patterson Pope representative Tom Kelly encourages his clients to consider what is being stored, where, how it is being stored and local fire code.
Each of these needs to be reviewed individually, Kelly said. A storage solution expert can also help architects and designers weigh the value of fire retardant decking and face panels, features to control sprinkler run-off and even placement of storage in relation to sprinklers or other fire suppression systems.
Top Fire-Resistant Storage Technology
When it comes to fire protection, whether you're a building owner or architect, employee or code official, your priorities are probably the same. You want protection for people and the things in the building while minimizing the possibility of a fire and reducing its potential effects.
International Building Code (IBC) for storage facilities and buildings, the National Fire Protection Association (NFPA) recommendations and requirements of the US National Archives & Records Administration (NARA) are among the codes and considerations different businesses face.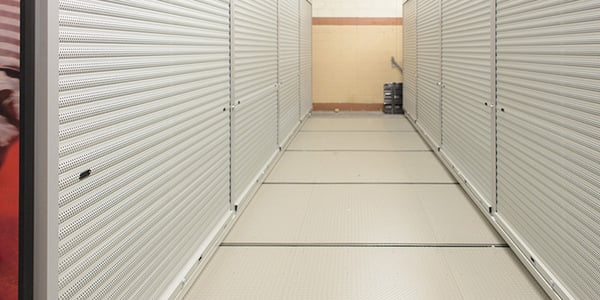 Thorough fire protection planning considers the combustibility of the materials stored and the storage equipment, the height of the equipment in relation to the ceiling and/or ceiling sprinkler systems, and anticipates the need for fire stops to allow better water penetration for fire suppression. Let's look at how our Spacesaver offerings are designed to help.
Equipment materials
Constructed of non-combustible steel or aluminum, Spacesaver mobile carriages and shelving are designed with fire resistance in mind. Additionally, fire-retardant wood or steel end panels or flooring between the rails and ramps are available.
Electrical safety
The idea of a powered mobile system may raise a red flag. You may worry electrical motors are a fire hazard. Rest assured that Spacesaver's Powered Systems are listed by Underwriters Laboratories (C-U.L.-US). That's certifying the entire system meets national standards for electrical safety, not just individual parts.
Versatility
Storage equipment height is determined by many factors. One can be the need for a sprinkler system. Depending on construction type, building occupancy, size of storage area, and the materials being stored, fire sprinklers may be required. Spacesaver solutions whether mobile or static shelving can be customized to allow for sprinklers or provide the 24" clearance required for firefighters to get a hose strap over the units.
Fire alarm system integration
Spacesaver's System Fire Park feature equips mobile-powered systems with Auto Move Interface and Building Interface Modules. This lets the individual user customize the systems' reaction to alarm activation. The system can be programmed to activate as soon as five seconds after an alarm activates. The system will cycle the carriages so that 18" of space is available between all carriages. This improves ventilation and allows heat to rise to activate sprinklers. Also, it lets sprinkler systems access materials during a fire and provides for easy viewing between carriages.
Spacesaver takes fire safety seriously and has invested in actual fire testing to identify the best approach for quickly containing and extinguishing a fire in a mobile system. At Patterson Pope, we're proud to offer customers the benefit of Spacesaver products.
There are many variables surrounding fire resistance and storage solutions. Fireproofing mobile shelving is only one option. Learn from our experts all that you can do to address the complexity of fire safety in your space.