When the client describes their existing storage space as "awful," it's easy to think you can only go up from here. But in the case of Troup County Archives in Georgia, our government storage solution experts actually went underground.
The Troup County Archives in LaGrange, Georgia is run by the Troup County Historical Society, a non-profit contracted to hold and care for Troup County, City of LaGrange and Troup County Board of Education files and records. The society also has an archives and historical museum on the Main Street of LaGrange.
Yet one of its three storage facilities had no heat, no air and was horrible for humidity, said Alex Hughes, Troup County records manager. "The work conditions were awful."
Cardboard boxes of records for each of the three government bodies were stacked on top of one another, wherever there was space, in what was originally built as an underground bunker in 1962.
The storage held nearly 3,000 boxes, but the Archives staff had "no physical control of those boxes at all," Hughes said. "We had very little idea of what was here and what was where….it was not an ideal space at all."
Moving on Up with Mobile Storage
After nearly a decade in the space, it was time to upgrade the government storage of documents. With funding from all three government offices, the Archives went with high-density mobile storage.
"We went mobile instead of static primarily because of the fact that we wanted to get more in this space," Hughes said. Plus, with Spacesaver shelving in other locations already, the Archives was eager to go ahead and get the best available solution from that manufacturer.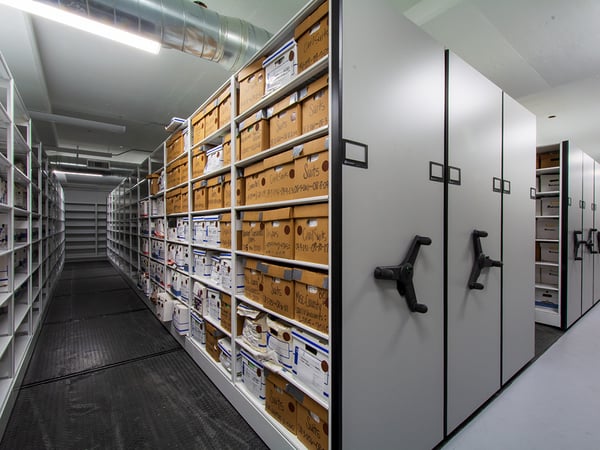 The entire space is converted, said Shannon Gavin Johnson, Troup County Archives' Executive Director. The Archives has gone from confusing clutter to organized government storage with plenty of room to grow.
Gavin Johnson estimates that the mobile storage solution has provided the Archives with the room needed for 30 years more of government documents. In fact, she said, if the Archives is "careful with its retention policies" it could continue to rely on the bunker storage space for another 50 years. Maybe even longer with the digitization of records.
When things are accessible and easy to retrieve, being underground is more appealing. "This is about the safest place you can get," Gavin Johnson said. With 36 inches of concrete around the mobile storage solution and another 24 inches of dirt above the facility, the bunker is "really safe for records." Especially in the southeast where tornadoes can be a concern. "This is about the best you can do."
Working with Patterson Pope
Throughout the process of designing, installing and implementing the new mobile storage solution, Patterson Pope "went far beyond anything I could have dreamed," said Gavin Johnson. "Patterson Pope may be my favorite vendor."
Records Manager Hughes also had only positive things to say about the experience. Even while the documents were taken off-site for secure storage during the installation of the mobile storage, the Archives was able to continue to access essential records, he said.
Judy Baker, Patterson Pope's Safety and Records Logistics Manager, "flawlessly" oversaw the removal and return of the records. When the boxes were brought back, Baker and her team worked with Hughes to establish more space for different departments even while the Archives continued to answer records requests.
The install, too, was "a class act," Hughes said. Even working within the tight deadline pressure the Archives was under, Patterson Pope was "professional, easy to work with, and there's lots of communication from the team."
Standing in the newly remodeled government storage facility for Troup County Archives, Hughes encourages others to be willing to dream big. Acknowledging that other archivists and records managers are working in basements or attics and other uncontrolled storage spaces, Hughes recommended, "look beyond your current circumstances. You've really got to look at what it can be. It can be something like this eventually."
Government Storage & Patterson Pope
Government storage has its own challenges. Working with government buildings, city and county agencies, courthouses and state and federal agencies, Patterson Pope makes procurement easier and engineers an effective solution no matter the size or shape of the space.
When it comes to government records, we know the importance of storage capacity and being able to access documents and serve the public. Plus, there's the careful scrutiny of a budget as you're spending taxpayer dollars.
With the right government storage solutions, it's possible to enjoy easy, secure access to essential information. Well-planned storage products streamline document flow, lower stress and increase productivity. Learn more about the options available to you today.