Trent Dilfer has done great things in football. He also believes football is an incredible educational experience for young people. The Super Bowl-winning quarterback recently joined Lipscomb Academy's football program as head coach. One of his first plays? Throwing the ball to Patterson Pope to revamp the equipment storage at the Nashville, TN, Christian academy.
"I am fully invested in using the vehicle of football to teach the young people in our program to chase their human potential relentlessly. We will be great in football, but more importantly our football program will represent what is best in this great city of Nashville," the 14-year NFL veteran and EPSN analyst said in accepting his new role in 2019.
With the staffing change came motivation to run the high school football program like a high-level college program. That required a revamp of the equipment storage.
With 110 players and some 20 to 30 coaches, Lipscomb's Mustangs serve a lot of people, and the need for a lot of "stuff" comes with that. Yet the old equipment storage was "a disaster," said the program's Director of Football Operations, Preston Campbell.Things were just thrown into the room without any organization. "It was piled high with used equipment, step overs, ropes, old rusted weights," he said. There was no way to tell what was used and what wasn't. Some of the stuff still had value and continues to be used today, but the school needed a new solution for its storage first. As Campbell put it, "we knew that we had to increase the efficiency of the operation."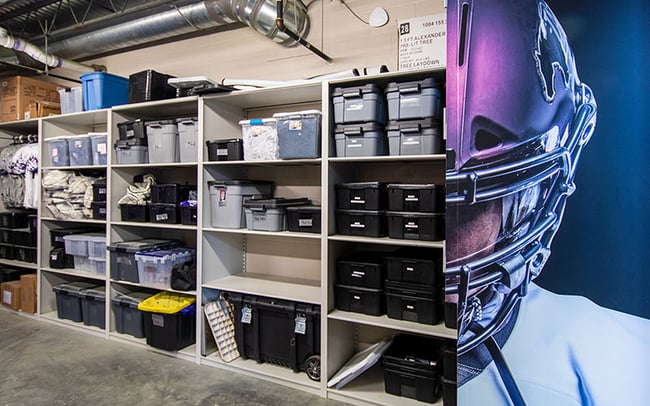 It's in the Small Details
Dilfer and his staff communicate to players: "How you do small things is the way you do all things." The coach says that extends also to the equipment you buy and use and how you store it. He says, "every part of your operations needs to be dialed in."
Patterson Pope shares the same philosophy and brought its eye for detail to the 375-square-foot sports team storage space in the school's $5 million McCadams Athletic Center. Installing static shelving and cabinets as well as high density mobile storage along the exterior walls of the equipment room, the solution helped create a systematic, organized approach.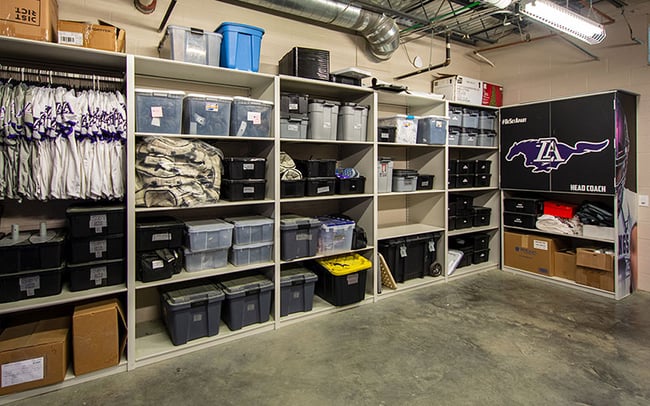 "The customization that Patterson Pope allows with these storage units is huge," Campbell said. Each component is flexible enough to be modified to store whatever is needed from hanging uniforms to stacking up tall tents. For Campbell, the versatility "is really invaluable."
The old room with its stacks of equipment strewn around the floor has become a functional space. Plus, the decision to put all of the storage around the outside walls of the room gives the operations staff room to work too.
"It definitely helped increase our efficiency and the way we do things on a daily basis," Campbell said. "We've really saved on costs and man hours because of what they did for us."
Dilfer was impressed with the end result too. It's hygienic and well organized, and all the coaches know where to find everything they need. "You're not diving through closets to lift up this to find that," he said appreciatively.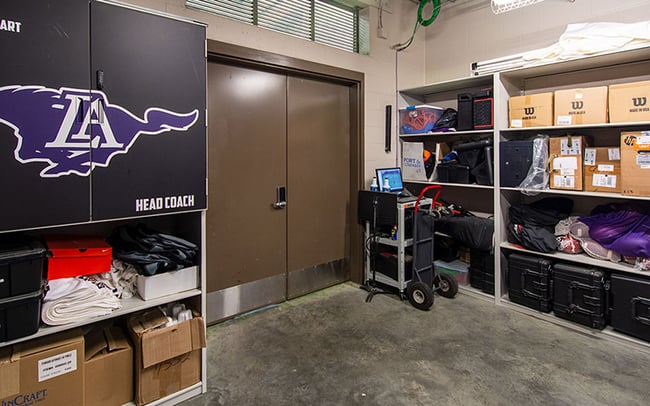 "We were able to take space that was really not being used, not practical and turn it into really functional, flashy, kind of sizzling space," he said. After all, the head coach's equipment storage is branded with a Mustang. Plus, elsewhere in the room, an image of a helmeted player's head reaches from floor to ceiling.
The changes have long-term appeal too. As the program continues to grow and get better, it has the ability to easily add more units and customize how it stores its stuff, Campbell said. "We can continuously reconfigure the way this room is used and still maximize the space that we have."
Equipment Storage Part of the Bigger Picture
The great thing about Patterson Pope's partnership with Lipscomb is joining forces with a football staff that sees the bigger picture. You might not expect the man who led the Baltimore Ravens to a 34-7 victory over the Giants in Super Bowl XXXV, and played also for the Buccaneers, Seahawks, Browns and 49ers during his 14-year-career, to care about how stuff is stored. But he does.
Dilfer is asking his athletes to live uncompromisingly and "be set apart" and he sees even storage playing a role in that. He can't preach organization and intense attention to detail and how well things are done to the athletes and then let them see chaos and clutter. The right storage helps him and his staff represent his message of "let's live uncommonly good lives" from top to bottom throughout the football program.
We can't stand chaos or clutter either. That's why we do what we do. If you have equipment storage needs, reach out to Patterson Pope to customize your next solution today.