The NFL lock-out ended and there was an NFL season in 2011. For pro football fans (and fantasy football coaches), this was great news. Even as the lockout stretched into the summer, NFL teams were still doing a lot of work behind the scenes. Take the Carolina Panthers for example. The Charlotte, North Carolina-based team took advantage of the off-season to renovate their equipment room in Bank of America Stadium. For this renovation, High Density Mobile Storage Systems, Static Shelving and Modular Drawer Cabinets were installed to store everything from helmets, uniforms and shoes to hats, sweat suits and shoulder pads. In a room that they described as small by comparison to other equipment rooms, they were able to double their storage capacity with high density storage. This was crucial because they have a lot more stuff to store than they used to. The Panthers have done a wonderful job of chronicling this project on their website, and they do a much better job of describing it than I could.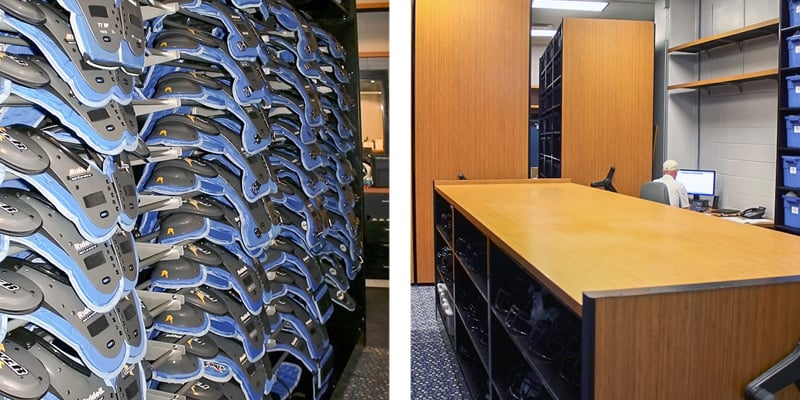 Here is an article entitled "Equipment Room Up and Running" by Brian Strickland that they posted back in June:
The football equipment industry has changed drastically over the course of Jackie Miles' tenure with the Carolina Panthers, but his responsibilities haven't really changed.
"We've always taken the approach of, 'Let's just take care of our guys,'" said Miles, the only equipment manager in team history. "We want them to be comfortable and win football games."
With that philosophy in mind, the players will be greeted by a remodeled equipment room upon their return.
Miles and his staff spent several months working on the first overhaul of the equipment room since Bank of America Stadium opened its doors in 1996.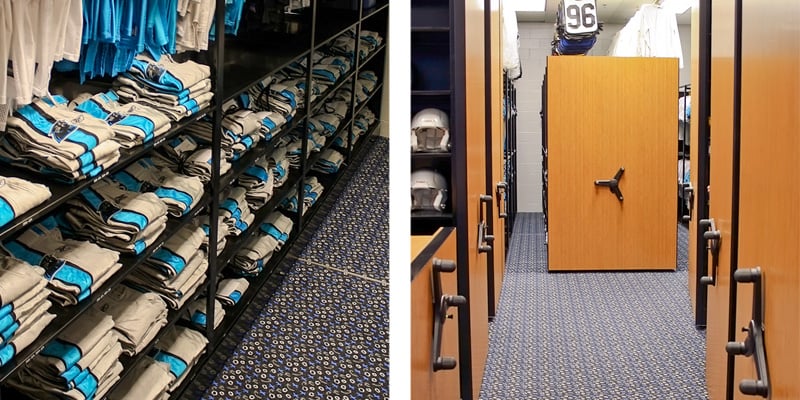 Where stationery, seven-foot-tall cabinets stood before, the room is now dominated by 12-foot Spacesaver cabinets that can be moved along a track built into the floor, an innovation that has doubled the amount of shelf space in the room.
"We've probably increased our space by 100 percent," Miles said.
That's a good thing given that since the Panthers made their NFL debut, Miles estimates that his inventory has tripled.
"Way back when, each player would get one sweatsuit; 17 years later, everybody has a light, middle and heavyweight sweatsuit and a rain suit," Miles said. "You have contracts with apparel companies, and part of the contract says that they supply you with stuff, and what they supply you with, they sell at retail to the public. The more products they can supply you with, the more they can put out at retail.
"Also, there's been specialization. Under Armour came out with tight-fitting, dry-fit material, then everybody followed suit. You went from using one type of T-shirt in four different sizes to six different types of T-shirts in two colors in five different sizes."
Miles – who has worked full-time in equipment rooms since he was 17 years old – along with assistant Don Toner and the rest of the equipment staff, always have found creative and efficient ways to tackle any space concerns. But when team president Danny Morrison approached Miles shortly after the 2010 season about the possibility of remodeling the equipment room (the team already was planning an overhaul to the weight room), Miles jumped at the chance.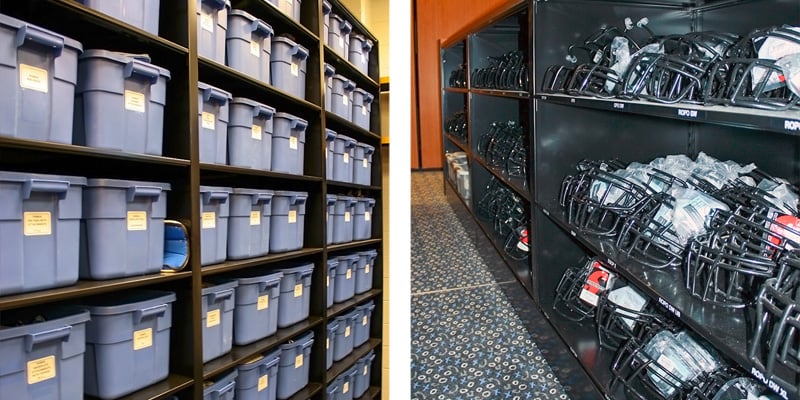 He played an integral role in designing the new space, in conjunction with Spacesaver supplier Patterson Pope as well as Atlantic Commercial Caseworks. His staff members and the Panthers' stadium operations and maintenance staff were hands-on throughout the project.
"Danny was willing to make a commitment to the equipment room, to pump some money into it and do it first class. Of course, I was all for it, so he asked me to look into it," Miles said. "It took four to five months to design, to pack everything up and move it out, than to re-do the room and get everything back in here."
Miles believes it was time and money well spent.
"When the players come back, we're going to be glad to see them, and we want them to know that we've been working hard to make things better for them," he said. "This will be beautiful for them and very functional."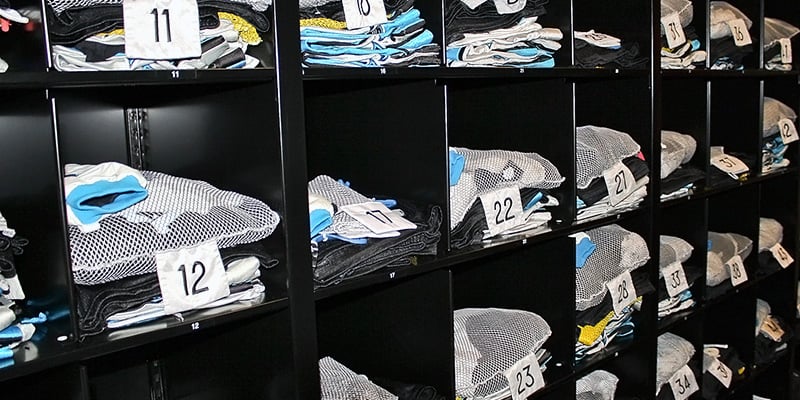 There is also a great video tour of the equipment room and an interview with Jackie Miles that you can find here
The Panther players returned to a top-notch equipment storage room, but with the start of the season right around the corner, there is still plenty to think about. Due to the work of Jackie Miles and his staff, the team can rest assured that all of their equipment is well kept and ready for kick-off.
Are you ready for some football?
For more information, check out our Athletics Storage Page.