The global health pandemic has prompted many major shifts in our mindsets. The work environment may never be the same. One major perspective change predicted to take hold is a people-first approach. In the post-COVID design era, architects and space designers will put even more emphasis on a great user experience.
The move away from profit as the only important factor didn't start in 2020. Offering a great experience to employees, tenants, visitors and other users was already recognized as a way to improve outcomes. For businesses, providing a place where people feel happy offers advantages such as:
Improving productivity
Encouraging creativity
Empowering collaboration
Supporting employee engagement
Discouraging attrition or turnover
Yet post-COVID design will take these efforts even further, adding not just a sense of security, but health safety too. Putting people first in 2021 design and building management decisions means providing easy, touch-less experiences. That's where smart lockers can come into play.
Putting People First in Post-COVID Design
When the COVID-19 health crisis forced people to stay home and work remotely, many organizations reported an uptick in employee engagement. A McKinsey survey revealed employees with remote work options had "a stronger sense of well-being than those in non remote jobs with little flexibility do."
Yet post-COVID design needs to help people return to the work environment, or public spaces such as museums or libraries, without worrying about basic safety and security.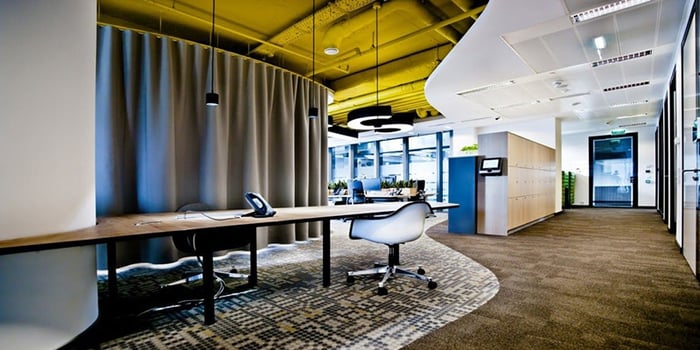 Simply put, human behavior is (in needs-based theory at least) motivated by need fulfillment. And our first need? To feel safe. That's why we like job security, financial stability and working with people we trust. That safe, secure experience is also reflected in our physical and mental health.
Before you discard this approach as too touchy-feely, know that an analysis of 250 organizations validated the finding that "employee experience is an investment in longer-term success." The study found companies that invest in this value outperform those that don't — four fold.
The question is, how can you invest in employee or guest experience in the post-COVID environment? That's what we'll cover next.
Strategies to Provide People-First Environment
#1 Empower your people
Providing greater levels of self-management within the environment can help. Our mixed modes recognize that there is no one-size-fits-all solution. You can configure your smart storage for temporary or permanent use. Let the lockers be unlocked in a variety of ways including WiFi (App), Bluetooth, NFC, RFID media or even a wearable (Apple Watch). With straightforward API integration, you can set up the smart locker platform to accept third-party readers such as BioMetric (facial recognition) or other proprietary readers that use mobile credentials (i.e., OpenPath, Brivo, etc.).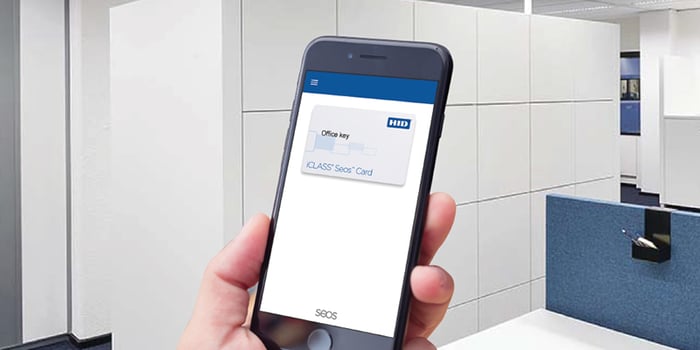 You might also provide employees or guests with the ability to reserve a locker in advance in a smart building app. The My Metra Key phone app allows users to choose the location, size, duration of locker use in available locker banks. This touch-less locker technology lets people remove the risk of spreading germs in high traffic areas too.
Further, this technology empowers your people while making things easier for administrators as well. They can manage multiple locations from a single dashboard. It's easy to set up lockers for temporary use, permanent use, or mixed applications such as package delivery, visitor access and assigned lockers.
#2 Prioritize wellbeing
There are many approaches to show employees, residents or visitors that you care about their physical and mental health. With smart storage you can make choices that demonstrate this by:
Using materials made for disinfecting and cleaning in your flexible and adaptable storage, including:

Laminates with antimicrobial properties
Powder-coat painted steel with antimicrobial properties
Copper-infused materials
Phenolic panels

Providing lockers that don't have lock fronts and can be more easily cleaned without protrusions or seams
Setting lockers so that only those with enough social distance are made available, and then prohibiting another user from opening that locker until it has been disinfected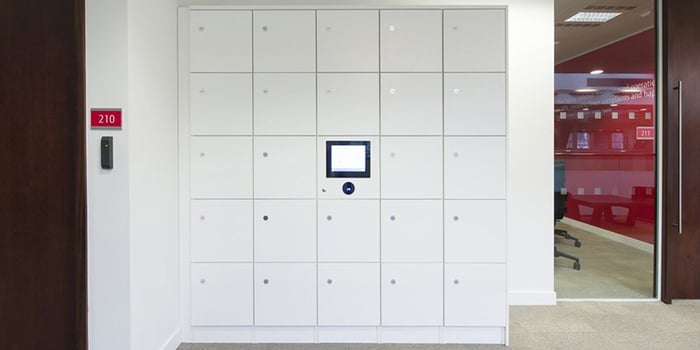 Even how you set up the space can demonstrate your concern for wellbeing. You might use a locker wall to create more socially distant collaborative work spaces. Then add a live, natural element to purify the air and provide a calming influence with plants on the top surface of the locker banks.
#3 Use data
For McKinsey analysts, one way to maintain the momentum of post-COVID change is to "find creative ways to use advanced analytics, behavioral science, and digital technology to put employees in charge of their own journeys; tailor interventions to individual contexts and evolving needs."
Smart storage technology helps with this by providing digital dashboards. You can use the data provided by smart lockers, for instance, to determine how the lockers are being used and how many are needed. Change it up down the road. Wake Forest installed lockers as unassigned and delivery, but soon learned that their usage only merited delivery lockers. Five minutes later they had converted the configurations.
You can also combine smart locker technology with other smart building apps to gain insights into usage trends. The digital dashboards can also support contract tracing, auditing and reporting and social distancing enforcement.
#4 Streamline process
It's inevitable that the environments around us will change even as we gain access to immunizations. In the post-COVID design era, make it easier for people to exchange goods throughout the day. An IT business might provide smart storage to support contact-less collection and return of technology for repair. Legal files or books can be left in lockers to be claimed by the right person. Even military outfits can exchange equipment and provide supplies without asking people to wait in long lines. Retailers are also using smart storage as an alternative to curbside pickup.
On a daily basis, package delivery lockers can help minimize contact with external entities. Since people are less likely to be eating out in restaurants, you can make it easier to bring food in with delivery lockers where people can collect their lunches in a central location. One hospital system even provided grocery delivery lockers onsite to make it easier for essential personnel to balance their personal and professional lives.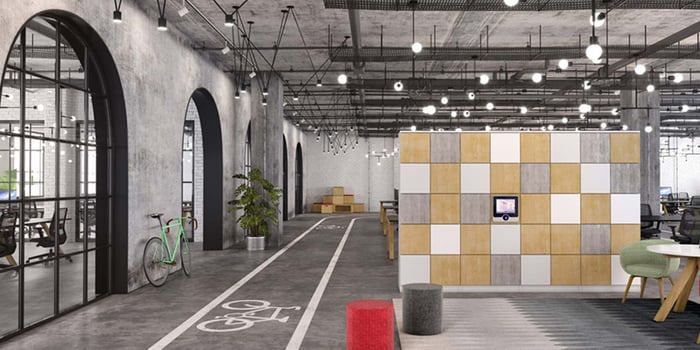 With contactless package delivery lockers, the package is put into a locker and the recipient is notified via text or email. When they are ready, they can open the locker door from a touch of a button on their phone, again minimizing their contact with shared surfaces.
Conclusion
Embed high standards of employee and customer experience into your post-COVID design decisions. By focusing on providing flexibility, ensuring wellbeing, leveraging data and streamlining processes, you can offer an environment that meets both your business needs and your users' desire for safety and security too.