The year 2020 will be remembered for many things. One standout will be that this was the year remote work really gained a foothold. Still, not all work can be done at home. As business reimagines work environments, hybrid workplace lockers can play a key role.
Beyond your own personal experience of remote work, research supports the value of this flexible option. A Forbes columnist shared a survey of 260 senior executives, C-suite executives that revealed "remote workers significantly improved their productivity since working remotely." The "increased efficiency" was "attributed to not commuting, minimized workplace distractions and more freedom to work during the hours that are best for each individual."
Even with a vaccine winning FDA approval in North America, many enterprises plan to move to a hybrid model. Google's roughly 200,000 employees are going to be working from home until summer 2021 and Facebook is extending its work-from-home policy into next July.
Companies are also seeing benefits in reducing their carbon footprint and scaling back their office environments too. Yet permanent remote work isn't likely, according to a JLL Report. Instead, businesses are favoring more hybrid workspaces. So, what does that look like?
Perhaps the organization establishes specific days for different departments to be onsite for in-person meetings and collaboration. Or, individuals are only expected to come into the work environment when they have to attend brainstorming sessions, kick-off new projects, or participate in team-building.
What Does This Mean for Workplace Storage?
When people do come into the work environment, they are going to need somewhere safe to put their stuff. Since they aren't in every day any longer, they might have an individualized cubicle or office to store belongings. Yet they want to secure personal belongings. Plus, they'll want to avoid having their things out and exposed to their colleagues and visitors' germs.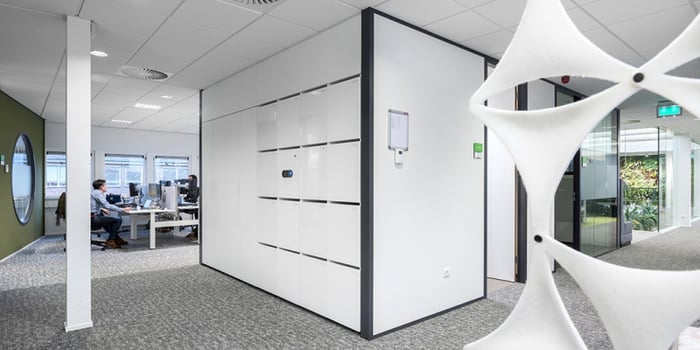 The needs of the flexible workspace can be easily met with hybrid workplace lockers. Today's agile office lockers are much more than the steel locker you might remember from high school. A locker bay can be combined with a whiteboard or digital display for facilitating a brainstorming session or a team meeting with a remote client. Combining the necessary storage with technology that lets your people get better work done just makes sense.
The options for smart workspace lockers are sweeping. A financial company in the Southeast is planning to install smart lockers with hand washing stations attached combining our touch-less locker technology with Hamilton modular casework.
Hybrid Workplace Locker Advantages
Hybrid lockers can meet more than the simple —yet, oh-so-important — need to store stuff. Strategically placed within the new, agile workspace they can help create delineated spaces for collaboration. You might also incorporate the smart locker storage in with natural landscape features to promote a more productive and healthful environment. Or design the locker banks as walls for conference rooms, without creating a fully enclosed space.
With smart locker technology, you don't even need to worry about installing enough lockers to assign one to each individual. Unlike a battery-operated locker solution, where you have to decide at the outset if lockers will be pre-assigned, you can change configurations for your lockers on the fly. With the smart locker app, your employees can simply go online and reserve a locker for the day they want to be onsite. In fact, they can even narrow down the locker they want by floor or considering the size they might need.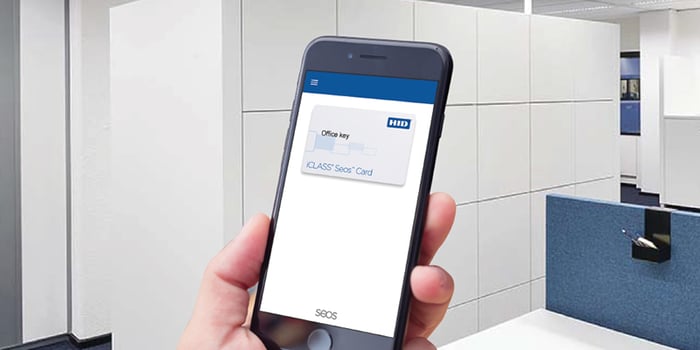 As the hybrid workplace takes shape, smart locker technology lets you learn what best suits your business. Assessing the data provided from the connected lockers, you might decide you need to make more of your lockers available for package delivery or guests.
Having lockers available can also enable more stringent cleaning practices. Without having to worry about all the personal knick knacks people stored on their desks, for instance, cleaning crews can more thoroughly wipe down work areas between uses.
The lockers themselves also come in a wide range of materials, including antimicrobial finishes. Smart lockers offer a touch-less experience reducing spread of germs. Meanwhile doing away with the lock or keypads means employees aren't handling grimy locker components. The flat surface also streamlines cleaning. Not to mention, the boon the data from smart locker presents to any work-wide contract tracing efforts.
We Need to Think About Visitors Too
There are only so many remote meetings a rational human can handle, right? In 2021, you'll be hoping to meet face-to-face (or at least mask-to-mask) again. Yet businesses need to put policies in place to keep people safe when new people come onsite. Along with sanitizing stations and temperature checks, the company will want to limit what people carry into an office space with them.
We didn't think twice previously about having someone leave their coat on a chair or put their briefcase on the table during a conference room meeting. Now we know better.
Hybrid lockers can let you continue to welcome clients and customers in your space, but do so with greater confidence. Your visitor management can send guests an email in advance providing a barcode that serves as a temporary badge. This scannable code can not only work for security purposes but can provide access to visitor lockers on certain floors.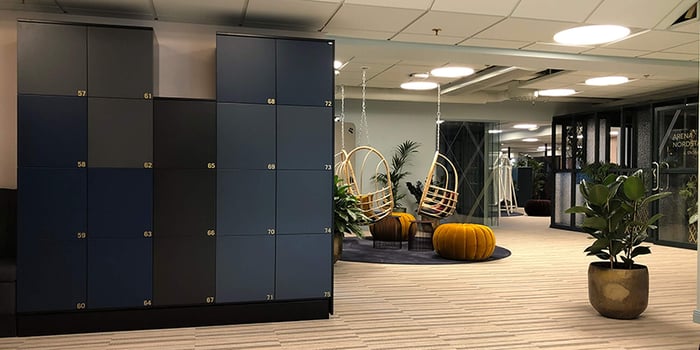 Visitor management lockers are also a good solution because they build in traceability. The connected locker dashboard can tell you where and when guests interact with your facilities. If there is illness, it is a matter of pointing and clicking to prohibit access to a certain locker area until a deep cleaning can be done.
Final Thoughts
The hybrid workplace is still taking shape. The good news is that the hybrid locker is already here now and ready for install. Transform the work environment with flexible and efficient locker technology customized to your culture.