When it comes to public safety there are many consistencies across the country. Officers will be in uniform and equipped with special gear. Yet each station, every precinct can have different needs when it comes to the Public Safety Personal Duty Lockers. Fortunately, there are many configurations available to meet even the most unique of spaces and situations.
Personal duty lockers are constantly adapting to the changing needs of public safety officers nationwide. While one department may get a sleek, sprawling new headquarters another could still be working out of a Compact, Cluttered Space in a historic building. Yet both need to provide a safe, secure place for officers to stow their personal belongings and secure their gear for the shift ahead.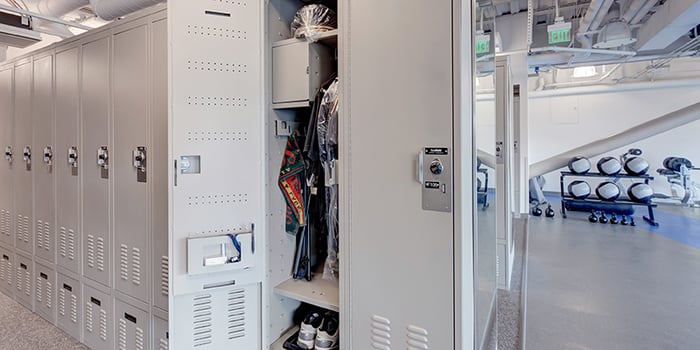 Public Safety Lockers are manufactured in a variety of sizes to take the best advantage of the available space. Spacesaver's standard lockers come in typical heights (e.g. 72", 84"h, 90"h, etc.). The Spacesaver Freestyle locker is available in varying heights measured in 1" increments. This can help give public safety officers more room in their personal duty lockers by taking advantage of the available vertical space. You may not be able to get an 84" inch standard locker in, but you can get to 78" or 82" easily with the Freestyle line of lockers.
Additionally, personal duty lockers can be designed with different locker shelves, bins, internal compartments, drawers and other accessories. Inside each locker, the department can offer a wide range of configurable options to securely store equipment, uniforms, weapons, electronics, and other public safety gear. Possible adaptations include:
Door-mounted document holders
Adjustable shelves
Hook brackets
Internal drawers (locking or non-locking)
Including a separately locked section inside can provide additional security for the officer's personal valuables too.
Saving Space with Public Safety Personal Duty Lockers
The public safety duty locker also comes with added features to add convenience for your officers. Some lockers come with a standard bench built in to give people a place to sit and change clothes. But in a very limited space, the added floor-space eaten up by those benches can be problematic. That's why Spacesaver developed its 600-pound-load capacity Bread Board Bench.
The Freestyle® Bread Board Bench is a wooden seat that can retract easily into the locker frame to save space. Using a retractable bench reduces locker depth by 12" to accommodate more rows of personal duty lockers in a constrained space.
Installing the Freestyle lockers with a bread board bench in San Diego County's East Mesa Detention Facility allowed the county to increase its locker width from 12" to 18" in the same size locker room. The retractable bench made it possible to increase the number of locker rows, even with the wider lockers.
More Creative Personal Duty Locker Features
Today's public safety officers are likely to have their own personal electronics they want to keep charged as well as duty devices. Lockers today can come with modular plug-and-play electrical components to power chargers, shavers, laptops and other devices in the locker itself. Typically power charge lockers will be installed with a sloped top behind which electrical wiring is hidden. This keeps it safe from exposure and saves the locker room's visual appeal.
Then there's the very real issue of sweaty uniforms getting stored in those lockers when officers aren't on duty. Of course, there can be slats or diamond perforations for natural air circulation and ventilation. Louvered shelves or ventilation racks can also help with drying body armor or other equipment. You can also incorporate exhaust extraction into the locker, integrating the locker bank with the building's HVAC system.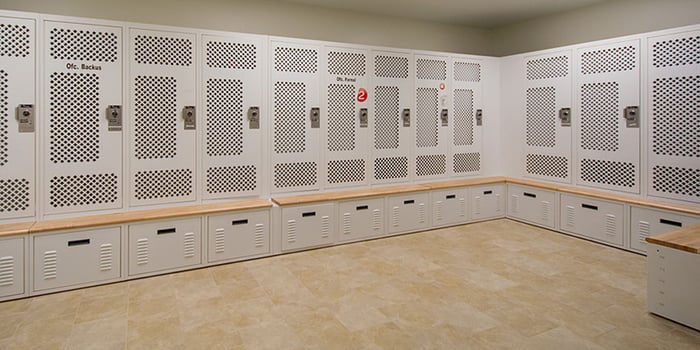 Not every locker room has the ceiling height for the sloped top for electrical wiring or to serve as a plenum for exhaust extraction. That's when a hat channel option works best. This low profile cover installed atop the lockers hides and protect the wiring.
Or, the building ceiling or soffit may be much higher than the top of the lockers. In this case, powder coat metal fascia (matching the locker color) can be installed to give the lockers a finished, built-in look.
Not to mention the fun you can have with finishes. Whether its duty or Evidence Lockers, select from a wide range of materials to suit the department's style. It's even possible to get lockers customized to bear the departmental logo or shield or a county's crest.
Additionally, as we think more about health considerations in public spaces, know that Touch-less Lockers can provide peace of mind. Antimicrobial finishes can also help keep lockers clean. For example, copper and its alloys have antibacterial, antiviral and anti-fungal properties. Or phenolic panels make for solid, non-porous lockers that withstand hearty disinfectants.
Find Whats Right For You
In short, whatever you're looking for in terms of public safety personal duty lockers can be doable. There is much more to work with than simple standardizations out of a catalog. Find out about the range of features available. Our salespeople are here to discuss customized storage solutions that meet your needs, requirements and aesthetic.