The COVID-19 pandemic has changed the way most everyone works. It's a challenge now for designers to adapt. Yet there will also be long-term repercussions in design and how we look at our spaces in the future. This blog shares some insights into the changes now and how spaces in the future will help us feel more safe and secure.
Project continuity is a challenge today, obviously. But the digital toolbox has made things easier for designers and storage solution experts to adapt. A March panel hosted by the IIDA discussed:
Designers using business collaboration software to meet with clients and colleagues or make virtual presentations.
Sales reps sending care packages to provide access to materials and finishes when design firm libraries are off-limits.
Architects taking job site tours via FaceTime or other video conferencing platforms
These examples of flexibility and agility were tied to the design process. Yet there's little doubt these same characteristics will come into play in future designs too.
New Challenges for Design
Designers were already concerned about sustainability. Did they need to build? How did what they build impact the environment? But now there's another consideration — the built environment as bio-space.
The question is, "how do we think differently about places and spaces and the objects in those spaces?" Designer Jordan Goldstein told the panel he was already having discussions with clients regarding materials, textures, and finishes that could help make the spaces healthier environments.
The current situation will also see many workplaces prioritizing flexibility within the space, suggested Tara Headley, an Interior Designer at Hendrick in Atlanta. "Plug and play" is going to become a huge factor moving forward, she suggested. Letting employees work from home one day and then quickly and easily connect comfortably in the office environment the next.
Beyond the workplace, IIDA Executive Vice President and CEO Cheryl S. Durst predicted a need for adaptation in other environments too — schools, colleges, libraries, museums and hospitals. She observed, "people are going to be concerned, I think, now and forever with distance and social distance."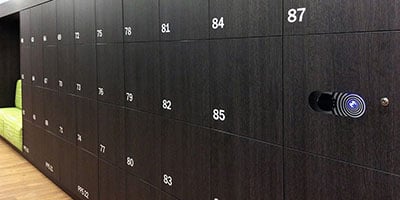 Safety in Design
COVID-19 has pushed many of us behind closed doors at home. Wearing masks on rare trips out into the world. Relying more heavily on the delivery of everything from groceries to paper products (if they could even be found). It's been an unsettling time.
It's expected to translate to a new concern with safe spaces when we do get the go-ahead to return to the world.
Communal gathering spaces are going to change, Goldstein predicted. "The water-cooler conversation may look very different after this episode and this whole experience." Meeting spaces will grow to be more technology-friendly while providing room for social distance yet still encouraging community and collaboration.
The return on investment for antibacterial fabrics and finishes will be more obvious too. Craig Scully, partner and chief engineer at Fort Wayne, Indiana, firm Design Collaborative, told Architectural Digest, "If five years ago I had a conversation with a convention center about implementing those materials, they might not want to spend the money, but today that's likely to be a totally different story."
The Architectural Digest article predicted another change to expect is more rapid adoption of automation and touch-less technology. Automatic doors, voice-activated elevators, cell phone-controlled hotel room or personal locker entry will be all the more appealing. Reducing the number of surfaces patients, employees or students touch can reduce the transfer of pathogens throughout a building and chances of contagion.
Patterson Pope and Safe, Secure Design
Patterson Pope's flexible storage solutions will fit nimbly into these future design projects. Our smart storage already incorporates touch-less technology allowing users to open personal lockers with a smartphone app or by scanning a student or employee ID badge.
With networked lockers, building administration can even schedule cleaning (with full audit capabilities). Our lockers now are built to allow for ventilation, which helps slow microbial growth. In the near future, we may even see UV lights used to disinfect lockers after use.
As for the more adaptable, "plug and play" work environment, we're already working on that with customers across industries. Our movable walls and WorkZone design systems help support the better balance the Architectural Design called for between "isolated concentration and productive, meaningful collaboration."
Additionally, many of the finishes available to our customers are not only easy to clean but also to disinfect. Per the ASHE's recommendations to "Prevent and Control Infection," our furniture surfaces are designed with "durability, cleanability, inability to support microbial growth, surface porosity, and absence of seams" in mind.
Stainless steel is a common go-to in the healthcare environment. Durable steel shelving or cabinets can be washed down easily, yet withstand the disinfectants needed to slow the spread of germs.
At the same time, seamless laminate materials are a great option as they don't have any cracks that can hold pathogens. We're seeing an uptick in demand for laminate cabinets or lockers since the virus and bacteria don't last as long on this surface.
We can't know right now how long the COVID-19 crisis will last. Yet designers and storage experts have found new ways to continue working and providing solutions. The solutions provided will evolve as the impacts of this current pandemic are felt globally. Nevertheless, Patterson Pope remains confident in its offerings to meet the needs of customers today and tomorrow.