Improperly stored and preserved evidence impedes justice and can kill careers. In a Colorado Springs example, poor evidence protection practices negatively impacted 5,014 cases and led to a no confidence vote for the Police Chief. You may be able to relate. After all, evidence rooms can receive hundreds of items daily, and these teams have limited resources — including evidence storage.
Evidence storage can be a frustrating field. According to the International Association of Property and Evidence (IAPE), "only one percent of evidence stored will be presented in court." Yet public safety professionals must protect and preserve items in evidence for the long-term.
No matter the size of the public safety team, evidence storage means consistent challenges:
Accommodating items in every shape and size imaginable, from drugs and jewelry to lawn tractors and washing machines.
Storing DNA and biological evidence
Providing viewing opportunities without negatively impacting evidence
Maintaining secure chain of custody
Accepting evidence at all hours, from different sources
Cataloging evidence received
Tracking items leaving the evidence room
Securing drugs, money, firearms.
---
Laws vary by jurisdiction, but evidence for serious crimes must usually be kept for decades, too. On top of all of this, space is often an issue. That's why more and more public safety agencies are turning to adaptable, customizable long-term storage solutions to double storage capacity.
The Case for Public Safety Storage
There are many ways to address storage issues in the public safety sector. We've implemented solutions with:
High-density shelving
High-density pallet racking
High-bay shelving
Suspended shelving
ActivRAC heavy duty storage
Cold evidence storage
---
What Evidence Storage Can Do
In Arizona, there is no statute of limitations on biological evidence from homicides and sexual assaults, which must be held for a minimum of 55 years. That makes cold storage particularly crucial. At Tucson's state-of-the-art evidence storage facility, Spacesaver mobile shelving systems were implemented to refrigerate or freeze blood, urine, and other biological samples.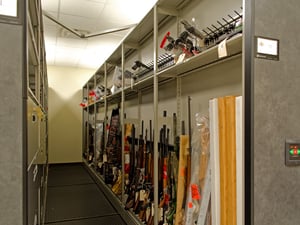 Meanwhile, the Houston Police Department had many public safety storage needs, but handling weapons was its biggest challenge. With a powered mobile shelving system, containing each weapon in a standardized box, the department gained enough storage for 22,984 handguns, 5,256 rifles, and 17,500 knives.
In Canada, the Calgary Police Department (CPD) was renting an evidence warehouse relatively distant from its headquarters at significant long-term cost. When the decision was made to centralize evidence storage in a purpose-built facility closer to headquarters, the department's planning team had to sacrifice floor space. With Spacesaver's ActivRAC® Mobilized Storage System and XTend® Mobile High-Bay Storage System, the department could better use the available vertical space and compact aisles to maximize capacity. Today, the ActivRAC system eliminates wasted space by mounting pallet racking on a carriage-and-rail system, which can open aisles wide enough to allow forklifts. At the same time, the department added badge-swipe access to provide an Additional Layer of Security to specified aisles.
While the CPD was building a new space, the Whitehall Division of Police in Ohio was working with an evidence room measuring just 371 square feet. In designing A Solution To Maximize Space, Patterson Pope used high-density mobile shelving to take advantage of vertical space, engineered a refrigerator locker/drying cabinet ideal for DNA and biological storage, and built pass-thru evidence lockers into the wall separating the evidence processing area from the property and evidence room. The improved organization in public safety makes evidence handling, storage, tracking, and retrieval easier while improving the team's overall productivity.
A high-density solution can also go hand in hand with digitization efforts. The Knox County Criminal Court kept inventory of its evidence room with index cards, and only one staffer knew where everything was stored. Taking the time to get it right "made a big difference," said Criminal Court Clerk Mike Hammond. The court invested not only in Mobile High-Density Storage to make the most of its 468-square-foot space, but also in new computer software cataloging every item.
---