Modern office design focuses on employees. Keeping the people working in that environment happy and energized improves productivity and reduces turnover. Office designers need to keep abreast of the latest design trends and offer their customers flexible and efficient office storage ideas.
Unemployment is low and recruiting and retaining top talent in this labor market is challenging. Gartner's 2019 Future of HR Survey surveyed more than 800 HR leaders across more than 35 countries. According to the research, the top three priorities for HR leaders in 2019 are:
Building critical skills and competencies
Developing current and future leadership bench
Employee experience
What does this have to do with design? The modern office design trends are definitely taking employee experience into consideration. The focus is on:
Embracing flexibility
Encouraging collaboration
Incorporating the natural world
Integrating technology
Offering comfortable work areas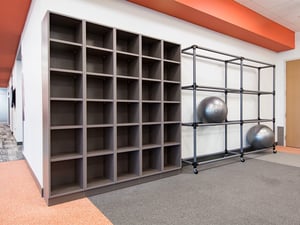 In the flexible, collaborative work space, furniture can be moved around and adjusted to meet different business needs. Instead of keeping employees tied to a single cubicle all day, they can work in various office areas. With freestanding media units employees can meet quickly and still access the technology they need. Providing access to electrical power and data ports, projection screens and video conferencing screens is now par for the course. Yet, at the same time, attention is paid to opening up the office to natural light too. All this lets employees move about more, stay healthier and helps motivate them to work more efficiently.
Office designers looking to incorporate these trends can do wonders with movable walls, room dividers and customized office storage. Let's consider the Patterson Pope products that can help offices address:
Need for employee comfort
Desire for flexibility Importance of providing some sound-proof areas
Call for collaborative spaces
Modern Design Flexibility
Many businesses have gone open plan, moving away from rows of cubicles and private offices. Yet, there are still going to be times when managers need to meet with staff one-on-one, employees need to escape distraction, and clients and customers want private discussions with your team. Acoustic pods are a current design feature providing a space where individuals or groups can focus on their work without the noise from the office around them filtering in.
Create an acoustic pod, which also lets natural light in, using Genius and Lightline Movable Walls. Craft the space your business needs today and be confident you can adapt with agility to your future needs too. These movable walls:
Integrate with existing furniture and architectural elements
Offer noise reduction
Bring daylight into interior spaces with use of glass
Enable power and data connectivity
A movable wall with a screen built in is another great addition in collaborative, flexible work spaces. Recognizing the pervasiveness of technology throughout business offices today, movable walls can incorporate screens too. At GE Software, for instance, each individual movable wall consists of a full white board with a digital videoconferencing camera, an HD flat touchscreen, and an iPad, which controls climate, lighting, sounds and video of each conference room area.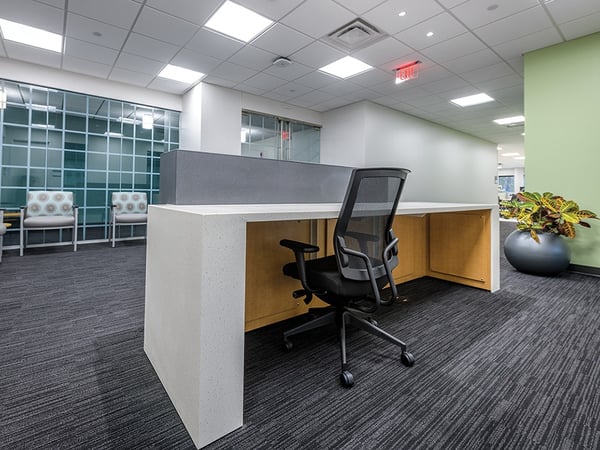 But designing for the modern office isn't only about finding flexible ways to carve out spaces. Throughout the office, whether or not people have a desk to call their own, they're still going to be looking for a work station to meet their needs at that moment. WorkZone desking systems are freestanding desks available in curvilinear, square, rectangular, triangular and corner shapes, so you can easily create individual or collaborative spaces.
Plus, even the open plan business will likely still want some sort of reception or front lobby area to help visitors to your office get their bearings. Customized modular casework furniture can provide a focal point for guests and add flair to the modern office design.
Hamilton Casework Solutions' adjustable shelving and modular casework are typically found in community workspace and copy/fax/print areas, mail rooms or other storage spaces. Meeting the specific needs of that area while also providing storage, this solution is flexible to grow with the business.
---
Employee Engagement & Office Design
The move to open plan offices and collaborative furniture does create some challenges for employees. Where are they supposed to put their stuff during the day? Day-Use Lockers provide a secure, reliable place for employees to store personal belongings, laptops and other office supplies and equipment. These business lockers can even be embedded into the office space as free-standing storage creating a partition wall or integrated as an island which doubles as a workspace people can gather around for standing meetings.
Prioritizing employee health could also prompt a designer to build in a fitness space. When Nationwide Insurance consolidated two smaller Ohio offices into one brand new building, Patterson Pope provided design input for the IT space, mailroom and a fitness room. The design for the fitness room included 4-Post shelving, FrameWRX open shelving with Plexiglas fronts and Hamilton Caseworks Solutions cubbies to provide equipment storage. The design also incorporated bike racks made of 4-post shelving with custom hooks for employees who cycled to work.
No one says office design is easy; business needs are always changing. Flexible furniture choices and office storage ideas can make the designer's job easier though. Consult with Patterson Pope's space experts to see what's possible in creating a comfortable, collaborative, contemporary office space that is adaptable too.