Even in this digital age, nearly every industry stores paper and other flammable materials. Since planning for the worst simply makes business sense, it's important to take into consideration the role fireproof storage can have in a fire protection strategy.
Fire protection concerns everyone from building architects and interior designers to building owners and employees. Code officials and insurance companies are at the ready to weigh in as well. Ultimately, though, they all share the same goals:
Minimize possibility of fire event
Reduce effects of fire event
Protect building, its occupants and contents.
There are many codes and compliance considerations to keep in mind when planning for fireproof storage. These include:
International Building Code (IBC) for storage facilities and buildings
The National Fire Protection Association (NFPA) recommends automatic sprinkler protection for libraries and library collection storage
The US National Archives & Records Administration (NARA) requires facilities housing federal records limit fire damage to a maximum 300 cu ft of records in a single fire event.
Yet fire code compliance is only one of many factors that a team is juggling when building a new storage space, renovating or repurposing an old one. Collaborating with storage experts can offer engineers, architects, designers and project managers greater confidence their storage solution choices reflect the latest knowledge of fire protection issues.
Storage planners prioritize fire protection when designing the unique solutions to suit clients' needs, whether in libraries, museums, federal buildings or business offices. This means designing with a deep understanding of how fire protection standards impact storage, including:
Combustibility not only of the materials stored but also of the storage equipment
Different considerations of mobile storage solutions versus static shelving against a wall
Height of storage equipment in relation to ceiling and/or ceiling sprinkler systems
Need for fire stops, which use storage equipment materials and/or create spaces to allow water penetration to better suppress a fire.
Standing by Product Design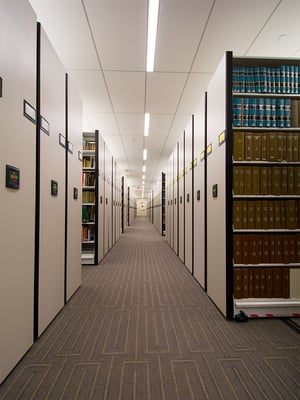 High-bay storage minimizes the square footage required and offers a more efficient use of vertical space as well. Yet with the added height, storage planners often called for ceiling and intermediate height sprinkler solutions as fire protection. However, Spacesaver tested its high-bay product in a fire facility to gauge ceiling sprinklers alone success protecting documents, books, periodicals and other paper materials.
To ensure fire protection of high-bay storage applications, the company tested Early Suppression Fast Response (ESFR) sprinklers and a 33-ft. high Spacesaver mobile records storage system. The fire damage was limited to "a very small volume of the records stored." Less than 100 cu. ft. of the 11,500 cu. ft. of records installed on the shelving systems for the test were determined "lost or irrecoverable."
The results supported the sufficiency of ESFR sprinklers, which further provide the cost savings benefit of exempting the storage building from needing automatic roof smoke and feat vents.
Beyond the positive test results, Spacesaver constructs its mobile carriages and shelving from non-combustible steel or aluminum. In cases where local code requires fire-retardant wood end panels (or steel end panels) and/or fire-retardant flooring between the carriage rails, that's also available.