Forty years is a long time to live in any one place. Over the decades, you grow roots and a structure becomes, in some ways, a part of you. Its story becomes entwined with your story. Sometimes, though, there comes a time when new chapters need to be written. As true as that is for individuals and families, so it is for businesses, as well. In the case of the Cuyahoga County Archives, since 1978 "home" had been the Robert Russell Rhodes House, a Victorian, Italianate mansion built in 1874. To be sure, history is a word the organization lives and breathes.
Though the old home was indeed a Victorian treasure – replete with tall ceilings, long windows and even a few chandeliers – it wasn't the best location to house the thousands of records that together helped tell the story of Cuyahoga County. County Archivist Judith Cetina had joined the organization right after graduate school; over the years, she'd experienced firsthand the growth of the collection and the accompanying shrinking of adequate storage space.
"The records were kept in an addition to the building, which would have been completed somewhere between 1915 and 1917," said Cetina. "We tried to keep the records in an organized fashion – whether they originated from the Board of County Commissioners, the court system, with the county recorder, the auditor or the treasurer – but as time went on, there just wasn't sufficient space. Records and maps and things had to be placed somewhere else, either in another room or perhaps in another part of the building."
Cetina said that as the years went by, the lack of space create a breakdown in shelving/storage continuity. Researchers who would use the materials may have appreciated the mansion's history, but its cramped rooms and old-fashioned lighting were fast becoming inadequate.
"We were trying to keep its 'feel' as an old Victorian home after all, so we didn't have large Klieg lights," she added.
Learn how a county archives completely reimagined its footprint by installing stationary shelving and museum-style cabinetry to provide and area that was attractive, accessible and inclusive for items from 26 county agencies.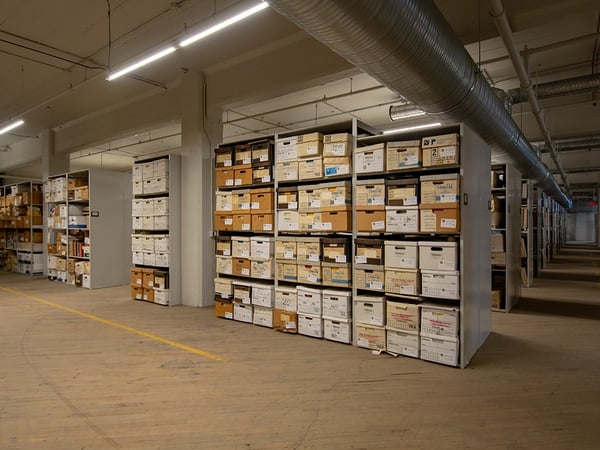 Beginning a New Legacy Across Town
Over the years, archivists recognized there was a need for a new space. Periodically, real estate pros and other county groups would meet with them to discuss possible options. Alas, the right building was never available.
A few years ago, archivists learned that the County was going to divest itself of the mansion, along with several others, as part of an expense-cutting move. Once the Archives knew that a new home was a necessity rather than just a wish, a county commission was put together to help find the right fit. The "winner" was a warehouse in Cleveland's Midtown area. Previously having served as a warehouse for the now-defunct Halle Brothers Department Store chain, the building boasted six floors of wide-open space. Destined for the 3rd floor of the repurposed warehouse, the Cuyahoga County Archives had found a new place to start the next chapter of its history.
A blank canvas, the huge space was as large as two football fields.
"When I first walked into the space, I just couldn't image how such a wide-open place could be re-imagined," said Cetina. "I don't have an architect's vision, but thankfully we worked with some great people: architects, interior designers, and Patterson Pope."
---
"When I first walked into the space, I just couldn't image how such a wide-open place could be re-imagined. I don't have an architect's vision, but thankfully we worked with some great people: architects, interior designers, and Patterson Pope."
Judy Cetina
Archivist, Cuyahoga County Archives
---
A Blueprint for Government Storage Success
John McLaughlin is the Patterson Pope account representative who worked with Cetina on the project. Looking back on it now, he recalls it as the largest surveying job he's ever done.
"Once I got involved, my first task was to survey everything they had – and that was no small task," he said. "In addition to material for the Archives itself, there are also records and other media pieces from nearly 30 sub-agencies. I wanted to get a really good sense of what was there. I weighed everything to make certain we'd have shelving to accommodate the loads. I also measured things in detail. They have a fantastic collection of over-sized volumes and maps. Some plat maps I saw were three or four feet square. Remarkable stuff."
The blueprints for the renovated warehouse space were created after observations of the new footprint and discussions with archivists. The detailed shelving and storage component was Patterson Pope's portion. McLaughlin's ability to build strong rapport with the staff – and his unwavering attention to detail – were key in making the space function to its potential.
"This project was unique in one very interesting way," said McLaughlin. "We used all Spacesaver for this one. All the shelving is 4-post stationary, and we've got some cabinets in there, as well. There's got to be 30 or 40 different shelving elevations. Clear-height shelving to be able to right size everything. They've got books that weigh a pound, and they've got old maps that weigh 40 to 50 pounds each. We had to right-size the shelving to accommodate the weights, heights and sizes, and then fit it all in there and work with the architects and the people who were designing the building."
In addition, special accommodations had to be made for new lighting and new HVAC equipment, so shelving had to fit around the architects' design for the space.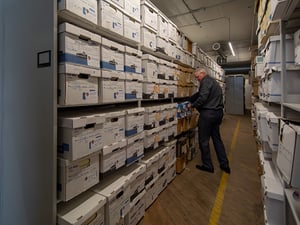 "We took great care to plan the way everything would look, and we based it, to some degree, on how often things would be accessed and by whom," said Cetina. "We have books, maps, and all sorts of media here. Not only did John help us get the right shelving, but he helped ensure that we had the right sized boxes for things, the right gauge steel for the shelving top accommodate larger items, and we even had horizontal 'slots' added to portions of the shelving so that maps can be rolled out and looked at. It's an elegant design that really turned out nice."
Several units of Spacesaver's Viking museum cabinetry were also added. These house real estate appraisal cards – items accessed quite frequently. They had previously been stored in old green filing drawers, often stacked floor to ceiling. The new cabinets provide better safeguards and easier access for researchers.
While Patterson Pope finished installing the shelving and cabinetry in September of 2017, the County archivists spent an additional year moving everything in and getting it ready for the public. As of Labor Day 2018, the new space is home sweet home.
---
---
A Blueprint for Government Storage Success
Researchers have access to a host of materials at the Cuyahoga County Archives. Information can be found about the county's birth/death records, marriages, land grants, naturalizations, coroner's files, city records, directories, maps and atlases, tax records, wills and estates, criminal and civil court records, and even more. Whew. If you're reading that out load, feel free to take a breath.
The new space is on the 3rd and 5th floors of the building, totaling more than 30,000 square feet. A mixture of public and private areas serves all of the county's citizens.
"We are all so thankful to John and everyone at Patterson Pope who helped this project come to fruition," added Cetina. "They've been great. They always answered our questions and continue to be a resource for us when in need."
History happens in moments big and small. It's true at the Cuyahoga County Archives, as well.
"We're in the process of putting together a shelf list so that we know where every book and box is. We're getting used to it, and we love it. I guess you could say this is just one happy success story."
We're gonna archive that compliment.
---
For more information on this project, please check out our Case Study.