P2 Talks – Harris County Public Library Shelving and Storage
(watch the video below)
---
---
You see it first thing when you go to the Harris County Public Library's website.
"From I-185, take Exit 25 (Hwy 116/Hamilton). Turn east on 116 and follow 7.2 miles. The library is on the left, next to the Harris County Community Center."
Those words direct visitors and residents to a burgeoning area just three or four miles south of the Hamilton, Georgia city limits. There, side by side, sit the town's community center and its new library – a part of the Troup-Harris County Library System. Also coming to the area are a park, walking trails, tennis courts and other accoutrements. It is a jewel for the county's 35,000 or so individuals who call it home.
It's also pretty special for Keith Schuermann. The regional director for the library system located in west-central Georgia, he was quick to acknowledge the new location's instant impact.
"Having a new library with the size and scope to be able to meet the needs of our community was central to us being able to pursue our mission to serve the public," he said. "At 15,000 square feet, this new library is three times as large as our old space. We have seen significant changes in the way we're viewed in the community and in the usage of the space. From the outset, we've seen a 20 percent increase in circulation, a 10 percent bump in door count (i.e., visitors overall) and a sizable increase in program attendance, as well. We couldn't ask for more than that."
See how Harris County Public Library's new home was designed to be flexible, warm, inviting, and capable of meeting the public's current and future needs.
A library's shelves are normally considered "at capacity" when they are 75 percent full. Leaving that bit of extra space allows librarians to shift volumes when necessary (due to borrowed titles or inventory expansion) without having to move entire sections. The shelves at the Harris County Library's former location were at 100 percent capacity. In fact, they were so tightly packed, librarians often had to resort to creating methods to get all the books on the shelves.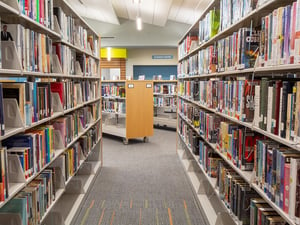 "Our old library was just about 5,000 square feet, so it was pretty cramped," said Branch Manager Stephanie Green. "Not only did we have little space for books, but there was inadequate space for activities, as well. We even had to turn away a children's reading group, because there wasn't enough room."
Although Green wasn't involved in the initial design or selection of materials, she did get to work with Patterson Pope Sales Representative Dick Beery on helping some key functional components of the new library shelving.
"Accessibility was key," she said. "We had been using all of the shelving, from bottom to top. If you're someone who's 5'4" like myself, you're reaching quite high to get the books. Or if you're an older patron, you're not going to want to have to kneel or stoop over that much. When the time came for doing the sizing and the measuring for all the library shelving, that's when I started working closely with Dick to tell him what we were looking for. It was an exciting opportunity for me, because it's not something that you often get a chance to do."
The library's mission statement is clear:
---
"To provide our communities with access to the information, technology, ideas, and welcoming facilities they need to enrich, educate, and empower every individual. Through innovative services and collaborative efforts, we will be receptive to our community's needs, and exceed expectations."
---
A former librarian himself, Schuermann knew that creating a library that people wanted to visit was about helping to build that community. Erecting it right next door to a brand-new community center would only help further that goal. Prior to construction, several focus groups were organized for all sorts of stakeholders – staff, the local Chamber of Commerce, and even end-users. Their input as to how they would use the space and what they wanted to see included in it were central to the project's ultimate success.
"As we look to the future of public libraries, we have no idea what the services we provide will look like 10 years from now. The library of today is nothing like the library of the past, and we expect that evolution to continue," said Schuermann. "One of the things we thought about in terms of design was that we wanted to create a space that was flexible. Using shelving that can be temporarily moved around or even be moved out of an area was of course very important for usage design today and in the future."
Patterson Pope's Dick Beery, as he's done in many libraries before, was happy to go into the old space prior to construction and survey everything the Harris County Library had. Only with that precise information could an accurate and feasible design take shape.
"I enjoy it when a client considers Patterson Pope to be purveyors of information," said Beery. "We are experts, and we work hard to ensure the success of projects like these. It's always exciting to see it when someone recognizes that all the choices and decision-making along the way can really translate to a phenomenal end product."
---
"One of the things we thought about in terms of design was that we wanted to create a space that was flexible. Using shelving that can be temporarily moved around was of course very important for usage design today and in the future."
Regional Director, Troup-Harris County Library System
---
The expansive space available for browsing in the 15,000 square foot library is augmented today by the use of repositionable library carts. Patterson Pope provided such carts, with sizes ranging from six to nine feet long. Easily maneuverable, they can be shifted out of the way to better accommodate large groups, or simply rearranged when needs or interior design wishes change. High-pressure laminate end panels from Wilson Art, colored to match the rest of the library's look, create a clean, unified look.
A single, manual-assist high-density compact shelving unit was repurposed from the old library to the new building. Whereas it had been used to store newspapers and some old program activity items, today the five-range unit houses excess items, helps the staff organize transit books headed for other libraries and acts as general temporary overflow storage.
"I was actually complimenting my staff recently on the utilization of the space," said Green. "I'm just really excited about how we're now able to do things that we couldn't do before. It just really made me happy. We've got a lot of space now, and we're using it well."
In addition to the repositionable shelving with wheels, the space includes traditional fixed shelves as well as shorter, serpentine shelving in the children's area. The serpentine design – just a drawing and an idea at the project's beginning – required ingenuity and imagination to make real. Sizing it properly to work seamlessly with the furniture and the other shelving was an exciting challenge well worth the effort by Patterson Pope.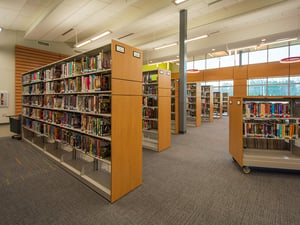 "Patterson Pope's expertise drove the design and success of our project, absolutely," added Schuermann. "From the beginning, they were very hands-on. We had extensive meetings, and they really listened. The shelving is obviously a very large asset for us. We appreciate Patterson Pope as a learned resource. This is a library that the community wanted and needed. It's been nice to experience our people giving us back so much love."
As the area continues to grow, there will be even more to get excited about. While the process of building a new library is always time-consuming and stressful, managing the process with seasoned pros always helps lighten the load. The design of the Harris Library – including wide aisles and gorgeous natural light – gives it an open, inviting look and feel.
"A big project like this takes time and patience," said Schuermann. "In our case, 960 days. Patience is such an important part of all this. We have so many people to thank: the Loudermilk family for their generous financial support, the hard work and support of our Chief County Commissioner Harry Lange, and of course the professionalism of Patterson Pope. It all turned out really well."
There's a rumor that the library is even going to be starting a hula-hoop group soon. That's great for Harris County residents… but we think we'll stick to storage
For more information on this project, check out the Case Study.