A Museum Cabinet for Every Type of Museum
According to research done by The Institute of Museum and Library Services (IMLS), there were 35,144 museums in the United States as of 2014. That's more museums than there are Starbucks and McDonalds combined! While that number has probably fluctuated some since then, it is still an astounding total. Think about the variety. Sports museums. Nature museums. Transportation museums. History. You name the subject, there's a museum that celebrates it. It should come as no surprise, then, that a museum's storage cabinets are important parts of the preservation process.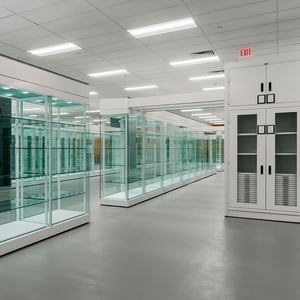 Our nation's museums are protectors of the past. The items they safeguard teach, entertain, motivate and always stir the emotions. Ensuring that those myriad objects last into the distant future, too – to inspire future generations – is a big part of a curator's job. Selecting the right museum storage solutions is a critical part of that responsibility.
Spacesaver, based in Fort Atkinson, Wisconsin, is the leading manufacturer of some of the finest museum cabinets in the industry. Their Viking line offers a range of solid, flexible cabinets that are customizable for any need. As proud distributors of Spacesaver products, Patterson Pope is thrilled to be a partner with so many of our nation's esteemed museums.
As collections continue to grow in every sort of museum, efficient storage space and optimum convenience and control have become primary needs in today's preservation strategies. Given that the sizes of available spaces change as the years go by, coupled with the continued growth of collections themselves, and it's no wonder that fluidity in design is of critical importance.
The Viking line is an ideal choice. There is a wide variety of shelving and storage options, each designed with a particular purpose in mind. To give you a sample, let's take a look at just a few:
Conservation Cabinets
The line's most popular model allows for fully customized solutions. Made in Wisconsin of high-quality steel, these can be configured to accept any drawer or tray. Along with their superior configurability, these museum cabinets also provide secure protection and superior value. Available full-height or counter height.
Botany/Herbarium Cabinets
Designed specifically for botanical specimens, these cabinets have extra space in the front and back of the compartments to promote the free circulation of air. The full-height models feature a convenient pull-out reference shelf, while the counter-height model can be stacked or used as a work surface. Flexibility rules!
Entomology Cabinets
Fully compatible with the four standard entomology drawer styles, these elegant options are usually used in conjunction with optional fumigant pockets. For even greater flexibility, they're customizable and can accommodate Cornell, USNM, California Academy and Smithsonian drawer styles.
Flat File Cabinets
These are the ideal choice when you're looking for secure protection for maps and other two-dimensional items. Stainless steel tracks and plated rollers ensure that the drawers always operate smoothly. One especially attractive option is a glass top (Model 414) that can beautifully display individual works of art.
Geology Cabinets
Ideal for heavy specimens, these museum cabinets can be configured to accommodate drawers or trays from any supplier. Whether you select a single, tall cabinet, or several stackable units, the three-point latching system and elastomeric seal offer secure protection.
Of course, what makes the country's many museums so special is their individuality. As providers of museum storage solutions, we appreciate that diversity. In fact, we echo the sentiment! In addition to the cabinets mentioned above, we're happy to provide a range of large-scale museum storage systems that can fit any space. Whether a high-density compact system, a heavy-duty stationary system, a high-bay system or art racks (which can be affixed to the floor, wall or ceiling) are what best suit your situation, we can happily accommodate you with amazing museum storage solutions.
---
What Makes Viking Museum Cabinets Stand Out
There are cabinets… and then there are cabinets. There's a reason so many curators choose Viking. Quality is more than a promise; it's a commitment backed up by a number of incredible product details that make all the difference. Consider:
Corrugated Liner
Three-Point Latching System
Closed-Cell Elastomeric Seal
C-Channel with Gravity Stop
Reinforced Integrated Pallet Base w/Removeable Front Cover
---
Shelves, drawers, and handles can all be customized, as well.
With more than 35,000 museums across the country, you can imagine the numbers of collection items all told. When preservation and protection matter, Viking is an easy choice. If you're concerned about preserving the valuables of the past and ensuring their integrity for so many tomorrows, why not make Viking museum cabinets part of your museum storage solution?
Now that's an attraction.