Prior to Major League Baseball's (MLB) 1993 expansion welcoming the Florida (now Miami) Marlins and the Colorado Rockies, the only professional baseball played in the Sunshine State occurred in March, during spring training. Known as "The Grapefruit League," it today is comprised of half of MLB's teams, including the Marlins and the Tampa Bay Rays. Each team spends the month prepping and playing in 15 ballparks, gearing up for the rigors of a 162-game regular season. Unlike in the Cactus League (Spring Training in Arizona), each team in the Grapefruit League has its own "home" stadium.
As of June 2016, two of those ballparks boast products that Patterson Pope installed: the Baltimore Orioles' Ed Smith Stadium in Sarasota, and the Pittsburgh Pirates' McKechnie Field & the Pirate City Spring Training facility in Bradenton.
Storage and Security in Big League Designs
"I actually read in the newspaper a while back that the Orioles were re-doing their facility," said Patterson Pope Sales Representative Tom Kelly. A baseball fan himself – not to be confused with former Minnesota Twins manager Tom Kelly – he was excited about the opportunity to be involved with the sport. "I got in touch with the spring training equipment manager, who put me in touch with the team's Major League equipment manager. We started discussing what their needs were – as far as what they wanted to store and how they wanted to store it. They gave me some outlines."
Together, they came up a sound game plan. The smooth teamwork quickly moved the project forward. Not long after, Kelly found himself working with Janet Smith, the Orioles vice president of planning and development. Smith was the designer in charge of the entire renovation of Ed Smith Stadium. No rookie, Smith had previously done work on Camden Yards and Fenway Park. She has since taken a similar position with the Los Angeles Dodgers.
"They wanted it to look really nice and clean," said Kelly. "We ultimately decided on a crank-assist unit with some attractive woodgrain laminate panels. In that particular facility, the players go into the equipment rooms themselves and get their stuff – catcher's gear, bats, helmets, balls, shoes, hanging items, and the like. So, we added safety sweeps as an extra safety measure. We also added cleat-resistant carpet tiles, which stand up better to sharp player spikes."
The system, a Spacesaver Mechanical Assist System, also closes and locks, ensuring the security of the team's equipment. In the end, the system provided the storage space, small footprint, security and easy accessibility that fit perfectly with Smith's new, state-of-the-art design.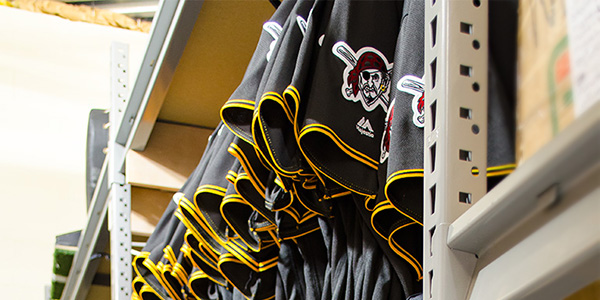 The Perfect Storage Pitch for the Pittsburgh Pirates
Remember when you'd go on those long summer car rides? You'd complain about how many hours you'd spend in the car, but your parents would happily remind you that "getting there is half the fun!" Well, that's true not only for an aspiring ballplayer's career path, but for the way Tom Kelly approaches working with a client.
"I try to dial in on what's important to them," he said. "Sometimes the space dictates the product selection, while sometimes it's who's accessing it. What are the security requirements? How big does the system need to be? Exactly what are you storing? All these things determine what kind of solution I deliver. There are no one-size-fits-all solutions."
The Pittsburgh Pirates initial set-up in their Pirate City equipment room was a little different than that of the Orioles. The Pirates had existing widespan rack and 4-post shelving in a set-up that resembled a warehouse design. Their focus in working with Patterson Pope was to achieve a more organized, fluid set-up. Whereas the original "look" consisted of stuffed boxes sitting on shelves and even on the floor, the renovation plan focused on a more streamlined, focused approach.
The answers turned out to be Spacesaver ActivRac 7M Industrial Mobile Shelving System and manual Rollok doors.
"We ended up going with an ActivRac Mechanical Assist system. It provided quite a bit more capacity than what they had, and provided exceptional storage and flexibility," added Kelly. "We also re-used their existing rack for a lot of the system. Additionally, we put in some Spacesaver shelving with Rollok doors so that they could securely store shoes. It really turned out nicely."
Tom Kelly is NOT Tom Kelly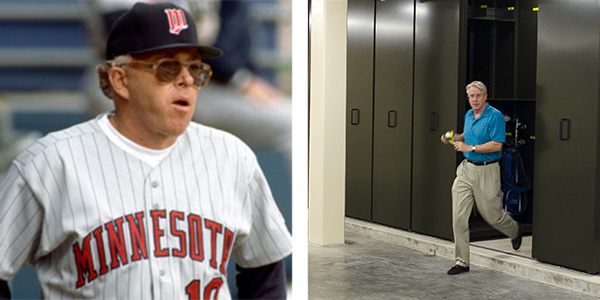 Former Minnesota Twins manager Tom Kelly (L) won the 1987 World Series. Patterson Pope Sales Representative Tom Kelly (R) is also a winner, though in a different game altogether.
Just as the grind of the regular season makes the playoffs that much more special for a major leaguer, for Kelly, the process is part of the reward. There are a lot of choices. Different rail types, recess types, weight loads, capacity, safety options, costs, etc. All those things factor into the decision of what sorts of products end up being used.
"Tom came in, listened to my wants and needs for the space, and as a result he delivered everything we wanted," said Pat Hagerty, equipment manager for the Bradenton facility. "It may sound simple, but I'm amazed at how much space we have. There's room for equipment, the shoes can be stored more securely and everything can be locked up. It's a great system."
Hagerty added that the space is popular on tours too, with other Grapefruit League teams who are considering doing renovations coming in to have a look, as well. "When you redo a space, it can change your whole attitude," he said. "When you have an organized space, your mind is just more settled."
Well, that's got to help on the field, as well as off.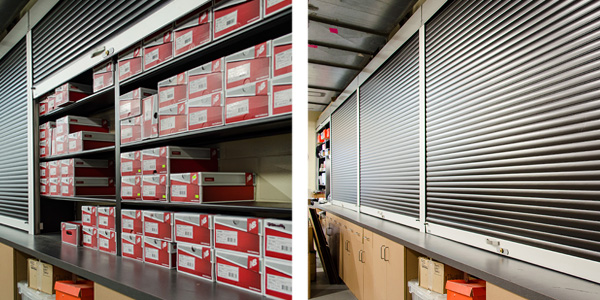 Keeping Your Eye on the Ball
Keeping a big league club in contention is a full-time job – for everyone involved with the organization. For all those people to function at their best, they need clear heads, no distractions and abundant focus. Though our role is admittedly a small one in that overall process, we at Patterson Pope believe in it passionately. Like the players, coaches, trainers and equipment managers, we give it our all every time "up to bat." Even with an outstanding storage solution like the one implemented for both the Pirates and the Orioles, it's always fun to support the team by coming up clutch.
At Patterson Pope, no matter the challenge, we're always game.
To find out more about this project, download the Success Story.
---