Would it be safe to say that there is a healthcare construction boom? It sure seems that way. I see plenty of new construction (urgent cares, clinics, medical office buildings) as well as expansion projects at local hospitals. Looking at recent trends and future outlooks from Becker's Hospital Review and Dodge Data and Analytics, indicates that after a slight downturn in 2014, healthcare facilities construction is expected to show improvement in 2015. Boom or not, trends also point to hospital construction projects that focus on improving patient outcomes and experience, using a high-quality design approach and building materials, while lowering costs, shortening construction schedules and reducing waste. One way to accomplish these goals is through prefabrication and modular building construction.
What Is Modular Construction?
In an interview with Jennifer Kovacs Silvis (Executive Director of Healthcare Design), Tom Hardiman (Executive Director of the Modular Building Institute) described the concept of modular building this way: "A process that constructs a building off-site, under controlled plant conditions, using the same materials and designed to the same codes and standards as conventionally built facilities—but in about half the time." When discussing modular construction use in healthcare, Hardiman went on to suggest two factors driving the growth: 1 – the recognition that modular construction can be used for complex building projects, and 2 – the urge for facility managers to expand services without disrupting patients by using off-site construction to limit on-site disturbances.
Where Is Modular Construction Being Used?
Let's look into this idea of modular building more closely. Which areas of a hospital could be built off-site and then delivered and installed on-site? Based on the concept of "repetitive design", a term commonly used in prefabrication and modularization discussions, there appear to be quite a few:
Headwalls
Bathrooms
Hospital patient rooms
Exam rooms
Patient-unit overhead utilities
Perioperative spaces
Holding bays
HVAC
Plumbing
Fire protection
---
Why Is Modular Construction Being Used?
The list above provides some insight as to why healthcare is currently the leading market sector using modular construction. There is a vast array of repetitive design areas within a hospital. According to the white paper "Modularization and Prefabrication – Role Development and Evolution" written by FMI Corporation, "modularization and prefabrication will play an increasingly vital role in improving the productivity of the entire construction value chain." In addition to cost savings and quicker project times, other benefits of modular construction pointed out by FMI include:
Labor can be made more efficient with specialized tools and equipment.
Field equipment use can be reduced.
Waste material can be used on future projects or recycled.
Works sites are made safer.
Weather-related delays are decreased.
Proper sequencing allows for sufficient room for people, equipment and materials on the job site.
Fewer supervisors are needed to oversee a larger volume of work.
On-site development, utility and foundation work can proceed at the same time modules are manufactured off-site.
Shorter installation time limits environmental impact and decreases site restoration time.
The process of organizing all the on-site routing and installation of complex building systems can be minimized or by-passed.
---
As modularization use increases, new features are discovered. Standardization of hospital floors provides flexibility in the use of space. Identical room layouts support a broad range of patient types and make it easier for staff to find equipment and supplies. And in some instances, cost savings have been even higher than expected when using this design and construction process.
---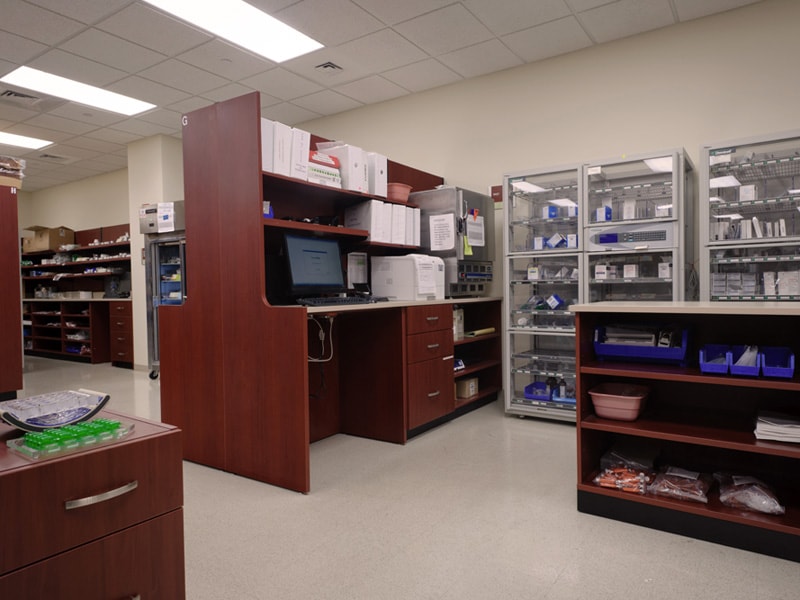 ---
Modular Construction – A Case In Point
Havasu Regional Medical Center, a 181-bed hospital in Lake Havasu City, Arizona, faced a significant space issue. ICU patients were being turned away due to lack of room, while the Labor and Delivery department physically blocked ICU's ability to expand. They were also concerned with disruptions associated with facility expansion and construction. A large part of the solution, provided by Sanderling Healthcare, was a pre-engineered, 11,000 + square foot addition to the hospital for Labor and Delivery. Relocating the Labor and Delivery department allowed the medical center to renovate and expand the ICU. The project not only limited construction hassles on-site, but it went fast, too. According to Sanderling Executive Vice President Deborah Tannenbaum, "We were issued permits on January 4th and went from blueprints to babies in 16 weeks." Hamilton Sorter has partnered with Sanderling Healthcare to develop a catalog of modular casework designs catered toward healthcare facilities. The photos from the project are featured in this article. You can learn more about the project here. Or check out this cool time-lapse video to see the first 72 hours of the project:
---
---
Based on our years of experience delivering modular casework solutions to healthcare (and many other industries), we have long seen the value in the modular concept. Which begs the question: do you have a new construction or expansion project planned for your facility? If you want to lower costs, accelerate the project timeline, provide high-quality building materials and allow for patient driven design, then modular construction could be just the option for you.