Any fan of the Tennessee Volunteers knows "the General." General Robert Neyland served in World War II from 1941-45. He took over as head coach of the Vols in 1926 and by the time he retired in 1952 had amassed a record of 173 wins, 31 losses and a dozen ties.
Vols supporters also know that cherished Neyland Stadium holds almost 103,000 people for those intense Saturday college football games. If those fans are worth their salt, they can spout Peyton Manning's career numbers as easily as you and I buy hot dogs.
There's one other thing, though, that those folks might not know about the stadium. Up until recently, it also played host to the University of Tennessee Archaeology Department's sprawling collection of artifacts and donated human remains. Years ago, dorm rooms under the stadium had been converted into storage space for the collection. But after years of growth, the collection finally needed a new home. Just as the time inevitably came for Peyton Manning to move on the NFL in 1997, so the Anthropology Department's amazing collection moved into a brand new space in the campus' newly constructed Strong Hall.
A Professional Perspective
Dr. Benjamin Auerbach is an associate professor of Anthropology at the university. He is one of many people who heralded the move of both his department and part of the Forensic Anthropology Center to the new building.
"Over in the stadium, we had a short-term problem – environmental controls. We also had a long-term problem in that there was no room for expansion as the collection grew. The new space in Strong Hall is a wonderful improvement."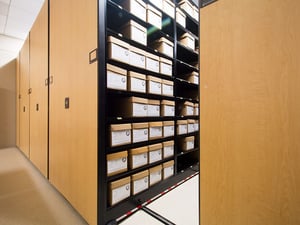 One of the benefits of moving into a new space that is itself part of a new building is that everything is designed around current needs. As the architects were drafting their designs, they worked with Patterson Pope on the storage areas for the burgeoning collections. Central to that role was Patterson Pope Sales Representative Scott Bertini. Having experience working on other projects for the university – including an off-site archaeology storage project with Dr. Auerbach – Bertini was a trusted resource for the university team.
"It was a really interesting project that took a few years to come to fruition," said Bertini. "Of course, there were a lot of different items that they have stored there, so part of our task was to take inventory, determine what they were storing, how they wanted to store it, and then decide on the best solutions to fit their needs."
One of the things the Forensic Anthropology Center is known for is its "Body Farm." Founded in 1987 by Dr. William H. Bass, the Center, according to its website, "has grown into a leading institution for forensic anthropology research and training. Resources and facilities include the Anthropology Research Facility, a dynamic body donation program, the Bass Donated Skeletal Collection, the McCormick Skeletal Collection, Professional Training Courses and the William M. Bass Forensic Anthropology Building." Individuals across the world donate their bodies to science; some to the body farm. Eventually, some of those skeletons end up in the new system in Strong Hall.
---
"Over in the stadium, we had a short-term problem – environmental controls. We also had a long-term problem in that there was no room for expansion as the collection grew. The new space in Strong Hall is a wonderful improvement."
Associate Professor of Anthropology at the University of Tennessee
---
A Growing Collection for a Growing Campus
How many pieces are we talking in the entirety of the collection?
"In its entirety, we're talking about thousands of boxes of samples," said Dr. Auerbach. "That includes a couple thousand skeletons, plus a few thousand boxes of other collection items. We also have one of the world's largest archaeological faunal comparative collections – those are animal remains that we use to determine what animals were present in an archaeological setting. We have everything from fish and small reptiles all the way up through larger ungulates (i.e., hooved animals). There are thousands of those."
The answer was four separate powered high-density storage solutions from Spacesaver installed in multiple rooms. In the archive area of the Strong Hall Laboratory, an area measuring approximately 320 square feet combines box storage and zoology cabinets. Additional box storage in a storage room for the Anthropology Collection provides room for 440 boxes of samples. In two other areas, approximately 1500 square feet of space is taken up by the systems.
University staff, grad students and external researchers all use the collections for their work. The exceptional organization and controlled environment make for an easy, accessible experience.
"Once we get into the fall, we could have as many as 6 to 12 researchers working here at any one time," added Dr. Auerbach. "Because I've served in the past as an acting curator for the department for about six years, I gained an appreciation for the importance of a stable environment. It's not just the climate, either. It's what a properly designed storage system allows. That's what makes this new system so nice for all of us. Working with Patterson Pope was really an enjoyable experience."
With the collections formerly being stored in the recesses of Neyland Stadium, there was no need to move the items to a temporary location. Dr. Auerbach and other university professionals could wait until the high-density systems were erected before any moves took place. Easy… efficient… and rewarding for all involved.
For Bertini, the chance to play a role in helping create such a valuable space for the university was a thrill.
"It isn't something I've ever done before," he said. "It was a really interesting project. It's nice to know you're helping to provide something valuable – not just for the department and the university today, but for well into the future."
There's always research to do. There's always something to learn. Protecting, appreciating and studying the past are important tools in helping us understand where we are today – and where we're headed.
Now that's scoring big.
For more information on this project, check out the Case Study.