If you're a sports fan, you've no doubt heard that the best umpires/officials are the ones you never notice. They're a part of the games, true. But if they do their jobs properly, they are inconspicuous. You might remember the infamous (especially for Green Bay fans) touchdown/no touchdown call in an NFL game a few years ago. This was the call, some people believe, that finally roused regular officials to end their walkout. Professionalism clearly matters.
At Patterson Pope, we're always excited to learn about the different ways our solutions help companies and organizations solve their storage challenges. Often times, part of that game plan involves trying to do two things at once: namely, adding capacity and organization, and doing so unobtrusively.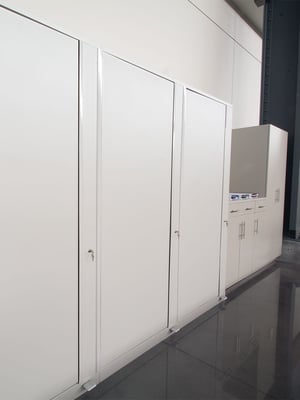 From the photos above, you'd never guess that the space it showcases used to be a marble factory. It was acquired by the University of Tennessee-Knoxville in 2013 and stripped down to its steel skeleton. It has been redesigned, re-purposed and re-imagined and today hosts more than 200 of the approximately 750 individuals who work on campus as part of the university's Facilities Services Department. The beauty of the building's new look is a testament to its planners.
Justin Dothard, a project coordinator for the department, has overseen the transformation.
"We had these massive open spaces that we wanted to maintain to keep the character of the building, but we also recognized that we wanted to fill those spaces with open offices," he said. "The increased visibility generates more team cohesion and teamwork. That was a big part of the vision for this place. We wanted people to be far more visible than they were before."
That's as it should be – the people, always the heart of an organization, front and center.
---
"From the beginning, we wanted whatever solutions we came up with to "fit" the space, but also to kind of disappear into the surrounding environment. The customization aspect of the solution was a really nice feature."
Justin Dothard
Project Coordinator – University of Tennessee, Facilities Services Department
---
While the "action" (i.e., the work) gets done in the open middle of this gorgeous new space, there's plenty of solid support being offered on the sidelines. Dothard and his team chose to work with Patterson Pope and Sales Representative Scott Bertini to address their storage needs.
"We moved into this space just before the beginning of summer 2016," said Dothard. "Through talking with Scott, we were able to identify some specific storage needs we had and to create some pretty workable solutions. From the beginning, we wanted whatever solutions we came up with to "fit" the space, but also to kind of disappear into the surrounding environment. The customization aspect of the solution was a really nice feature."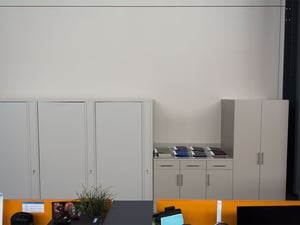 For Bertini, the Facilities Department's goals were best met by two products: a variety of Hamilton Casework Solutions pieces and two-sided filing cabinets. Both were able to be custom-fit to the existing area dimensions and painted in a beige color that matched the surrounding walls.
"I'm happy to be able to offer my expertise in any project, and this was certainly no exception," said Bertini. "This was a unique space, and being able to deliver exactly what the customer was looking for was very rewarding."
Modular Casework was used to create printing stations, and a custom-designed cabinet was outfitted to hold carpet samples, paint samples, and other items used by the department's interior designer. There's also an armoire-type casework unit that holds uniforms. At the front of the building, near the lobby, is casework that serves as a coat closet for visitors and as a mail sorting station.
"We wanted these units to be eminently useful but, at the same time, to sort of fade into the background," added Dothard. "We selected paint that was similar to the wall paint. We put faces on the fronts to hide the shelving. We made sure they weren't too tall. All those facets, combined with their functionality, came together for a really successful project."
Every semester, the department hosts several students as interns. They don't work more than a few hours a day and so do not have "assigned" desks. To accommodate their storage needs, day-use lockers were added to the periphery of the space, as well. These, too, were modified to be as invisible as they are indispensable.
"Working with Scott and the whole Patterson Pope team was really comfortable," said Dothard. "They were very creative and responsive. Should we need to expand we will definitely reach out to them again."
Workers in the new space are getting used to their surroundings. In fact, despite its open design, the incredible acoustics have led many to compare the area's quietness to that of a library. Clearly, "sound" design decisions can lead to exceeded expectations. The University of Tennessee-Knoxville's decision to make an investment in a business relationship with Patterson Pope is one worth celebrating. Exceptional execution means adding something special to the highlight reel.
Good design, lasting dependability and unobtrusive deliverables. That's Patterson Pope.
Good call.
---
For more information on this project, check out the Case Study.
---