The 82nd Airborne Division of the U.S. Army was founded in August of 1917. The unit even made a few jumps on the Western Front during the final months of World War I. Over the years, the 82nd has become one of the most well-known and respected units in the military. That has a great deal to do with the fact that it, according to Wikipedia, specializes in "parachute assault operations into denied areas."
One of the most exciting aspects of the work we do here at Patterson Pope is the fact that it allows us to become – even tangentially – a part of so many different organizations. We are fortunate enough to work with a number of military bases and associated personnel. We are proud to say that what we do helps support our troops and the mission they serve. Certainly, that is true of our partnership with the 82nd Airborne Division at Ft. Bragg in North Carolina.
It's rewarding to be able to provide military storage solutions that not only change the look of a space, but makes it more efficient, too. Such was the case in the Parachute Storage Facility at Ft. Bragg. Sales Representative Ken Stone recognized early on the difference Patterson Pope could make.
---
Large Scale Parachute Storage
"The 82nd Airborne Division has the largest collection of parachutes in the U.S. military," said Stone. "They're storing close to 20,000 mains and probably another 15,000-18,000 reserve chutes. When we got in there, they were storing them all in these metal baskets that were stored one on top of the other. It made access difficult, and there were some other issues, as well."
One of those "other issues"? The baskets had been used for so long, they were showing their age. That, combined with being occasionally rammed into by forklifts, had caused some harm to the baskets. Pieces of bent metal would then get caught on a portion of the packed parachutes, potentially causing tears and other damage.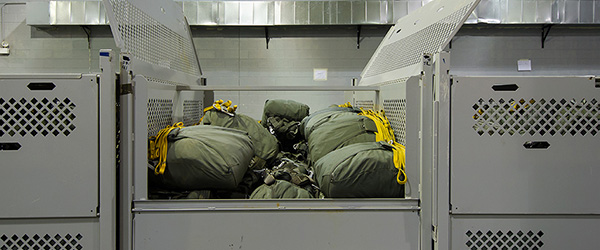 As they say, "necessity is the mother of invention." In this case, the necessity of keeping U.S. military equipment and personnel safe was the mother of the invention of a new Spacesaver product – the metal Parachute Container. Initially designed to hold up to 64 main chutes, it's made of welded steel, is forklift accessible from every side, and accommodates heavy-duty padlocks.
"I can tell you without reservation that these containers are amazing," said CW3 Terry Wright. Wright is in charge of maintaining the parachute storage area. "They're strong, they're clean, and they add a sense of order. That, plus the ability to store them on the ActivRAC® Industrial High-Density Mobile Storage System, makes it so much easier to handle in general, and especially during our up-tempo periods during those weeks when those bins and mobile racks are constantly moving."
A "main" parachute (T-11) weighs 38 pounds, while the reserve assembly comes in at 15 pounds. The main canopy is just over 30 ft. inflated diameters at the hem. When the parachutes are needed, they are now easily accessible via forklift. A box – which for Ft. Bragg includes 42 mains or 150 reserves – can easily be loaded onto a flatbed and trucked to the drop zone for training exercises. Afterwards, they're collected, brought back to be shaken out and dried, and then repacked.
"Having been here since 2000, and seeing the way it was before, I'm just really amazed by the transformation," said CW3 Wright. "It may seem like a simple thing, but it really is thrilling to see the way technology and a bit of innovative thinking can change an area. It's made a big difference for me and for everyone who accesses this area. We love it."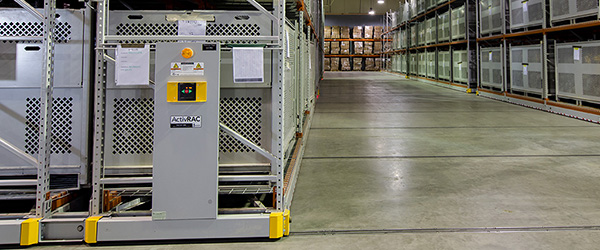 There are always tweaks, of course. Being able to respond to a client's needs quickly and effectively is a part of the Patterson Pope ethos. It's as true at Ft. Bragg for the 82nd Airborne as it is for anyone else.
"I can't say enough about our relationship with Patterson Pope. If and when we do call them to come out and make an adjustment, they're here to fix the issue in 12 hours or less. It's been great," added Wright.
Doing things the right way comes as second nature to both the soldiers of the 82nd Airborne Division and to us at Patterson Pope. While our missions may differ, we share a commitment to delivering on our promises and always exceeding expectations. Is that something we value above all else?
Yes, sir.
For more details on this project, check out the Success Story.
---