At Patterson Pope, we deliver storage solutions for a wide range of customers in a number of industries. While they're all interesting to us for different reasons, we feel a special pride in the work we do for the United States Armed Forces. The products and solutions we offer aren't static, either. Even in cases where they "just stand there," we believe they're helping move freedom forward.
Military installations face two distinct challenges:
Organizing and storing a massive amount of valuable gear
Ensuring that gear can be transported quickly and securely
---
Packing adequately for a rapid deployment can take weeks; time that could be better spent training and preparing your unit for a successful mission. That's why Patterson Pope and Spacesaver together offer a full line of deployable military-certified storage solutions for gear and weapons. Together we make it easy to both organize your garrison storage space and safely transport life-saving gear into the field, often without the need for pallets or repacking. Clean, efficient, and effective. And did we mention dependable? We've got your back.
---
CHECK OUT OUR MILITARY STORAGE SOLUTIONS
---
We've put a lot of thought into this STUFF because it's what we love doing. Today's military is larger and more complex than ever. At every step of the way – from garrison storage to solutions in the field – we're happy to have a hand in offering the STUFF that helps make a real difference.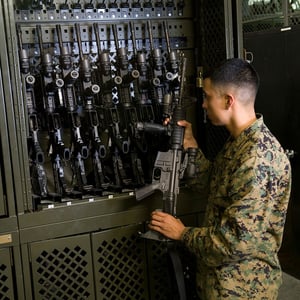 As just one example of the way we help, consider the flexibility of the Universal Weapons Rack(UWR). The UWR was designed with input from military personnel, and stores multiple types of weapons and accessories in a compact, transportable unit that fits easily into a shipping container. In garrison, it can fit any almost any combination of weapons including M-4s, M-16s, MK-19s, pistols, and more. Because "readiness" is always a concern, optics can remain attached to weapon during storage. And for convenience, retractable, perforated doors allow for added storage space and simplified inventory counts.
We also provide stackable cabinets that have the same features as full-size cabinets, with features like built-in bi-fold doors that retract flush inside cabinet when open.
IN TRANSPORT
Securely ship gear and weapons without the need for pallets or repacking
IN THEATER
Easily access needed supplies and gear while ensuring total security
Think about it. Any weapon, any size – just one deployment cabinet. These cabinets offer perks like barrel supports, lockable handles, along with base and stock cups. PVC-coated supports reduce weapon abrasion and keep weapons secure in transport, while providing quick and easy access with a simple lift of the strap.
No need to transfer deployed weapons to a different rack
Perforated doors and sides make weapons inventory and weapon identification easy
No movement, shock, vibration, or abrasion while in transport
---
Another part of our "arsenal" is the Universal Expeditionary™ Weapons Storage System. It's the first custom, integrated Type 1 TriCON container capable of storing, shipping, and supporting modern small arms and crew-served weapons with associated repair parts and collateral gear. It's effective – and pretty cool.
Configurable six-section "plug and play" capability to fit your unit's needs
Durable corrugated steel construction and heavy-duty steel floor and forklift pockets
Tie-down steel lashing rings and front/door corner post tie downs to load additional items and maximize every inch of the container space
Cabinets and cushioned weapons storage drawers can be added to perimeter or even mounted to doors for additional storage
The get gear out in the field, we'd like to highlight the SHARKCAGE®, by Spacesaver. It's an all-around solution to military logistics, enabling security and seamless transition from storage to staging, transport, deployment operations, and reset. Now that's flexibility.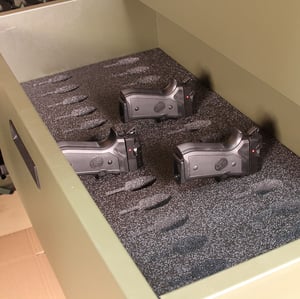 You can select from multiple sizes and interior layouts including Standard, Hazmat, Tactical Locker, Container Warehouse, and Wheel Cages to support your unit's needs. While it's lockable, stackable, and adjustable to make in garrison use easy, the best part is that there's no need for repacking contents and minimal need for dunnage. What's more, it maximizes space inside standard shipping containers and can be shipped in whole by air, land, sea, or sling-loaded via helicopter. Extensively tested for durability and shock absorption, it's the ideal storage partner in the field. And when it comes to reset? It collapses for easy return shipping back to base.
---
Military Storage Partnerships You Can Depend On
Whether you're planning for an upcoming deployment or are just seeking to maximize the storage efficiency on base, smarter thinking translates to more efficient day-to-day processes – and more time to focus on training. We've created storage solutions for almost any military application:
Secure, snag-free parachute storage containers and racks
Armory storage and weapons racks
Central Issue Facility (CIF) and supply warehouse storage
Medical supply and pharmacy storage
Compact records storage
Gear and property storage
Tool room storage
---
Patterson Pope's commitment to the armed forces is unwavering. Our experience and Spacesaver's in-house engineering team can help plan, design, install, and maintain your storage solution for years to come. Preparation is everything. We think you'll be pleased to see all the solutions we can provide for today's military installations. Check them out here.
Always ready. Ever secure.