Ken Stone has worked in the military storage business for more than 30 years. While he considers every client unique, he notes that there's something a little extra rewarding about working with the men and women who defend our country every day.
"They're just great people with specific needs and some really great stories," he says. "When someone calls me, the first thing I ask is that they tell me about what kind of problems they're having. Is it just that they have more stuff than they have room for? Is it that they've got adequate storage space but it's just hard to access? There are very specific storage issues that military people have; what they're looking to do dictates how I'm going to approach a solution for them."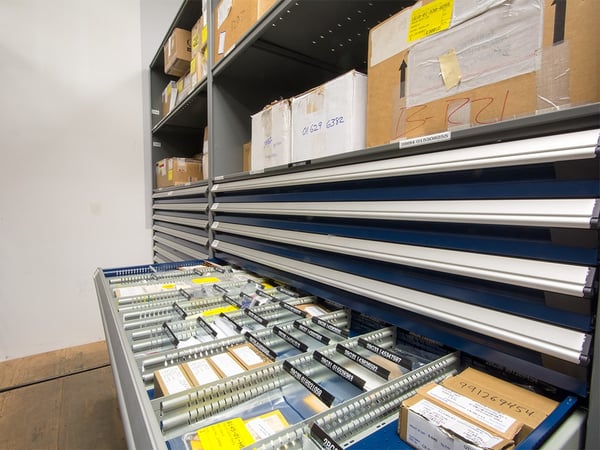 Solutions. That's what it ultimately comes down to. In our experience as storage industry professionals, we at Patterson Pope have discovered that there are five areas that can be distinctly identified as "targets" when it comes to optimizing storage for the military.
Medical Supplies Storage
Storage of Communications Equipment & Pelican Cases
The various branches of the United States military each have unique names and acronyms for their many storage needs. For instance, a tool room may be called a "Support Section" in the Air Force, but will be called something completely different elsewhere. Medical supply areas might be called MEDLOG, Medical Logistics, or MSAs. Communications areas may be called COMMO, COMMS, or COM Squadrons. These details may differ, but the larger takeaway is that the areas where military storage is a concern are universal.
---
A Battery of Military Storage Solutions
While every base or military installation is unique in terms of its layout and sometimes even its nomenclature, the storage tasks faced in the following five areas are common. Let's take a little bit closer look at each of the five – and the specific ways to address their inherent challenges.
---
Keeping our military personnel armed with state-of-the-art weaponry is a critical component of each and every branch of the service. Ensuring that these critical items are kept in an organized, secure fashion is an essential duty on any base.
Whether it's in the form of weapons racks, workbenches, or widespan heavy-duty shelving, the products you'll find through Patterson Pope are ideal for helping house and hone today's modern arsenals. Spacesaver's Universal Weapons Rack, for instance, was developed with the help of military service members. As a result, its distinctive design increases operational readiness while ensuring the highest levels of security and protection.
Other solutions can include…
Optics Cabinets (e.g., NVGs, CCOs, thermal sights)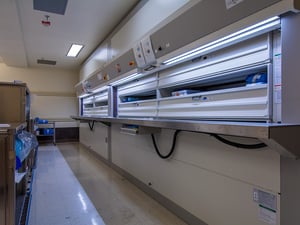 While the numbers indicate that only about one percent of the U.S. population serves in the military, that one percent, said another way, is more than 3 million people! Making sure those brave men and women are well taken care of is a critical function. At any base or outpost, medical supplies storage thus is a worthy consideration.
Spaces differ from location to location. Many military installations have even been known to move their medical supplies storage from one facility to another during periodic reorganizations. Understanding whether a military storage unit's area will need to be temporary or built for the long-term is one of the many considerations that need to be pondered.
We work with you to both better understand your needs and together ascertain which products might work best for your given situation. Those solutions might include heavy-duty shelving, high-density mobile shelving, drawers, or even vertical lifts/carousels, which can help take advantage of areas with small footprints but high ceilings.
Other solutions can include…
Plastic bins/totes
Climate controller storage units (including mobile systems within walk-in coolers)
---
Maintenance Parts Storage
In North Carolina, Ft. Bragg serves a population of more than 52,000 active-duty Army soldiers. Camp Lejeune (Marines) serves a population of approximately 47,000. The reality is that these military bases operate as small cities. Naturally, like any municipality, there are vehicles, buildings, HVAC, computers, plumbing and similar concerns. These are the systems that make cities run. And like any city, maintaining these systems is a critical function on military bases, as well.
Given the relatively frequent turnover of soldiers from one position/location to another (the average tenure is 12 months), it's important that any maintenance parts storage is as organized as possible. Facilitating this requires not only an understanding of a particular area's function and inventory, but a vivid comprehension of how the space is used. Which things are accessed weekly? Daily? Hourly, even?
Solutions can include…
Storage of Communications Equipment & Pelican Cases
Especially in military settings, it is no overstatement to say that communication is critical. Whether it's in training or during actual combat, being able to depend on functional communication devices (think alert measurement systems, cryptography, military radio systems, nuclear command control, the signal corps, and network-centric units) is of central importance.
On a base, keeping those pieces of equipment in good working order, organized and secure usually falls to just a few soldiers, if not a sole individual. In most cases, these items are kept in "cages" that may serve multiple purposes. In addition to communication devices, they might also store maintenance items and CBRN equipment (i.e., Chemical, Biological, Radiological & Nuclear wear and treatment items).
Creating a military storage solution that isolates communication equipment is a simple, smart step in the right direction. Whether the answer turns out to be widespan shelving, lockable cabinets, or even high-density mobile shelving – inside or outside lockable wire cages – the dedicated space helps to ensure a clean, orderly, secure space.
Strong and durable, performance protective cases Pelican cases can be used to protect and store high-end, moisture-sensitive electronic equipment. These temperature-controlled packaging solutions offer ideal storage solutions for gear, portable lighting systems and more.
---
If there's one phrase that typifies the military, "heavy duty" would be it. When considering outfitting locker rooms on military bases, being able to find strong, flexible, durable solutions goes without saying.
Whether it's Gear Lockers (offering a secure, compact way to store duty bags, field gear, and bulky equipment that can be accessed at a moment's notice), Smart Lockers (for sleek, secure storage for personal items) even cage lockers for storage of entire lines of equipment or gear, selection is our mission.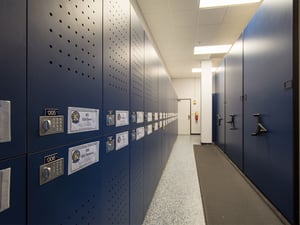 Solutions can include…
Night Vision Goggle testing booths
Shipping Containers with lockers,
Lockers featuring AC power & iPad charging banks
Aircrew Flight Equipment (AFE) Lockers
Pilot Lockers,
Special Operator Cages
---
The above examples have been gleaned from our many years of experience. What's great about all of the products that we give you access to is that they are flexible. We've worked long enough to recognize that your needs are your needs. How you use a space – or which storage item you believe will work best in a given area – is ultimately going to be up to you. Our job is to discern your needs and requirements.
"We've always been lucky enough to have the opportunity to represent the best manufacturers in the business," adds Ken Stone. "Names like Spacesaver, Rousseau, and Hamilton Casework Solutions. It's a really good assortment with which we're able to offer flexible solutions. That responsiveness is valuable this business, similar to – but different than – the responsiveness in which our military folks are trained. In both cases, we're ready to help."
Just as there is no end to the variety of personalities in the military, so too is there no end to the ways in which our experience, access to solutions, and passion for interpersonal relationships can help satisfy today's military storage needs.