Cutting-edge technologies and innovations are the name of the game at the John Mica Engineering and Aerospace Innovation Complex at Embry-Riddle Research Park in Daytona Beach, Florida. Affectionately referred to as "the MicaPlex," it offers "a unique collaborative opportunity for business and the university community to develop, refine and bring new products and technological services to market," according to their website. Naturally, the opportunity to help outfit such a facility with furniture that furthers its research mission was a welcome one for Patterson Pope.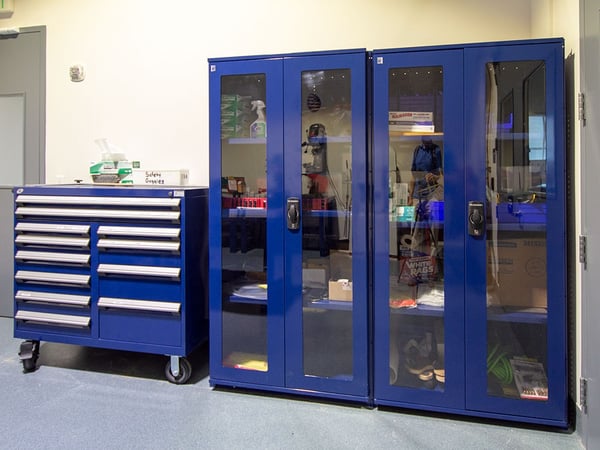 Known as an "innovation lab," the research building has two floors. One floor is dedicated to offering Embry-Riddle Aeronautical University graduate and post-graduate students access to equipment and expertise that help hone ideas and inventions. The other floor offers incubator space for technological start-up companies. State-of-the-art equipment and on-site expertise offers innovators a network of support to shepherd them through the stages of product/service development toward market readiness.
---
Helping to Make a Heavy-Duty Impact
---
---
Brought in to help outfit the labs with heavy-duty tables that could accommodate extremely heavy equipment (i.e., think electronics, lathes, motors, et al), Patterson Pope Sales Representative Bonnie Nienhuis was a fast admirer of the facility's purpose and offerings.
"It's a wonderful place," said Nienhuis. "I was excited to get the opportunity to be involved in such a unique property. The interior designer there, Marie Jones, knew that she wanted Rousseau products, and I was able to help her get exactly what she needed."
For Jones, having access to top-quality products made Patterson Pope a great resource.
"I'm the manager of interior design and planning here at Embry-Riddle. In my department, we do everything. We build all sorts of buildings – residence halls, classroom buildings, parking garages, research facilities, airplane hangars, student unions, etcetera, and we furnish them. We are very busy. Rousseau makes a great product, and while it can be pricey, it's definitely top of the line stuff and certainly worth it."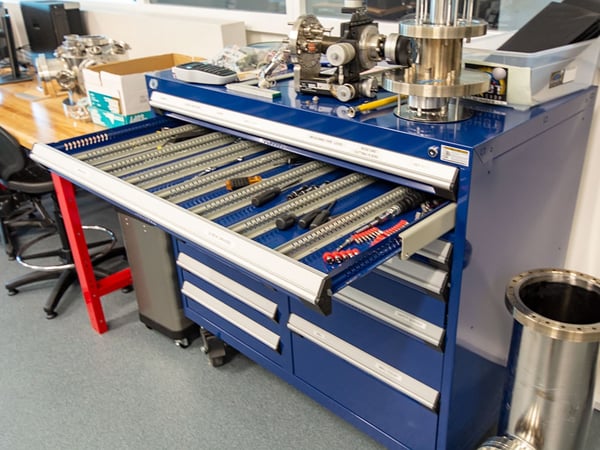 The MicaPlex is equipped for and experienced in research associated with seven areas: applied science; aviation; business; computers and technology; engineering; safety, security and intelligence; and space. On any given day, there are a handful of research projects underway.
"As a STEM building, our labs need to be the very best," added Jones. "All of the lab furniture was from Rousseau, purchased through and installed by Patterson Pope."
"The MicaPlex is a big space, to be sure," said Nienhuis. "There is always a lot going on there, whether it's the university's engineering students or employees of one of the several start-up companies that do their research there. It was important that the facility have great products like the ones from Rousseau not only from a weight capacity standpoint, but from a long-lasting quality standpoint, as well. These tables are going to play a pretty big role in engineering research and development over the years."
---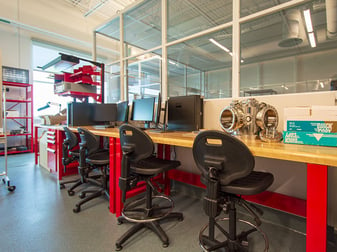 "We are really happy with the Rousseau product. It's super strong and probably better than anyone expected," added Jones. "It's probably the nicest product on the market; therefore, it's a great product for us because this really is a showplace facility for us. We host a lot of tours, whether they're for students, faculty, or even our sponsors, donors and trustees. It's nice to have a beautiful product. We are very happy."
In addition to the heavy-duty work tables, the MicaPlex was also outfitted with Rousseau workbenches and R & L cabinets, along with Global lab chairs and chemical cabinets.
"I'm a big proponent of doing whatever I can to make a project successful," said Nienhuis. "I never say 'no' to any request, because ultimately my responsibility is to be a resource for the client. In this case, that meant connecting Embry-Riddle with top-of-the-line products that would serve their purposes for the long term."
Being able to offer students and other innovators equipment like an anechoic chamber, ground communications systems for satellite tracking and even a VICON motion capture system is part of the MicaPlex's appeal. Bigger still is the opportunity to help foster creativity, experimentation and ultimately, to effect scientific breakthroughs that just may affect us all.
Can equipment really make that big of a difference?
"Having access to great products is a reflection of what we stand for," said Nienhuis. "Patterson Pope is able to connect those in need of storage and furniture solutions with the right tools for the job. In this case, it was an honor to be involved with such a respected university – and especially with such a beautiful new lab space. It was a rare opportunity."
For Marie Jones, the final look and feel of the MicaPlex lab is a reward unto itself. "I would definitely recommend Patterson Pope. Whether it's their functioning as liaisons to high-end products or their attention to detail during installation, they're a good resource."
Thanks, Marie. We do our homework.
For more information on this project, check out our Case Study.