If you remember economics class, hypothetical industries make, store, and ship widgets. Of course, these widgets would all be the same shape, size, and material. In the real world, industrial storage means storing a wide variety of products and meeting many different requirements. When it comes to the top industrial storage problems, there is help.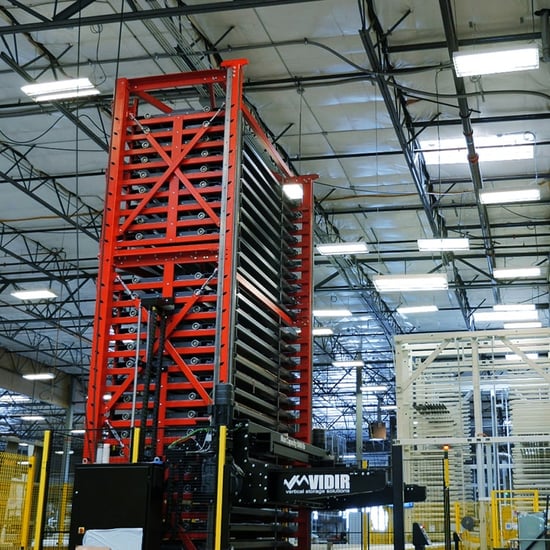 Those who handle supply chain and logistics probably know challenges in industrial storage already. These concerns call them into seemingly endless meetings and perhaps even haunt their sleep. The good news is that Patterson Pope's varied storage solutions can help overcome these difficulties.
Knowing Where to Find Inventory Items
---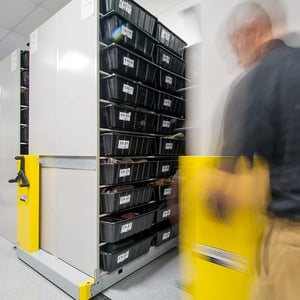 Let's first consider inventory location. To put it in a familiar context, imagine you are trying to get out of the door and you can't find your keys. Now you're running around the house hollering at everyone in the family to tell you if they've seen them. The longer it takes to find, the later you're going to be for work. In inventory world, there's less hollering (maybe), but time spent trying to find the items to ship slows the supply chain down.
Lacking a clear idea of where every product can be found slows operations and the loading process lags. This can be costly in terms of labor and dock-door scheduling. Plus, if you're having difficulty meeting timelines, this can damage your business relationships with partners and customers.
Overcome this challenge with industrial storage solutions that enable efficiency. For instance, Vidir's fully automated Sheet Metal Vertical Lifts offer greater ease of access and faster retrieval times to improve capital equipment output by up to 15-20%. Handling carriage loads up to 5,000 pounds, these vertical lifts streamline process and amp up productivity. With an automated storage and retrieval system, your business can save space, prevent material damage and decrease the time taken to deposit and retrieve heavy industrial materials.
---
Keeping Track of Inventory Levels
---
Inventory accuracy is a similar headache. Visibility is a buzzword in the business for good reason. For instance, if you don't know when you are running out of stock, you can inadvertently plan to ship items you don't have available. Or have to halt production while waiting for a necessary part. Carrying too much stock is also problematic as it decreases cash flow and takes up valuable space in your warehouse.
How does storage help you overcome accuracy concerns? By better organizing your inventory to enable visibility. Organizing your inventory in a high-density mobile storage system can optimize ordering and inventory retrieval. Secure chain of custody and provide temperature controlled stabilization while allowing flexibility for future needs.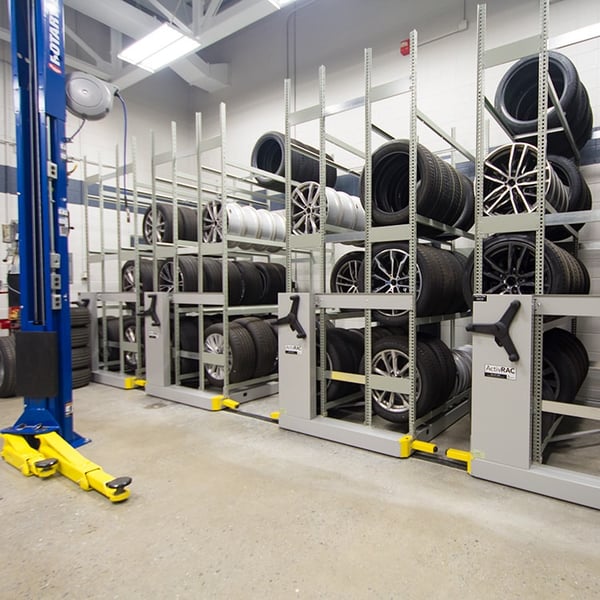 Mobile storage systems have one or more moving aisles that open and close where and when needed. This cuts down on both the amount of space required to store materials and the time it takes to access them. These process improvements support supply chain transparency.
---
---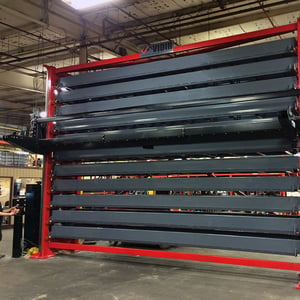 High-density mobile storage also helps overcome another common industrial storage problem — poor space utilization or warehouse layout. Spacesaver's ActivRAC Heavy-Duty Mobile Storage System, for example, eliminates empty aisles by mounting new or existing pallet racks or shelves on mobile carriages.
With mobile storage, your business can reclaim as much as 50% of its existing storage space for revenue-generating activities. Add another product or production line or establish an entirely new profit center with the flexibility of mobile shelving — without having to break new ground.
High density storage coolers are increasingly common, for example, in beer distribution warehouses. With space costing $200 per square foot, finding storage space for all those kegs is difficult. As it is, excess kegs are kept in front of existing pallet racks, and workers (who already handle an average of 78 pallets during an eight-hour shift) must move some kegs to get to others. A new storage solution can make workflows much more efficient.
Refrigerated high-density mobile storage also saves on utility costs. Densely-packed coolers, holding double the number of pallets in the same footprint, reduce air escape and decrease energy consumption.
---
---
With immediate access to high-selling inventory you can improve worker productivity. Optimizing your warehouse space with industrial storage solutions — mobile, high-density and/or vertical — also helps avoid unnecessary labor.
Plan your storage solution installation to streamline picking and putting away. The right storage improves access so that workers cover less ground to do their jobs. With all shelf faces accessible, and able to accommodate existing fork trucks and pallet racks, mobile shelving can reduce wasted time. This can improve employee morale while the improved access helps workers avoid strain and injuries.
---
---
The best industrial storage lets you easily access what you need to while accomplishing more. Don't let these four challenges slow down your supply chain. Optimize your space and processes with industrial storage solutions.
Contact your Patterson Pope representative today to schedule a space survey. It's the first step to freeing up much-needed industrial storage space