New Space for Law Offices
When I was younger, my sister used to throw erasers at me. At my head, to be exact. Hard. That is, the erasers were thrown hard and my head was hard – at least when it came to Algebra. Try as she did to convince me that I could somehow understand how all those letters and numbers fit together in some logical way, I never did grasp the concepts. Even if I finally worked out one problem, the next would be a complete mystery. It was a frustrating process; hence, the erasers.
Have you ever heard the phrase "stay in your own lane" as it refers to a particular task? We're not talking about driving here – although it's true there, as well. No, in this context it means that to ensure success, it's best to stick with what you know. Remember when Michael Jordan tried baseball? If you don't, consider yourself lucky. There's a reason he's remembered as perhaps the greatest basketball player in history.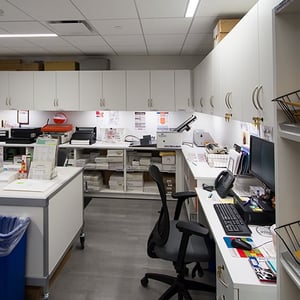 Bearing those two ideas in mind, consider the case of BakerHostetler. Headquartered in Cleveland, Ohio, it is one of the nation's largest law firms and boasts more than 900 lawyers around the country. Not long ago, the firm decided to split its law office functions (i.e., attorney offices, attorney files, records room, law library) and its administrative functions (i.e., Marketing, Accounting, IT & HR) into two separate buildings – both still in the city. The preliminary drawings for the new law office were developed with a contracted architecture firm.
The law office's new space covered five floors in Cleveland's Key Tower. While the original plan was for a furniture company to handle all of the storage equipment, the large scope of the project – along with certain time constraints – allowed Patterson Pope to instead work directly with BakerHostetler to devise and install a wide range of storage solutions. It was an exciting venture.
Delivering on the Promise
"The relationship aspect of our business is huge," said Patterson Pope Sales Representative John McLaughlin, who worked on the project. "You've got to demonstrate for clients that you're not only going to do what you say, but that you're going to deliver more than they expected."
In this case, achieving more than was originally planned for was a big victory. As is often the case, the original designs for the five floors' needs changed a good bit throughout the process. That was in large part a result of fervent conversations between McLaughlin and the heads of various departments within the firm.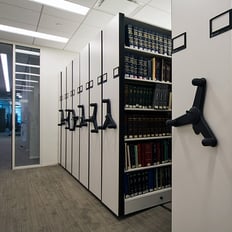 "I have a lot of respect for Patterson Pope and the way they handled the job," said Larry Lindberg, a partner at BakerHostetler and the man responsible for overseeing the move and associated details. "Sometimes you get the impression that vendors want to sell you stuff only because it's the stuff they sell. But Patterson Pope offered creative solutions and types of products that we really hadn't considered. Throughout the process, it was a very thoughtful dialogue back and forth. John came back and talked with all of us about the specific products, and the layouts that were needed to get the job done correctly."
Sometimes, changes do need to be made. Then, erasers – properly handled! – come in handy. A little re-imagining of the architect's original plans for the BakerHostetler law office yielded astounding results. In their new building since January 2016, the team at BakerHostetler agrees that it's beginning to feel like home.
"We had a lot of space to work with, and there was a lot of input to sift through," said McLaughlin. "You know, just asking the right questions and paying attention to the feedback you get makes a real difference. I appreciated the firm's trust in me and in Patterson Pope to deliver solutions that made sense and were easy to work with."
As those conversations multiplied, so did the scope of the project. More and more talks led to more and more opportunities to solve real needs. When all was said and done, Patterson Pope had designed and installed on all five floors. There were 10 Spacesaver bi-/tri-file systems, a pair of Spacesaver high-density mobile systems, several corridors' worth of case-style shelving, 10 rooms of Hamilton Casework Solutions handiwork, other miscellaneous shelving, along with several Rousseau workbenches for the firm's IT department.
"It had been a long time since we had really looked at ourselves in terms of the products we were using, to think about how the various departments work and what they need to do their jobs better," said Lindberg. "It was helpful to have someone come in and explain what was available, because most of us had no clue."
---
"Patterson Pope offered creative solutions and types of products that we really hadn't considered. Throughout the process, it was a very thoughtful dialogue back and forth. John came back and talked with all of us about the specific products, and the layouts that were needed to get the job done correctly."
Larry Lindberg
---
Law Firm Storage Commissioned for Comfort
For Lindberg, the look and feel of the new office may take a while to become completely comfortable, but he's definitely pleased with the direction things are headed. The storage solutions Patterson Pope helped provide are a big part of that. He even has a favorite.
"We had a need for our IT personnel to be able to lay out and test computers before they're distributed. John was able to present an idea – and this came relatively late in the project – to install a long (Rousseau) table in the IT area where all these computers could rest – and have a lot of power needed to execute their tasks. Actually, it was a combination of products that allowed for us to set up along one wall an area that our IT folks could lay out 10-15 computers that would all have power."
Lawyers practice law. Furniture companies do furniture. When it comes to storage solutions for law offices, Patterson Pope is pleased to stay in its lane. Based on the working relationship Patterson Pope had developed with both the architect and the Baker team, we got to help with the storage solutions for the new "Baker Firmwide" space, as well. Although a much smaller project, P2 designed and installed Spacesaver shelving, casework in the office services and mailroom spaces, and Rousseau workbenches, as well.
"I found working with John and Patterson Pope to be straightforward, seamless and problem-free," added Lindberg. "They helped us with a great solution and it was a positive experience. It provided exactly what we were looking for. We couldn't have asked for more than that."
Echoing the due diligence performed by BakerHostetler lawyers, Patterson Pope's commitment to doing the research helped deliver a positive outcome in the case. The verdict is in. Dedication to satisfied clients, a job well done and organization achieved is always evidence of passion made manifest.
For More information on this project, check out our Success Story.
---