In the movie "Sully," there's a particularly insightful exchange between Captain Chesley Sullenberger (of "Miracle on the Hudson" fame) and a member of the National Transportation Safety Board's investigating team. After Sully describes some of the challenges of his famous water landing, the investigator says, "that would be unprecedented." Sully looks at him and responds, "Everything is unprecedented until it happens for the first time."
That's right. Just because something never has happened doesn't mean it never will occur. As the saying goes, necessity is the mother of invention. There are many examples of this – that's how sayings become sayings. It's even true in the storage business.
Web Industries is based in Boston, MA. At their Web Atlanta facility in Suwanee, GA, their Advanced Composites Center of Excellence formats pre-impregnated composite fibers for aerospace fabrication. In fact, it's the largest and most advanced composites formatting facility in the world.
"Carbon fiber composites use a resin-like material that's sort of like glue," said Bob Scott, process engineer for Web Industries. "This glue is impregnated into carbon fibers, which add structural stiffness and hold the resin during the production process. Like any resin, it sets up over a period of time. You can slow down or speed up its setting time by adding or removing heat. So if you want to increase shelf life, it has to be cooled to -10 degrees F. Very cold temperatures."
When new composite material is delivered, it is stored in a freezer until it can be processed. Following formatting, the material is refrozen and stored until it can be shipped to the end user, where it is used to manufacture composite aircraft and engine parts for airplanes like Boeing's 787 Dreamliner and the Airbus A350.
Web Industries identified Spacesaver's ActivRAC® Mobile Shelving System as the ideal solution for their needs. There was only one issue: the ActivRAC product had never been used in such low temperatures. In fact, low temperatures would cause the system's circuitry to short out. So, that's where the "necessity is the mother of invention" part came in. Bob Scott called Patterson Pope and ended up working with Sales Representative Bob Tyler to find a way to make the ActivRAC a workable answer.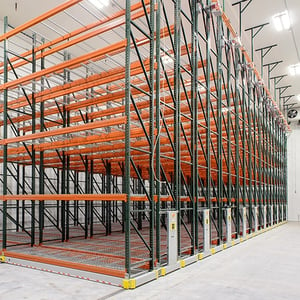 "Typically, we would partner with a general contractor on a job like this, but we ended up doing business directly with Web," said Tyler. Our contract was with Web. Then Web went out and hired the general contractor, who worked with the architect, etc. We worked largely with Bob Scott directly. We've got our own structural engineer who we've worked with for a long time… he's very familiar with Spacesaver products."
The boom in aerospace construction has meant increased business for Web Industries. Faced with the choice of building more cold storage with traditional rack shelving, renting off-site cold warehouse space, or devising a way to get higher-density storage in a new-build smaller-footprint freezer, they chose to renovate their existing space with a high-density cold storage solution. It was an exciting challenge for all involved.
"When we first started talking to the engineers up at Spacesaver, there were some concerns," recalled Scott. "We talked about it for some time, and the project actually got shelved for about a year, which turned out to be a good thing. That gave Spacesaver time to go out and do their homework. We knew that this was going to be a solution that wasn't just good for us; it was going to be good for everyone in the industry."
---
"This system never existed before; it's a one-of-a-kind. Patterson Pope responded to our needs with real ingenuity and innovation. It's going to make a big difference moving forward."
Process Engineer –
Web Industries
---
"We worked with the team at Spacesaver to devise what they called a 'cold package,'" said Tyler. "The new ActivRAC carriages, shelving, wheels, motors and that kind of stuff – they're pretty much standard materials. It was a lot of electronics and wiring that had to be custom-designed. It's a one-of-a-kind; it's never been done before."
There was a lot of work that went into not only re-engineering the ActivRAC to be able to work in a cold environment, but to prepare the Atlanta facility to accommodate it. In addition to the temperatures, another wrinkle in the site preparation was making the adjustments to the physical space to allow it to support the significant weight of the finished products. New, thicker slabs had to be poured and floor rails laid, in addition to the shelving itself and insulation – among other considerations.
"It actually worked out pretty well. It was a lot easier than putting a system in an existing freezer," said Tyler. "Adding this 16,000-pound system (16P) helped Web Industries double its capacity in the receiving freezer, which is the first one we built. With the 16P, they actually ended up with 660 pallet positions, more than doubling the capacity of their existing freezer using regular pallet racks."
The new freezer measures approximately 108 ft. long by 70 feet wide. "Their experience with the ActiveRAC system has been positive, and future expansion plans for additional new-build cold storage upgrades have been revised to include the system." The ActivRAC mobile shelving system's new enhanced functionality is a boon for Web Industries and other companies with similar needs.
As for Web's future? Well, as Bob Scott points out, the aeronautics industry is only getting bigger.
"It's a huge business," he said. "Right now, the backlog for Boeing 787s alone is worth almost $100 billion. Those planes are only $385 million apiece if you want to buy one."
Yeah… at that price, we might be frozen out.
For more information on this project, check out our Success Story.