It's one thing for someone to get injured in a gym because they didn't stretch first. Or a macho client thought they could bench 400 pounds after a previous record of only 135 pounds. But the last thing you want is people tripping over equipment or having a hard time finding what they need for their workouts. Pump up your gym equipment storage with these flexible storage solutions.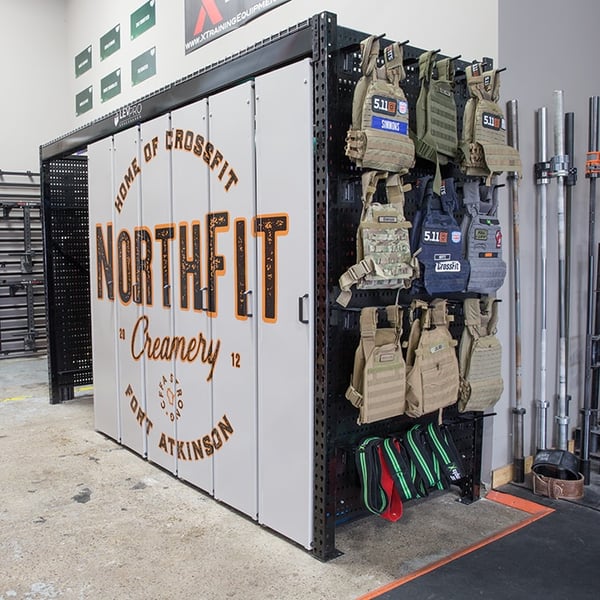 More people are valuing wellness than ever before. According to the health and fitness professional association IHRSA:
In the USA, there were more than 6 billion gym visits to 39,570 facilities in 2018 (this excludes hotel gyms)
The number of US health clubs increased by 2.8% from 38,477 to 39,570 locations.
Revenue growth was even greater. In 2018, U.S. health club industry revenue increased by 7.8% to $32.3 billion, up from $30 billion in 2017.
The number of US gym members rose 2.6% from 60.9 million in 2017 to 62.5 million in 2018.
Plus, the health club market is worth $87.2 billion globally and has grown every year since 2008, also according to IHRSA.
So, it's a good time to be in the health and fitness industry. But gym, fitness club, or box owners still need to do what they can to provide their users or members with the best experience. Smart gym storage choices can help you improve flow and equipment access and make for a safer space. Check out these suggestions!
A typical gym has weights, balls, bands, bars, yoga mats and much more that people want to be able to easily access during a class or for an individualized workout. But you can't just leave it all laying about. That's a bigger safety hazard than doing a cycle class followed by a High Intensity Interval Training session on an empty stomach!
Traditional four-post shelving can help store supplies and let gym visitors enjoy greater space in which to workout. Or just greater distance between their treadmill and that person grunting and groaning on the stairclimber next to them.
Spacesaver's LIFT gym storage solution offers:
Compact shelving suspended on an overhead trolley
Heavy duty static shelving for keeping all those kettlebells and sandbags in one, compact space
Wall-mounted storage racks that help you keep equipment up off the floor and out of the way without taking up gym footprint by going vertical
Plate storage with shelving for the heavier plates and pegs for the lighter ones
A yoga or dance studio may also want to install gym storage cubbies or bin shelving for people to stow their shoes, locker keys, water bottles and towels up and out of the way of the class movements.
A high-quality, durable carts could also be useful for stowing supplies to take from one workout space to another. Or as a way to make medical supplies or trainer intake documentation more mobile.
---
Your users are also going to be looking for convenient gym storage lockers. The locker room is a necessity in many gyms and clubs. Your users want strong, durable, high-quality storage cabinets and lockers to organize and secure their gear. Personal storage lockers offer a revenue source if you're renting them out to members.
FreeStyle personal storage lockers from Spacesaver are reconfigurable to meet changing equipment and user needs. Hook kits, magnetic mirrors, internal shelving and plug-and-play electrical components can all help your users feel taken care of at your gym (whether on the mats or in the locker room).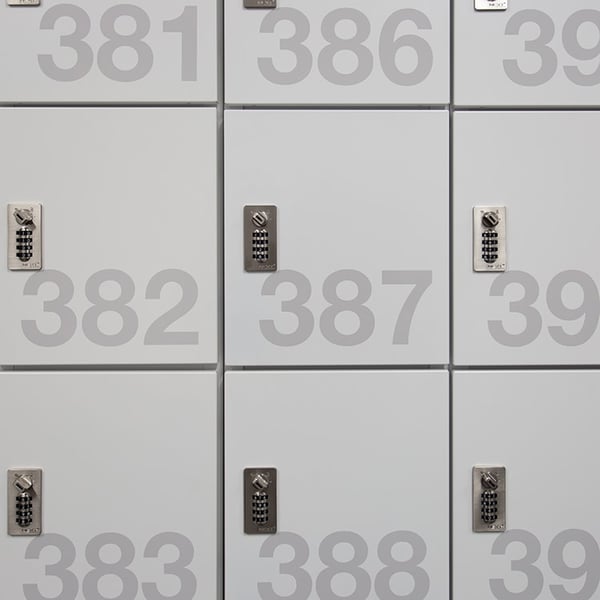 Day-use lockers are great for people who don't need a consistent gym locker of their own, but still want to secure their belongings during a class or workout session. A day-use locker can be installed with a variety of locking options including DigiLoc, keyed, coin, secure RFID swipe card or touchscreen interface. These lockers come in a variety of custom finishes with flexible sizing and accessories, so you can make smart choices to improve user satisfaction such as added breathability or a portable charging outlet in the locker! Way better than the old school lockers you remember.
As more Americans are willing to work out, it's important that your gym, fitness center, health club or box, works out its storage requirements.
Our storage experts may not be able to bench as much as your instructors, but we've done plenty of reps consulting on the best storage solutions for our clients. You focus on fitness, and we'll provide the gym storage solution that best fits your needs. Contact us today!