Healthcare providers are facing new pressures daily in the midst of the COVID-19 pandemic. News of potentially promising vaccines may be cause for jubilation in the community, but for healthcare leaders this is another moving target demanding flexibility to provide the best quality care. Fortunately, healthcare storage can support agility.
Keeping patients and employees healthy and safe is always a priority. But the current situation is fluid. Healthcare organizations need to be ready for surging demand — whether for a vaccine, testing, or drugs. And there will be more staff required to meet any peak in patient numbers.
The Need for Healthcare Cold Storage
Some of the vaccines in late stage testing as pandemic vaccinations need to be kept at ultra-low temperatures. The Pfizer and BioNTech drug that has recently made the news with 90% efficacy at preventing COVID-19 requires complex and super-cold storage. According to Reuters, "the main issue is that the vaccine, which is based on a novel technology that uses synthetic mRNA to activate the immune system against the virus, needs to be kept at minus 70 degrees Celsius (-94 F) or below."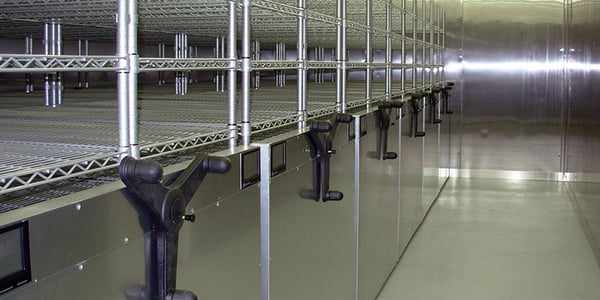 With hundreds of millions of people looking for access that's going to challenge delivery of the vaccine. Even big city hospitals aren't likely to have storage facilities that can handle minus 70 or 80. The renowned Mayo Clinic for one, does not. Not to mention the challenges for poor countries or rural areas where resources are tight.
Ramping Up Testing with More Room
Take a Los Angeles-area diagnostic laboratory conducting medical testing for hundreds of thousands of southern California residents. To meet increasing demand for COVID testing, the lab built out 30,000 square feet of shelled space inside its existing 150,000-square-foot facility. The two month project took lab test processing from 7,500 daily to approximately 57,500 per day.
How'd they do it? With high-density cold storage. To support necessary supplies, the lab increased its shelving six-fold. Refrigerated room shelving features aluminum tread flooring on a "false floor" that is easy to clean and will allow the system to be moved in the future if needed. Specially treated wire shelving ensures testing kits don't fall while clear plexiglass allows for quick visual inspection.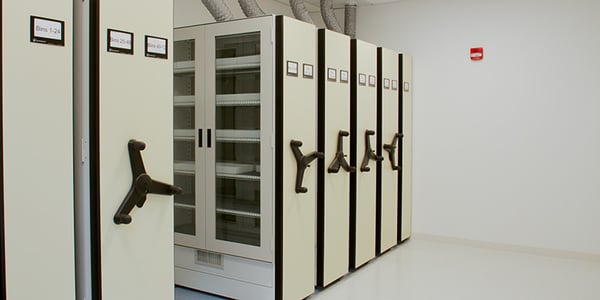 Of course, this example features someone who had the space to build out more refrigerated lab capacity. But we're well aware that others are dealing with a pressing need for more cold room storage without extra footprint to spare.
Fortunately, many compact storage solutions today can be installed in cold environments. We've worked with facilities who jump from a number of small refrigerators to one large walk-in but still need help as specimen volume or drug storage needs continue to grow.
Safety Stockpiling Needs Storage
At the same time, healthcare providers are building up stockpiles in preparation for a dangerous second wave. Worried about supply chain disruption, healthcare organizations are trying to stock up on medical supplies and drugs intended to last as long as 90 days.
In July 2020, a health services company survey of hospitals and health systems found 88% "are creating a stockpile of medications needed to treat COVID-19 patients." Building a safety stock of sedatives such as midazolam and propofol or controlled substances such as fentanyl and morphine also requires cold storage.
The healthcare organization needs somewhere to put its regular supplies along with all of the personal protective equipment now required.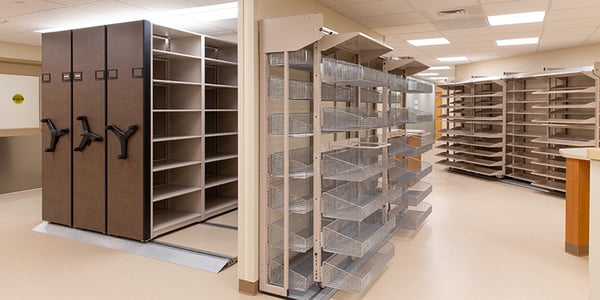 High density storage solutions come in a range of options including mechanical-assist mobile shelving that lets your staff turn a three-spoke handle to easily move 4,000 to 10,000 pounds of weight with just one pound of effort.
Larger projects can improve organization and get more storage capacity in the same footprint with ActivRAC mobile storage. For vaccine or lab test applications, the carriages, shelving, wheels and motors can be insulated for extreme temperatures and readied for heavy duty work.
Security for Staff Too
With more people working to handle the influx of patients, healthcare organizations must also prioritize employee safety. Providing peace of mind with temporary lockers available to secure belongings can help provide peace of mind.
One Ohio hospital turned to Patterson Pope wanted to expand its staff storage with Spacesaver's Freestyle Personal Storage Lockers for temporary use. These strong, durable, high-quality lockers give personnel a place to stow and secure their personal gear.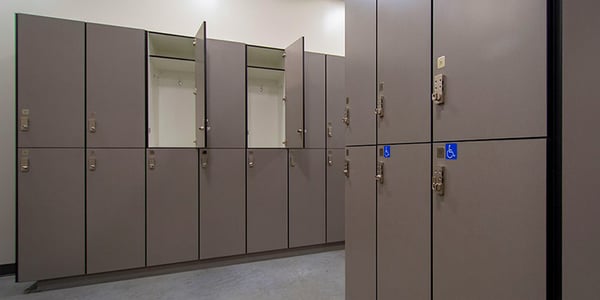 The quickly installed lockers met the immediate need for increased personnel. Plus, they can easily be relocated and repurposed to another permanent location in the hospital when the current urgency dissipates.
Save Time, Space and Money with Expert Insights
In healthcare, convenient access to the necessary medication, lab test or patient sample can be critical. Retrieval must be efficient. Yet at the same time, security is essential too. That's why working with experts to find the optimal way to take advantage of healthcare storage space makes sense.
Partnering with a storage solution expert you can:
Evaluate how much additional storage can be gained from different options
Guarantee the system offering will hold up to near-freezing temperatures, if needed, without rusting or malfunctioning
Ensure security and ease of access are prioritized
Make the right choice while gaining a professional, well-organized solution
Healthcare organizations can keep patients healthy and staff safe with secure, efficient storage for vaccines, tests, lab results, medicines and more. Meet healthcare storage needs today and into the future with flexible solutions customized to your particular needs.
With Patterson Pope providing your healthcare storage solution, you'll also benefit from our industry expertise and dedication to solving your problems effectively with an emphasis on agility and quality.