County records preserve information about people, places, objects and more. Throughout the country, millions of artifacts are acquired and safeguarded in county collections. These records represent the collective, official memory of a community. Proper county records storage, then, is a true service. Yet, this gift of preservation is not without its challenges.
County records are important documents including land transfers, property deeds, court filings, marriage and death certificates, and other vital records. Yet most county community members remain unaware of the depth of information being stored by their county offices. They don't think about how all this information is stored until they need it personally.
Meanwhile, each county has a records management policy to ensure county records storage preserves personal and community history safely, while still enabling access. More records are being digitized, yet that too is adding layers of difficulty to county records storage. The records manager must handle an increasing volume of information and protect personal data and prevent cybersecurity breaches.
County records keepers are tasked with keeping up with records cataloging, managing information access and applying sound records storage practices. That's all while working to manage costs and, often, with increasing space limitations.
Current County Records Storage Situation
Many county records storage rooms are stuffed with open shelving, four-drawer filing cabinets, banker boxes, and other old school storage solutions. In an ideal situation, the county records manager:
•Complies with state and federal legal document retention requirements.
• Rapidly retrieves information.
• Destroys records, on a set schedule, in a timely manner to reduce space.
• Doesn't lose or misfile records.
• Controls new record creation to reduce unnecessary copies and extra forms.
Yet the importance of records management can be undervalued by those making the budget decisions. County records storage can be stuck in dark and dank rooms that are unsuitable for proper records storage. Effective information flow is further hindered by a lack of retention schedules, inaccurate records inventory, and ineffective document disposal practices.
How County Records Storage Solutions Help
County records managers are struggling to meet state and federal mandates and make documents available to the public.
At the same time, the county may require document management onsite. Even as space is in greater demand, and the county records manager is asked to do more with less funding. With older shelving and organizational systems, records access becomes complicated, Patterson Pope salesman Bobby Davis noted.
Fortunately, there are many storage solutions options available for county storage today. Even county record keepers that are embracing digitalization and scanning records using today's technology, oftentimes still need to maintain hard copies. Any of these options can help conserve space and preserve documents:
Rotary files
With rotary storage file cabinets, county records can be stored in a fraction of the space currently used. Back-to-back revolving storage compartments offer access to two banks of stored materials in the same footprint that formerly held only one file cabinet. These customizable cabinets can be connected together, offer adjustable shelf heights, and can be locked to secure the documents.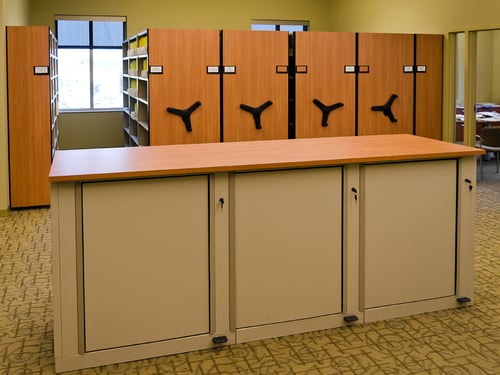 Automated carousels
It's like giving county records a ride on a Ferris Wheel. At the touch of a button, files and media are rotated on a carousel to bring the records to you. With automated carousels, the shelves are stacked in one cabinet footprint to help save floor space, increase productivity, expand inventory control, improve inventory security and create better ergonomics. An industrial vertical carousel expands storage capacity by taking advantage of a record room's height.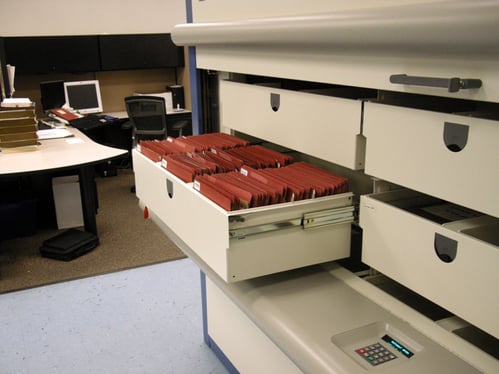 Mobile shelving
Whether you go with the simple, cost-effective manual assist mobile shelving or the ease and efficiency of mechanical-assist or powered mobile shelving, this approach helps you make the most of limited space. High-density mobile shelving mounts customizable storage on carousels that can move an aisle from left to right. Eliminating the need for static aisles, which are wasting space 99% of the time, these movable shelves transform how records are stored.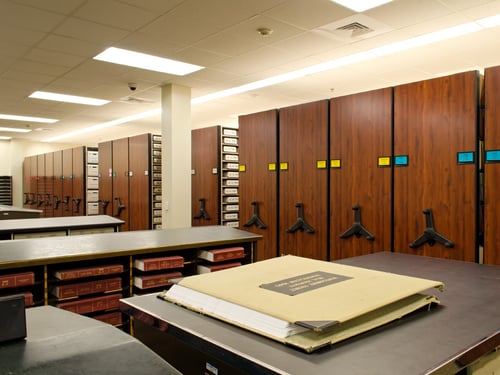 County Records Storage for the Future
The right records storage solution lets counties regain space and retool organizational processes to make access easier and inventorying more accurate. A storage upgrade can free up existing floor space and improve efficiency and county employee safety. All of this can lead to cost savings too.
Patterson Pope is a leader in county records storage optimization. We've been working with public records storage since 1969, and have installations in 10 states. Whether you're out of space, remodeling an existing space, or moving to a new records building, our experts can help you identify the best vertical, mobile or other storage solutions for your records needs.