Children's hospital patients require special care. Children's hospital design also has to meet distinct requirements as these smaller patients have not yet lost their desire to play. Smart storage solutions make the most of premium space to give kid patients and their families a better experience.
In the most recent tally of hospital stays among patients under the age of 18, 4,200 were neonatal patients and 1,300 were between the ages of 1 and 17. Together this population accounted for 15.4% of 2016 hospital stays in the U.S.
"Improvement is a continuous goal" at children's facilities, according to Amy Knight, chief operating officer at the Children's Hospital Association. One strategy she suggests is to "take a broad view. Balance the work with a priority to improve across all domains of quality—patient-centered, effective, safe, timely, efficient and equitable care."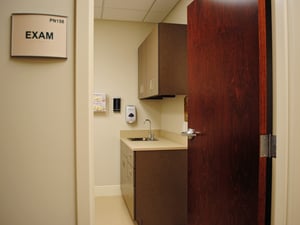 Children's hospital design is one domain of quality that can be overlooked as decision-makers focus more on implementing technology (predictive analytics, virtual or augmented reality) and integrating data and metrics into the clinical setting. Making young patients and their family members feel comfortable while receiving care has a positive impact too.
---
Top Considerations for Children's Hospital Design
Pediatric healthcare spaces need to be child-friendly without sacrificing efficiency or breaking the bank. At the same time, these unique units have to meet particular design needs. Here are three primary considerations.
Family-Friendly Priorities. The young patient is unlikely to be alone in the children's hospital. A pediatric patient will often be accompanied throughout care by a parent, parents or guardians. Their comfort matters. The children's hospital needs to create family-friendly spaces, and even consider the possibility of adults wanting to cook, launder clothes, bathe, and sleep onsite by their child.
Encouraging Play. Although this patient population may not be as ready to climb the walls as their healthy counterparts, children's hospital design should keep playfulness in mind. Help distract patients and their families from dire situations with space for fun activities. Creative, interactive play spaces can help give children a sense of normalcy, which can improve outlook and boost patient recovery.
Patient safety is obviously an utmost concern in pediatric clinic design. Many healthcare decision makers will think of this consideration in terms of security cameras, secured ward access and alarm systems. Nevertheless, all of these top design considerations can be aided with the right storage solutions. Keep reading to learn more!
The Storage Prescription for Healing Spaces
Be ready for more stuff. The patients themselves may be smaller, but they often come with more things. Plus, with their families along with them for the journey, there's another storage space strain to consider.
Solution:
Design children's hospital spaces to provide a more home-like environment. Using familiar materials and textures, and bright colors, can make the healthcare setting more welcoming than a lot of stainless steel and generic gray. Give patients and their families access to attractive storage options in the rooms. Modular casework is a sleek, configurable alternative to built-ins.
Move patient supplies to a CoreSTOR Patient Server to yield more usable space in the room. With the right storage, you can provide better care and reduce traffic through the patient room by stocking supplies from outside the room.
Focus on flexibility. In children's hospital settings, rooms need to be adaptable to reduce the need for moving patients, accommodate the caregivers and minimize disruption. Common areas, where children and families will look to engage with others and find distractions, will need places to stow shoes or toys.
Solution: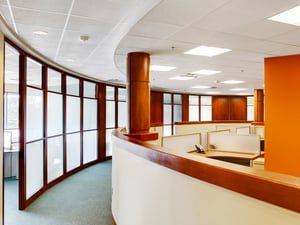 Movable walls can be used as room dividers and glass walls to create nursing stationsand common areas while helping you make the most of your space.
Attractive and functional modular casework options meet the varied needs of nurses, doctors, and child life specialists. Keep HIPAA compliance in mind too. Lockable cabinets can help preserve patient privacy by giving specialists somewhere safe to secure confidential files.
Serve all ages. Patients in children's hospitals ranging from the premature infant to the preschooler and preteen to gangly 6-foot-tall 17-year-old. Meeting the needs of this patient age range requires equipment in all different sizes. There's a need for infant cribs and adult size beds. Crash carts and airway carts will also be duplicated for small children and adult size young patients. Even medicines can be stored in many different dosage amounts to accommodate the varying weights and ages of the patients. All this equipment and medication needs to be stored somewhere in a compact footprint.
Solution:
Overloading hallways with equipment and storing unused beds in corridors creates clutter that takes away from the positive experience. Not to mention the safety hazards these obstacles represent.
Carousel storage takes patient supplies, surgical instruments or pharmaceutical storage vertical, leveraging otherwise underutilized space. This vertical solution also ensures security and compliance. And they don't have to take up a ton of space. At Florida Hospital Altamonte, a carousel storage was built into a six-foot shaft just steps from the operating rooms.
Bedlifts can also address hospital bed storage needs. These automated lifts hold several, stacked hospital beds to increase storage capacity and organization, and protect your investment from unnecessary wear and tear.
---
Pediatric Storage Solutions & Patterson Pope
Pediatric clinics and health care facilities have their own unique needs. Partner with a storage expert that understands the particular challenges in pediatric healthcare design. Patterson Pope's team can help you outline your storage needs and create a comprehensive vision for child-ready spaces.