Hospitals are about making you better on the inside. In much the same way, that was what P2 did during a project at a large hospital in Kentucky.
In the popular video game series "Uncharted," your success is assured. The player controls a character named Nathan Drake; he's an Indiana Jones-type adventurer who treks across the globe looking for mythic treasures and other artifacts. Along the way, of course, there is danger. Drake "meets his demise" dozens of times. After each error, though, the game restarts at a point just before the mishap. The player uses each "do over" to get just a bit farther, constantly applying the lessons learned from past experience. Trial and error leads to trial and error, which eventually leads to success.
The same process occurs in real life of course, though there's usually no treasure involved nor such dire mishaps. Learn. Adapt. Do. Repeat. In the real world, "winning" comes in the form of improved processes and more adept performance, whatever the arena.
Hospital Storage Diagnosis
A few years ago, the Owensboro Healthcare System (OHS) in Kentucky faced a roadblock of its own. There was an older hospital that had a Sterile Processing Department (SPD) that was tight on space. The SPD was an area that housed sterile processing, supply storage and staging. Like many hospitals, it had Metro Wire Shelving packed with stuff. The architect of the new building that was being designed at the time suggested that OHS personnel contact Patterson Pope for some added insight into creating the right storage solutions in the new, state-of-the-art hospital being constructed.
"We got in at just the right time," said Glen Kalley, the Patterson Pope sales rep involved in the project. "We were able to go into that old space and look around. What I remember most is how often I was in someone's way. After talking to the client, though, and learning about their goals, we were able to use their experience to craft a new storage design that would meet their needs."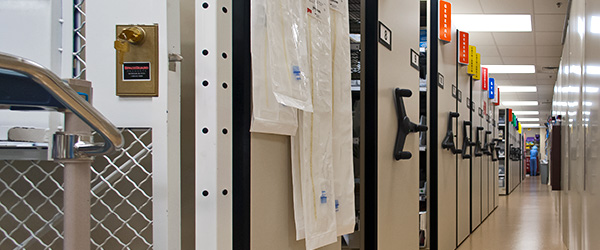 In the end, Patterson Pope helped design storage for a number of spaces in the new building. These included an area referred to as the "surgical core" (consisting of about 12 operating rooms) and the "specialty core," which included 4 operating rooms dealing with things like robotics and catheterization. Other areas included two lab areas, maintenance, and a medical library. Across a few thousand square feet, installed items include standard Spacesaver High-Density Mobile Shelving, Hupfer baskets, Eagle waterfall shelves, and even cantilever shelving. All these products served to make these areas more organized and better able to serve the hospital staff. The new equipment helped to create a more fluid, workable layout and a more effective design.
In the old building, "there was stuff everywhere," said Kalley. "It was spread out all over across all the real estate they had. One of their goals was to lock down the supply side of it so they could have a couple of people issuing supplies and get some control. I'm sure some of it is control of materials, but it's also control of costs. We ended up putting in cage doors to secure them."
Creating Space That Works
"We have so much more space now," said Chris Edwards, the Sterile Processing Department manager. "The maneuverability of the pieces is great because it allows us to make the area truly ours. Of course, training has been much easier, too. It used to take new folks a long time to learn the layout and how to get around. But now? The SPD staff has always been pretty small, and they seem to think it works really well. The whole area is more organized."
When a space serves as critical a function as does the surgical core, proper sterilization, storage and supply access isn't just a perk; it's a cornerstone. In this instance, Patterson Pope was able to get in on the ground floor of the project – literally, as Kalley notes only some concrete had been poured when he first got involved. Previous experience on the client side of what didn't work in the old space combined with Patterson Pope's experience of what does work in similar healthcare storage environments lead to a very successful project. While every project is different, certainly, the ability to learn from those two backgrounds yielded a remarkable finished product.
"We're extremely happy with the work Patterson Pope did for us," added Edwards. "We've had people from other hospitals who are looking to build their own new facilities. Many of those groups have been highly complimentary of our space here. They say it's one of the most streamlined cores they've ever seen."
Clearly, a well-run, efficient Sterile Processing Department is essential at any hospital. Being able to ensure that the right instruments are available at the right time is anything but a game. In the end, when the proper experience, the right answers, and the noblest of motivations come together, success is the natural result.
For more scoop on this story, check out the Case Study.