Archivists are information professionals. Need to find a land grant? City record? Will? Century-old newspaper? Personal diaries of a president? Ask the archivist. Beyond providing access, archivists have another important role — securing and storing materials. Support this distinct expertise with archive storage that addresses the specific challenges of this field.
The National Archives says it best: "Storage is the first and best means of defense in safely preserving archival holdings."
In choosing the best storage type and methodology for the long-term preservation of records, archivists must address a wide range of material sizes, formats, and compositions. A deed book, for instance, will need to be organized and maintained differently than an original watercolor painting or a microfiche. Fluctuating environmental conditions are the enemy. If you think dust is a headache at home, don't even get an archivist started on the damage it can do to archival material
Archive storage, then, has to address many different issues, including the need to:
Maximize space while always protecting archived materials
Offer flexibility to accommodate new materials, changing mission
Control access to storage areas
Monitor and maintain temperature and humidity
Provide a safe, comfortable work environment for archivists
Protect stored material from fire or water damage
Secure public/researcher access to the materials
Even with all of this, archive storage can still find itself the last to the budgeting table after the needs for exhibition halls, administrative offices, visitor support spaces, and employee work areas are met.
---
Adventures in Archive Storage
Archive storage enables efficient search and access, supports safe handling and ultimately secures the materials for long periods of time, sometimes indefinitely. Let's take a look at some solutions Patterson Pope's experts have provided to meet the particular challenges for archive and records spaces.
Since 1978, the Cuyahoga County Archives had been housed in Cleveland's Robert Russell Rhodes House. "The records were kept in an addition to the building, which would have been completed somewhere between 1915 and 1917," said County Archivist Judith Cetina. "We tried to keep the records in an organized fashion…but as time went on, there just wasn't sufficient space."
Then, the county decided to divest itself of the Victorian, Italianate mansion built in 1874. The archives moved to a Midtown area warehouse as large as two football fields. It was a storage planner's dream!
For Patterson Pope's John McLaughlin, it was the largest surveying job he's ever done. The archives had some "remarkable stuff" and he needed to account for different shelving elevations and right size for different material weights. For instance, the 4-post stationary shelving and museum cabinetry had to accommodate "books that weigh a pound" and "old maps that weigh 40 to 50 pounds each."
Keeping in mind how often things would be accessed and by whom helped ensure the right design was installed. "It's an elegant design that really turned out nice," Cettina said. "We love it."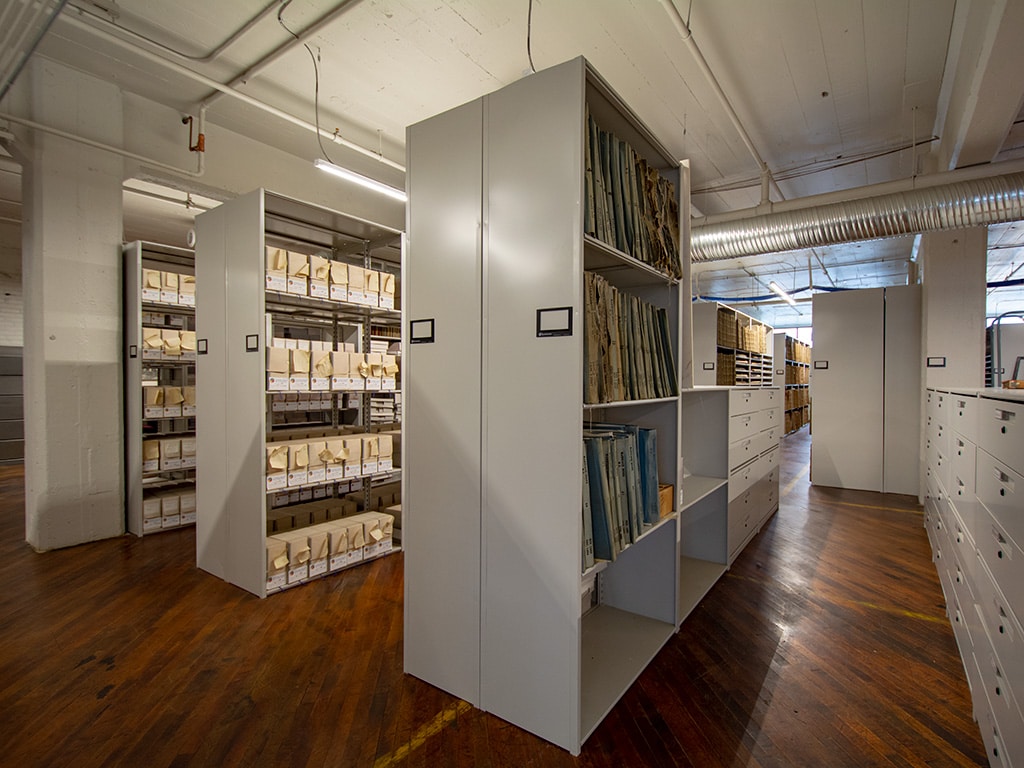 Adapting to Archive Spaces Too
When the Wake County Register of Deeds office relocated to the Wake County Justice Center in Downtown Raleigh, North Carolina, High-Density Mobile Shelving helped them organize and store deed books dating back nearly 100 years. Document storage boxes, for instance, couldn't be stacked so high as to prevent easy retrieval of the right deed book. Another challenge with the project was the basement space itself. The ceiling heights were inconsistent, and there were exposed pipes too. The storage solution accounted not only for storage but also retrieval.
Spacesaver's compact, mobile storage systems can be customized to provide features such as:
Programmable opening and closing to facilitate air circulation, or to deliver maximum and equal flow of fire-suppression agents
Smooth acceleration and deceleration to minimize vibration
Perforated shelving, uprights and end-panels for maximum airflow
Low-level, automatically controlled overhead lighting
---
Collect & Protect with Patterson Pope
Archival storage is often out of the public's eye, but that doesn't diminish the value of the collection. With our experience providing storage for archival boxes, rare books, framed art, textiles, artifacts and more, Patterson Pope can design the right storage for your specific needs. From the initial space assessment, through product installation, to ongoing service and maintenance, we stand by our solutions for the long haul.