It's no secret that an abundance of open, honest communication helps a community thrive. Whether that communication is between neighbors, between small business owners or even between county commissioners and its library director, it's a pivotal part of success. That last example is exactly what makes Georgia's Fayette County Public Library such a shining example of the adage. And when it came time for some library storage upgrades, that commitment is also what made it a natural fit for the Patterson Pope process.
Chris Snell has been with the Fayette County Public Library since 1996. She's seen it grow along with the surrounding town. Today, she is the library's director, and it's a role she cherishes. She helps oversee a true community hub. In addition to its more than 130,000 books, the library offers several programs for the community. Over the years, it's offered everything from children's programs, readings by national authors like Regina Mason and even performances. Recent events have included a diversity performance and an acclaimed one-woman show that brought poet Emily Dickinson to life.
"I helped plan this library, so I'm pretty attached to it," said Snell. "This is actually our third location. Initially, the library was in a small house that is now home to the Fayette County Historical Society. After that, it was in a 5,000 square foot space. So now, to have more than 30,000 square feet for our volumes and our programs is just wonderful."
Since the library opened its doors to the newest facility in January 1997, its popularity and utility to the community has only grown. Initially, area residents even brought in books of their own to help grow the collection. In 2008, Snell first brought up the idea of expanding the space to the board of county commissioners. When monies for the task were approved in 2010, an additional 5,000 square feet were added to the original structure over the next couple of years.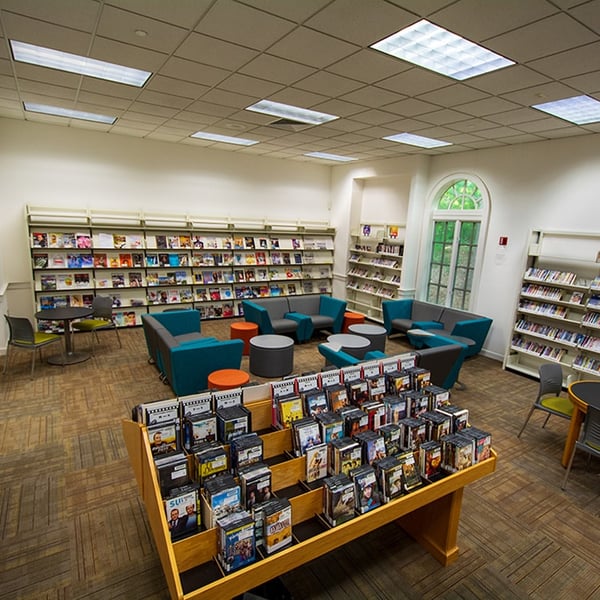 "Growth is always good; it's always welcome," said Snell. "After you've been in a space for a while, sometimes things can need a bit of rejuvenation. The furniture, the carpeting, the shelving can all use a bit of sprucing up. So, our Board of County Commissioners gave us some additional funds to renovate our Georgia Room – a room that celebrates all things Georgia. We wanted to update it a bit; to energize it."
---
Snell and a co-worker met Patterson Pope Sales Representative Dick Beery at the Georgia Libraries Conference, organized by the Georgia Library Association. Snell said that over the years, she had met and worked with several of the vendors in attendance but never with Patterson Pope. When Beery offered to come by the Fayette County Library some time later and take some pictures, Snell accepted.
"He came armed with a camera, pen and paper and a really positive attitude," remembered Snell. "What I and my team liked about him and Patterson Pope right away was how they listened to us. Dick took notes about what we wanted to do, and he asked us all sorts of really good questions that helped us clarify our goals."
For Beery, the approach typified the Patterson Pope process.
"If you give us your goals and tell us what you would like to accomplish with a space – even if you're not quite sure how to get there -- that's where our expertise is advantageous," said Beery. "There is a methodology we employ to help us get the end result the clients want. In this instance, Chris Snell and her team were great to talk with. They were all very forthright."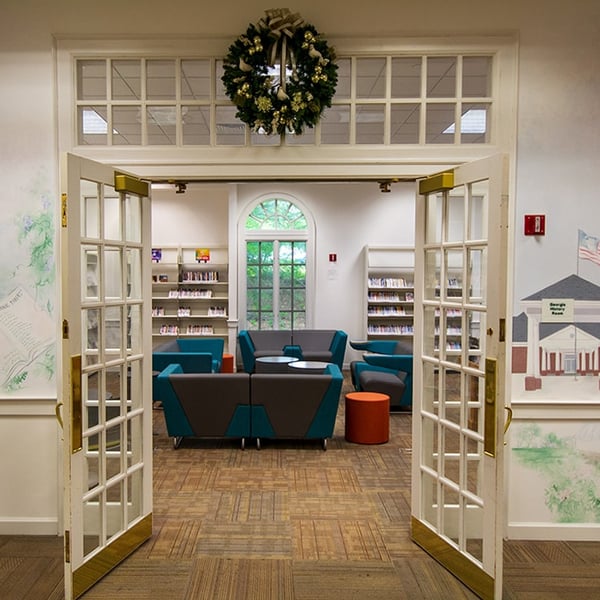 Helping Snell more precisely explain her desires for The Georgia Room involved Beery using a rudimentary but essential tool; namely, that pen referred to earlier by Snell.
"We asked Chris questions about her overall goals for the room. We wrote down her answers and then, by paraphrasing back to them both in the moment and in subsequent meetings what we'd heard, that then led to an even greaterdiscussion about specifics," said Beery. "That back-and-forth conversation helped bring the job into focus. Once that became clearer, we knew in which direction we were headed. The Patterson Pope process is a careful, deliberate way of getting from the nugget of an idea – Point A – to the right solution -- Point B. And then of course, double-checking that Point B is in fact what they want."
---
The Elements of Transformation
The Georgia Room is 950 square feet. At the beginning of the process, the room was filled with books on traditional cantilever library shelving, a pair of desks offering computer access, and a number of worktables. These items, combined with patrons frequenting the room, made for a tight, rather non-descript experience.
"This project was about transformation," said Snell.
For Beery, the renovation began with a realization that much of the shelving and the tables were of a higher quality. It made sense to utilize it wherever possible. Such decisions would also be welcome to Snell as they kept expenses down. The right solution isn't always about new products.
"We had originally wanted to get new tables," said Snell, "but Dick looked at them and was impressed with their quality. Instead, we ended up having their edges refurbished by someone at Pinewood Studios, a movie production company in the Atlanta area. As a matter of fact, Dick helped move those refreshed tables into the room the day they came back just because he was here."
As is the trend in library interior space design overall, reducing the number of shelving ranges helps create breathing room and helps form the foundation for large, open meeting/reading areas. Several small teal-and-gray settee sofas from KI, along with matching end tables, created conversation spaces.
A pair of 5' x 7' video browsing box display tables (formerly situated near the circulation desk) were also moved into the Georgia Room. The units are a better fit in their new home, offering patrons far easier accessibility to the collection. Their relocation also helped lessen congestion and noise near the circulation desk.
New carpeting, fresh paint and added splashes of color fabric helped to inject new life into the room, as well.
---
The new Georgia Room has been greeted with compliments from both staff and patrons. A producer from Pinewood Studios has remarked on its clean lines, as has Regina Mason, the California-based writer mentioned earlier.
"We were really amazed by what Dick and Patterson Pope were able to accomplish for us," added Snell. "Even the subtle addition of the different colors was a nice little touch. You follow the colors and it moves your eyes around the whole space. It's fantastic."
For Snell, "the Patterson Pope way" helped bring out the best in her and her team – not to mention of the Georgia Room itself. Getting there was a step-by-step process that yielded excitement and insights along the way.
"It was phenomenal," said Snell. "Patterson Pope listened. They put down in writing what we said. They asked for our feedback along the way. And we always had choices, choices, choices. When it comes to projects like this one, I'm not just buying stuff. I'm buying the right stuff. We used some of the things we already had to enhance what we were getting. Together, it created a beautiful mosaic. I would definitely recommend Patterson Pope. Our Georgia Room is now a showcase."
Seriously… you should see this room.
---
To learn more about this project check out the Case Study.