Even museums focusing on the modern remind us of our past. Yet, in order to survive and thrive, museum leadership must always be anticipating audience needs without losing sight of their mission. Innovative museum storage solutions can help museums gain the flexibility they need to future-proof their institutions.
Although museum attendance rates overall are declining, museums still appeal to millions annually. In fact, the 850 million visits to American museums each year surpasses the attendance for all major league sporting events and theme parks combined, according to the American Alliance of Museums. These visitors expect to be both informed and entertained. Interactivity is important too. In this digital world, museum visitors expect to engage with the exhibitions via social media and innovative, hands-on experiences. Museums work to provide compelling, sophisticated experiences while maintaining professional standards.
The challenges of improving attendance and offering unique, meaningful experiences can override attention paid to museum storage solutions. Yet, without efficient access to, and secure conservation of, collection items, the museum can't meet its mission of edifying its community.
Innovative museum collection storage offers the agility museums need to save space and organize the collection to improve productivity. Smart storage design supports the current needs of museums and readies cultural institutions for what comes next.
Nimble Museum Storage Solutions
"Always be selling," is a common business mantra. Applied to museums the idea suggests taking advantage of all opportunities to bring in future audiences.
The Atlanta History Center boasts numerous exhibits and galleries on 33 acres. Yet when a space was closed, it was typically blocked off with a garage-type metal door. How unappealing to all the potential traffic walking by! Installing movable Lightline walls at gallery entrances was a bright decision. The treasured items remained secure, but now visitors could get a glimpse into art collections and exhibitions they might want to return to see during open hours.
Along with the ongoing drive to build attendance, museum decision makers are working with limited funds and, often, space constraints. Juggling multiple projects, staff can be overworked. This environment makes difficult the creative thinking needed to develop new exhibitions to appeal to fresh audiences.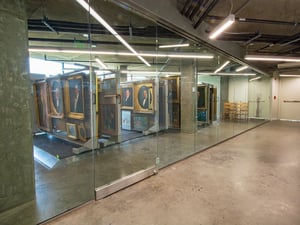 Mobile art racks reduce the storage footprint in favor of expanding other museum spaces. How? By going vertical with high-density storage. These art racks provide this same organizational and protective benefits but dramatically increase storage capacity. The Filson Historical Society in 2016 moved into a new space. Curator of Collections Jim Holmberg elected to add 5,100 square feet of art racks to accommodate the museum's growing portrait and painting collection celebrating the history of Kentucky and the Ohio River Valley. "Once the new shelving went in, we were able to zone everything the way we wanted it," Holmberg said. "Having a blank slate with all that empty shelving has really helped us do some nice organization."
---
---
Maximizing Museum Space & Storage
Museum storage can be so much more than shelves upon shelves of rare books and artifacts, framed art leaning against the walls and textiles folded away in boxes. Atlanta's Delta Air Transport Heritage Museum is located in a hangar first built in the 1940s. The archives enjoy 4,000 square feet of space, and mobile storage systems help house the collection that includes thousands of various items –everything from flight crew insignia, bag tags and old advertisements, to clothing, model airplanes, sculptures, glassware and flatware, and china.
Organizing it all exactly became so much easier with the installation of a 14-aisle high-density compact shelving system, Rousseau drawers and archive and file boxes. "When we get items in now, we know exactly where they're going to go and how they're going to help our collection grow," said Archives Associate Tina Seetoo.
After all, few museums can put every piece they own on exhibition. Especially, when they're in the fortunate position of constantly growing their collection. Appropriate museum storage needs to be accessible and organized while protecting the collection and allowing archivists, conservators and researchers to work in a safe storage space.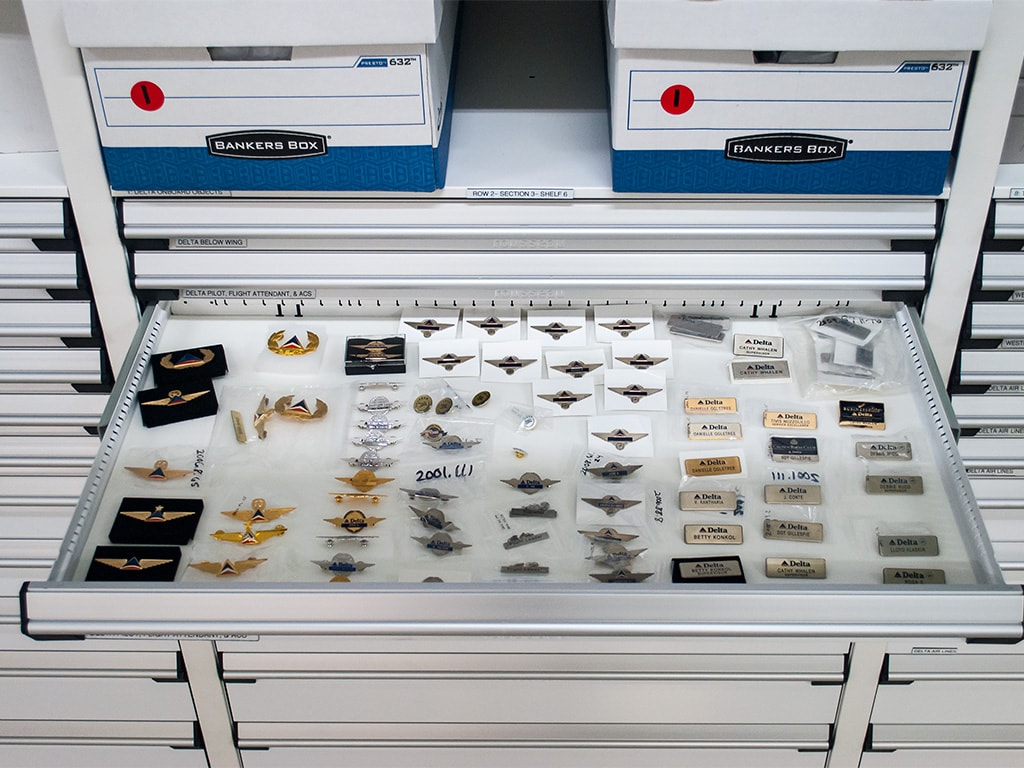 Museum storage cabinets make a big space difference while protecting art works, posters and maps. Built with extra rigid construction and stainless steel tracks and rollers, flat file cabinets and storage offer convenient access to properly conserved museum art. Items that deserve to be in a museum need to preserved carefully. Museum cabinets are crafted of heavy-duty steel that can be configured to the museum's particular needs. Designed to protect stored items from dust, water and damage, these metal cabinets (with custom finishes for a clean, appealing look) are perfect for:
Archived records
Entomology collections
Botanical specimens
Heavyweight geology samples
Finally, special collections require special storage to keep the items safe. Plus, there's the challenge of not every item being the same size. Shelving old diving helmets alongside ancient oceanographer maps is not an efficient use of space.
The Civil War-era submarine H.L. Hunley was raised from the ocean in 2000. The Warren Lasch Conservation Center in North Charleston, SC needed to preserve the find. Artifacts included wooden benches rescued from the sub, personal effects of the crew, and other parts of the vessel, including hatches and pumps. Working with Patterson Pope on their storage area, the center settled on refrigerated shipping containers with museum cabinets, reinforced shelving and a flat worktop for cataloguing and conserving the collection.
---
Locking Up Space Solutions
One more storage challenge that museums encounter? Patrons and employees want to bring things into the building every day. The museum wants to ensure the collection remains safe and secure and reduce threat of theft. Day-use lockers are an ideal solution for temporary storage needs. Offering protection for single-cycle use, these small lockers can be configured to fit into otherwise wasted lobby space or behind-the-scenes nooks.
Keep your museum flexible by making storage solution decisions that are cost effective and space efficient. You can regain space, add agility and always be conserving and preserving your growing collection with smart storage.
Reach out to one of Patterson Pope's experts today for a free space survey and consultation. With 40+ years' experience in museum storage we can help your timeless stuff stay that way while also future-proofing your institution.