Let's be honest: it takes a special sort of person to be willing to jump out of a perfectly good airplane. When that individual is a paratrooper in the U.S. military, that means that he or she is not only jumping out of an airplane, but could be doing so with the intent of landing in hostile territory. That's not foolhardy; indeed, that's the epitome of bravery.
Making certain that the equipment those paratroopers use is safe is a job that falls under the responsibility of para-riggers. These enlisted men and women are specially trained or licensed to pack, maintain, repair or store parachutes. Their ability to ensure that parachutes are in good working order is imperative; lives depend on their hard work and close attention to detail.
---

---
Patterson Pope's commitment to helping its customers find the right solutions for their storage dilemmas is complete. It's what drives us every day to offer a unique array of military storage products that get the job done in very specific ways. That's one of the reasons that working with U.S. military installations is such a special responsibility; each branch shares our passion for precision, execution, and team-oriented tenacity.
Ken Stone is one of several Patterson Pope sales representatives who work with military customers. When it comes to para-rigging solutions, stringent guidelines are a given.
"They've got very specific ways of doing things in these para-rigging areas. They're packing personnel chutes and there's simply no room for error," he says. "The folks who get certified to pack parachutes are very valuable assets in the military, because there's not many of them that do it. In fact, they've got to go through very rigorous training to get their certification. They are always looking for ways that they can do things more efficiently, save time, and reduce the chance for any errors."
Quality counts.
Patterson Pope partners with a variety of companies, including Spacesaver, ParaDry, Hamilton Casework Solutions, and Rousseau to provide para-rigging assistance that meets the justifiably high standards of the United States Military.
Obviously, a military parachute's primary job is to safely deliver equipment and troops from aerial transport to the ground. In military vernacular, a chute opening is referred to as a "pop." But it's what happens between those pops that make the next one possible. During this "downtime," there are three stages: parachute drying, parachute storage, and parachute folding/ packing. These are the areas where Patterson Pope excels.
Parachute Drying
"When parachutes come back from the field, they have leaves in them, bugs, snakes – all kinds of stuff," says Stone. "Many facilities have tall metal parachute towers structures that rise 75-100 feet in the air. Inside those, there are big metal bars with cables on them that go up to the ceiling. Every so many inches, there's a hook. This is where the chutes are attached. They're lifted up via electronics, and the system helps to shake out all sorts of refuse and then dry the chutes with hot air blowers. We partner with ParaDry to offer state-of-the-art hoist systems that make this process easy and dependable."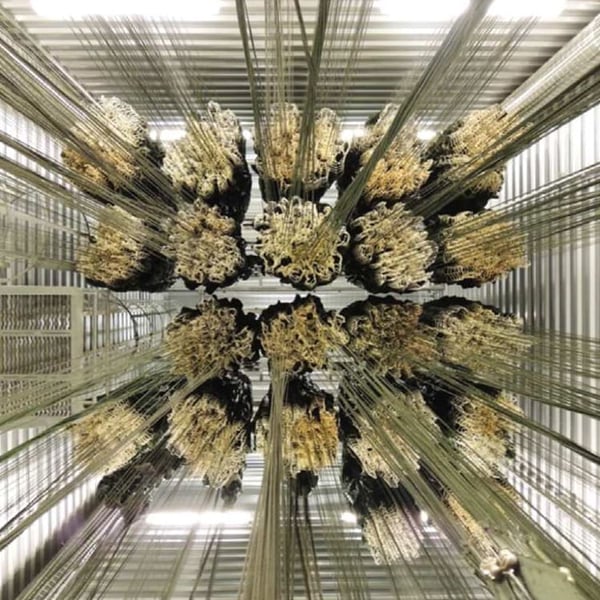 Parachute Folding and Packing
Virtually all parachute folding and packing is still done manually. There is no substitute for the highest of human standards. Because chutes come in different weights, lengths and thicknesses, individual care must be given to each one to ensure clean inspection, careful compaction, and efficient packaging.
"We always propose to customers that they use packing tables with solid surfaces – no seams," says Jane Glass Waldron, another Patterson Pope sales representative with experience selling para-rigging solutions. "Using a flat, seamless surface is the best way to ensure that no part of the chutes ever get caught up on edges or sharp corners. That kind of thing can lead to tears and rips. Those can be dangerous, no matter how small."
The number of parachute packing tables a military installation has depends on a number of factors. While most might have a need for only a half dozen, installations like North Carolina's Ft. Bragg (home to the 82nd Airbourne Division) boasts 50. At Georgia's Ft. Benning (home to "Jump School"), they have more than 30, where they conduct several thousand jumps each month.
Parachute Storage Containers and Racks
Once the parachutes have been inspected and re-packed, they go back into circulation and are readied for transport back out to jump locations. Patterson Pope's Universal Storage Containers are an ideal choice here. Constructed after input from some of the very types of military personnel who would end up using them, they boast 12-guage diamond perforated steel panels and an 11-gauge steel frame. Top panels lift and pivot, allowing personnel to access the interior of these 50-inch tall units. They are stackable up to three high, and can easily be loaded and unloaded into either storage areas or onto flatbed trucks with the help of a forklift – all without the fear of collapse or other damage.
Once they're on those flatbed trucks, covers from Cocoon help protect them from the weather during transport.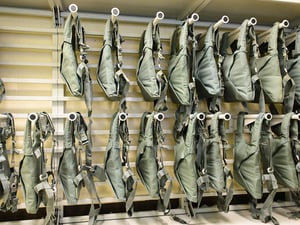 Alternatively, parachutes stored for longer periods can be accommodated by Patterson Pope's Military Parachute Rack storage system. These heavy duty, all-steel racks feature adjustable cantilever arms to accommodate different-sized chutes, along with infinite horizontal adjustability, with vertical adjustability at 6-inch intervals. These systems can even be loaded into high-density mobile storage units (either manual assist or electronic) that can then be compacted to save valuable floor space.
"You rarely walk into a packing facility or unit where the requirements are repeatable. There are a wide range of situations we encounter and many types of parachutes," says Bob Tyler, another experienced Patterson Pope military rep. "We go in and customize our solutions based on the customer's needs. Some units don't need a 48- or 50-foot packing table – depending on what type of chute they're packing. In a lot of instances, we have to modify our solutions based on the requirements of the individual unit."
And that's part of the fun.
---
"They've got very specific ways of doing things in these para-rigging areas. They're packing personnel chutes and there's simply no room for error"
Ken Stone
Patterson Pope
---
We're proud to have helped out with para-rigging solutions at places like Moody AFB in Georgia; Hurlburt Field at Okaloosa County, Florida); Duke Field (FL), Fort Benning (GA). And of course, Ft. Bragg. We do our small part in helping ensure the safety of this country's finest.
"We can help in so many ways," adds Tyler. "Whether it's packing, transportation, security, protection, tracking, the shake-out and drying process, or even storage through either vertical carousels, Spacesaver mobile systems, or static racking, we're proud to offer the innovation that really makes a difference. We even provide CTKs (consolidated tool kits) for each packing lane" We're happy to offer turnkey solutions."
For many people, including Jane Glass Waldron, the difference is in the details.
"When we design products, it's all based on how it's going to be used," she says. "There are a lot of people in the industry who look like they're trying to copy what we've already done. But the lack of knowledge as to why certain things were done in a certain way is lacking, and that's a valuable piece of the puzzle. Our solutions are unique to the user, and unique to the field. And that makes a difference in the field."
Is it making an impact?
Yes, sir.