Picture this: boxes of all sizes stacked everywhere amidst different sized filing cabinets, with aisle space between shelves taken up by larger, heavier, irregularly shaped items. Maybe it's what you see when looking up from this article! Happily, the right mobile storage solution can bring order to the chaos. But when planning the best mobile storage design for your needs, size and shape aren't the only considerations. Weight matters too.
Determining weights for mobile storage
High-density storage is manufactured to certain specifications. This means designers customizing the mobile storage solution to a business's needs have a good idea of what weight different equipment can handle, as well as what shelving supports can be added to shore up units to meet particular needs. Still, making the right design choices to customize to the client's needs can require more than experience with the shelving unit specs.
The Patterson Pope process begins with a sales representative coming out to survey the customer's current space, asking questions about the storage needs and touring the existing facility to gauge what different types of items are going to be fitted onto the shelving. The reps come armed with questions honed over decades of experience, tape and laser measures and a scale. In fact, Dick Beery, a senior account executive in our Atlanta office travels with two.
Beery wants to be sure he's ready for the worst-case scenario, which can mean he needs to spend the time weighing the many different types of items in storage to get a reliable figure for the pounds-per-inch of shelving. "If we don't do that, we're just guessing," he said.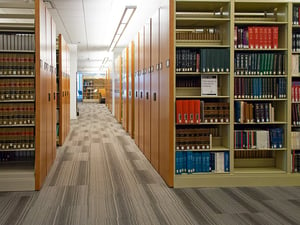 One of Beery's clients, the Georgia State University Law Library, was pleased he didn't want to guesstimate. Knowing that law libraries stack their shelves tight (compared to another library that might have only shelves only 75% full due to book circulation), he wanted to be sure the mobile storage would suit GSU's needs.
So, he went through the stacks with his scale and weighed every different size of law book. His effort made the shelving solution he offered GSU more durable, since designers typically plan for 1.5 to 1.75 pounds-per-inch and he determined a more likely weight load in the law library was 2.0 pounds-per-inch.
After all, high-density mobile storage also takes the books that were previously spaced out on shelves separated by aisles, and puts all of the weight in a small, compacted area.
Plus, at GSU, there were additional structural issues to consider too. For one thing, Atlanta is a Category B Seismic design area, so the shelving plan had to be structurally secure to withstand moderate shaking.
In another example of meeting the unique needs of a library client, Beery also worked with Clayton State Universitywhen it was building its new library. The mobile storage units were going on an upper floor of a new construction building which was using post-tension beams. Since high density storage requires drilling mounts into the floor, there would be the potential of hitting one of the beam cables and snapping it. So, with the blueprints on hand, and the help of a high-density-storage-informed structural engineer, Patterson Pope x-rayed the floor before drilling.
Today's buildings are built to computerized specifications and are, as Beery puts it, "skinny." There's none of the fat (or "fudge factor") that engineers might have built in 40 or 50 years ago to be on the safe side. The calculations are made to specify exactly what is needed and no more, to drive building costs down.
No matter the building age, though, "the higher you get, the more important it is that we know the weight of the media."
Media Decides the System Used
Typically the types of items to be stored will be the deciding factor about which mobile storage solution to use. The weight, though, is an added consideration in determining whether shelves might need reinforcement or how the high density load will impact the structure's engineering.
So, whether its dealing with vinyl records in a media library or rare Egyptian artifacts in a museum, it's important to get the storage item sizes and average weight to be confident in the solution offered.
In an archival storage situation, Beery relies on weighing the boxes also because the archivists don't want him going through every box to see. Yet he's not dealing with anything as standardized as a shelf of books or sheet music. "You just have weird things that you don't know how much they could possibly weigh," he said.
"It is time consuming," Beery admits. But, it's what has to be done, and it's what distinguishes the experts from the rest. "If my name is on it I want it to be right, and I want to be sure the system isn't going to fail."